---
Travelers still want a paper travel itinerary, and here's what they want on it.
---
It's hard to believe that there was a time in the not-too-distant past when travelers needed paper tickets to fly. And, even when there was an e-ticket option, many preferred having actual tickets in hand. Today, a paper travel itinerary can eliminate many problems.
These days, not only are almost all tickets electronic, many people travel casually with no paper at all. But, in my opinion, there are some things that are just safer to have in writing, especially a paper travel itinerary.
Can these things be on a smartphone? Yes. But phones do run out of power and sometimes, even with a travel app, it can take a while to find the information. In some cases, especially when traveling internationally, Web service is not always available or it's spotty — no WiFi, no ticket information.
With itineraries that change, it can also be difficult to locate the most recent one, a situation that recently resulted in a client going to the wrong hotel. And another client discovered she had downloaded the itinerary before she added a hotel, resulting in a frantic "Where am I going?" from her Uber car.
The 4 things that matter most to have on a paper travel itinerary
1. Airline ticket number. Yes, most of the time there's no issue at check-in. But "most of the time" doesn't count when for whatever reason the gate agent can't find it. A paper travel itinerary can be a lifesaver.
Last week, a traveler called our agency because United Airlines INSISTED he have a paper ticket. When I spoke to the airport agent my first reaction was to remind her that our agency doesn't issue paper tickets. But she couldn't find the ticket number and asked me, "Do you have it?"
So, I gave her the number for a nonrefundable ticket issued over a month ago. She put it in the record and was instantly able to issue boarding passes, although she admitted to having no idea why the number hadn't come through in her system the first time.
Another passenger, traveling internationally, had a problem with a frequent flier ticket on an alliance airline. He produced the paper travel itinerary. Without the ticket number, getting on the flight may have been more difficult.

2. Airline confirmation codes. Besides a ticket number, airlines assign a confirmation code to each reservation. And if for some reason they can't find your reservation at the airport, a confirmation code helps.
Having your confirmation code is particularly useful with codeshare flights. Many airlines are pushing travelers to book under their codes, even when they aren't the airline flying the plane. (An example might be a United ticket number that might really be Swiss or a Delta number that is really Air France.)
Again, most of the time the system works. But airlines are dealing with antiquated reservation systems and sometimes the information just doesn't get to the operating carrier. In addition, with foreign carriers, the language barrier can add to the confusion. Plus, different airlines may have different record locator numbers and travel agents yet another reservation number.
3. Hotel confirmation and address. Again, be sure to get the hotel confirmation number on paper so a hotel can find a reservation they might otherwise say is lost. Include the address, too, because even in a big city, and even in the age of GPS apps, taxi drivers can be confused.
This hit home with me when I was in Paris. I carelessly didn't bring a confirmation for a big name hotel — the Mandarin Oriental. After an early morning Chunnel train ride, I couldn't remember the exact street address and the taxi driver at the station had no idea which hotel I meant. My friend and I had actually gotten out of the cab when another driver explained it to the first driver. The ride from then on was uneventful, except for that self-conscious reminder, "You should have it in writing."
Even outside of LAX with only the name of the hotel, La Quinta has more than one airport hotel. Your itinerary will have the correct one and normally a handy telephone number as well.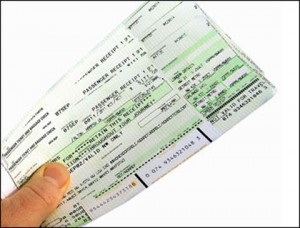 4. Boarding pass. Okay, this is the second piece of paper. But in my experience, boarding passes on a phone are still an inexact science. And it's no fun at all to get to the front of a security line and be sent back to the kiosk. Or, to do as a traveler I saw recently who was frantically looking for an outlet to charge their phone to show their boarding pass at the gate.
Often a printer isn't available when we check in using a cell phone. But, normally, cell phone check-ins can be printed at a kiosk upon arrival at the airport. It's an extra airport step, but faster than returning to the check-in desks to get it later, should it be needed. (Note: some ultra low-cost carriers charge to print boarding passes at the gate.)
In an age when we take the environment into consideration, it may seem like a waste to print out an itinerary. But, paper can be recycled and, while I'm admittedly a Luddite at times, I'd rather err on the side of reliable low-tech.