---
These places are where what TSA confiscates and you lose on flights ends up. 
---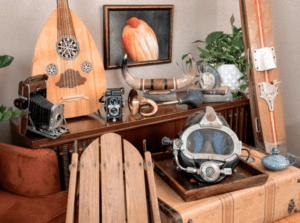 I have often wondered what happens to lost and confiscated belongings left by passengers on planes and checkpoint lines. The TSA confiscates thousands of small pen knives, AirPods, iPads, smartphones, and watches at security checkpoints. And what happens to lost checked luggage? I've read about spare change found at security checkpoints that reach millions of dollars. It is added to the US government funds. But what happens to suitcases, souvenirs, compact cases, Dopp kits, jewelry, musical instruments, and sports paraphernalia left by passengers or lost by airlines?
The airlines keep checked bags for 90 days. This is the mandatory period that lost luggage must be held so its owners can be located. However, many never search for their luggage. Much baggage is never identified. The lost and confiscated belongings are then unceremoniously termed unclaimed baggage. The checked baggage materials are sold at "Unclaimed Luggage" in Scottsboro, Alabama. It has become a tourist attraction. You can also find many unclaimed items online and shop from your living room.
Our 50,000-square-foot store is home to an extensive merchandise selection, interactive events, and delicious eats. We want each person who walks through the doors to leave with something they'll treasure…and have fun finding it!
Lost and confiscated belongings found a home with an entrepreneur
The business started with a pickup truck and a trip to the Trailways Bus terminal in DC. It is a real story of a normal insurance salesman striking it rich with what others left behind or lost.
Entrepreneur Doyle Owens was struck with an idea. Using a borrowed pickup truck and a $300 loan, he headed up to Washington, D.C., and bought his first load of unclaimed baggage from Trailways Bus Line. He then sold the contents on card tables in an old rented house and the venture was an instant success! With his family's blessing, he left his full-time insurance job and Unclaimed Baggage Center was born.
…
Over the last 25 years, Unclaimed Baggage added lost items from more travel and entertainment businesses. They also added unclaimed cargo which has been lost or damaged during shipment. The store now receives thousands of unclaimed items each week. They sort, clean, clear, prep, price, and stock everything via the center's complex processing system.

As part of its commitment to service and generosity, the company created the Reclaimed for Good foundation that has given millions of dollars worth of product and profit to meet needs all around the globe. It has also received numerous commendations and awards, including Alabama Retailer of the Year in 2016. Today, Unclaimed Baggage hosts more than one million store visitors each year from every state and more than 40 countries, making it one of Alabama's top tourist attractions.
Lost airline-checked luggage can be bought online and in-store
The tagline of Unclaimed Baggage says it all — "You never know what you'll find." Unclaimed luggage states these words on their website.
Airline passengers waiting for their bags upon arrival are almost certain to see them riding atop the bag carousel. That's because airlines use sophisticated tracking technology to reunite over 99.5 percent of bags with their owners right away. If a bag is truly lost, airlines pay out a claim to the passenger. It's only after an extensive three-month search that an unclaimed bag is deemed truly orphaned, a fate realized by less than 0.03 percent of all checked luggage! That's where we come in.
Unclaimed Baggage has purchasing agreements for unclaimed items with all domestic airlines and other travel and transportation companies. With five decades of experience processing large volumes of one-of-a-kind items, we maximize each item's potential for a second life.
According to Unclaimed Luggage, they sell only about a third of the items they purchase from airlines. Those items find their way to the Alabama store or online. Unclaimed Baggage donates many repurposed items to national charities.
The process is inconvenient if you want to purchase junk TSA confiscated from passengers.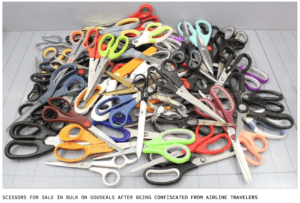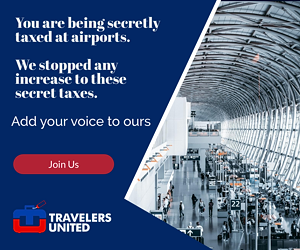 How does the TSA decide what to do with each confiscated or left item? That depends on the type of product. Some items end up sold. Since TSA cannot profit from abandoned property, other government agencies can. The TSA hands over potentially valuable items to "surplus centers," where customers can purchase goods. Some may end up in online auction sites like GovDeals. All profits end up in the pockets of the state that helped coordinate the sales.
Americans can find everything from glasses frames to scissors and iPads to knives at websites dedicated to Government Surplus Auctions. You must purchase in bulk. For instance, buy glasses frames and reading glasses by the pound. Buy iPads by the dozen. And score purchases of jewelry by weight based on its quality.
It's not the ideal way to replace a confiscated pen knife, but it is a process. I once complained to TSA at Boston about a confiscated pen knife. The agent promised to save it for me in a nearby desk drawer. When I returned to find it, I expressed disappointment. Another TSA agent took me upstairs, showing me boxes of small Swiss Army knives. He said, "Take any you want. We are going to sell them in bulk eventually." That TSA complaint netted me about 30 small knives that made perfect Christmas stocking stuffers!

The bottom line: Junk dealers or entrepreneurs "repurpose" lost luggage. And much of TSA's confiscated materials make money for the state governments.
---
READ ALSO:
Right city, wrong country — once again, reading matters
TSA Firearms Travel Rules
---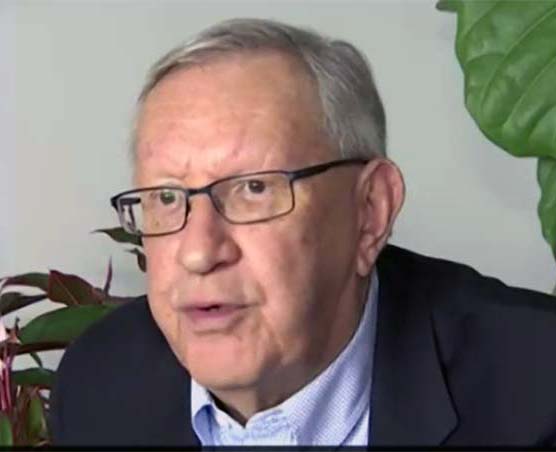 Charlie Leocha is the President of Travelers United. He has been working in Washington, DC, for the past 14 years with Congress, the Department of Transportation, and industry stakeholders on travel issues. He was the first consumer representative to the Advisory Committee for Aviation Consumer Protections appointed by the Secretary of Transportation from 2012 through 2018.