---
Where else but America can you celebrate cow chips and garlic?
---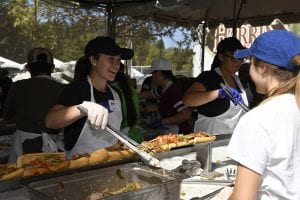 In America, weird festivals rule. In Gilroy, California, people line up to purchase watermelon, ice cream, and chocolate, all laced with fresh, pungent garlic. Once Wisconsin pioneers and Native Americans faced off over beaver pelts. Today, men and women vie to see who can throw a "cow chip" furthest. And, the roadkill cookoff in West Virginia celebrates alternative cusine.
These disparate scenes have one thing in common. These three fairs and Americana festivals celebrate and honor a variety of animals and art, food and fun. Held throughout the year and around the country, they focus on other themes as well. Though many didn't happen in 2020, they are planning their festivities for 2021.
The Gilroy Garlic Festival didn't happen last year. Look for it this year in July
Take that crowd of garlic lovers. For 35 years, the Gilroy Garlic Festival gathers foodies in the United States. Like most weird frestivals based on a theme, this one includes its share of entertainment, music, arts and crafts, and other attractions. And like many, it raises money for charities and non-profit organizations.
The festival provides an opportunity for those who attend to indulge in their love of garlic and their belief that it is under-used in recipes. Along with opportunities to nosh on the tasty treats, competitions for local cooks and professional chefs take place, as well as a Great Garlic Cook-Off contest for amateurs. For more information, log onto gilroygarlicfestival.com.
Looking for roadkill? There is a weird festival for that!
Food, sort of, highlights the somewhat grossly named Roadkill Cook-Off in Marlinton, West Virginia. Held in conjunction with an autumn Harvest Festival the roadkill celebrated varmints killed on the road. Where else would you be asked how you prefer your deer sausage, squirrel gravy over biscuits, or teriyaki-marinated bear prepared? The entrees which are served haven't actually been killed on a road but they're on the menu as a tribute to the large number of cousins who were. This event is not for vegetarians or those with a delicate palate. For more information log onto pccocwv.com/roadkill.
Celebrate a world of bugs
Seldom are the words "delectable" and "creepy crawlers" used together, except in relation to the annual BugFest. Each year more than 35,000 adventurous diners descend upon Raleigh, North Carolina to observe, learn about and, for those brave enough, eat — bugs!
Did you know that arthropods — invertebrates with an external skeleton and segmented body — make up three-quarters of all the animals on Earth? Would you enjoy an insect tour with an expert who describes the critters' lifestyle? Are you brave (or, perhaps, foolish) enough to scarf down dishes that include bugs as a major ingredient? If so, you may check out the details by logging onto bugfest.org.
You get one guess to figure out the the feature attraction at the annual Great Texas Mosquito Festival. Held in the town of Clute, about a 45-minute drive from Houston, the festival transforms a summer nuisance into a star attraction. Watch competions in mosquito calling and mosquito legs contests. Hang out with Willie-Man-Chew, the festival mascot. Billed as the largest mosquito in the world, he (or she) stands 26 feet tall. This massive bloodsucker sports an oversize cowboy hat and boots, and has a proboscis that would be the envy of any self-respecting mosquito. For more information, log onto mosquitofestival.com.
Rollerskating with bulls in New Orleans
Larger specimens of the animal kingdom play the leading role at the annual San Fermin running of the bulls in New Orleans. Based on the famous week-long series of events held in Pamplona, Spain, each summer with a big difference. Bulls with deadly horns can't be seen. Crowds of roller derby queens wieldling foam bats whack participants.
The event also includes a four-course gourmet dinner. Participants enjoy Spanish wines and sangria tasting. Plus — because of Ernest Hemingway's love of Spain and bullfighting — a contest to select the most realistic Hemingway look-a-like. For more information, log onto nolabulls.com.
Try a Renaissance Fair — they are held across the country
Any fan of the "Game of Thrones" hit TV series will feel at home dropping by one of the Renaissance Fairs. Held in a number of states, many of these make-believe settings seek to replicate life during the reign of British royalty,. They include Queen Elizabeth 1 (1558-1603) and Henry VIII (1509-1547). The usual order of business includes an abundance of period costumed entertainers and fair-goers. Plus, musical and theatrical acts, and stands selling art, handicrafts, and food add extra flavor to the fair.
Efforts to encourage, persuade and, some might say, good-naturedly intimidate members of the audience to participate in the fun and frivolity are usually part of the scene. To see a list of Renaissance Fairs click on this link.
Experience a different music festival
The schedule of activities at most festivals includes music of some kind. Others have dulcet sounds as the major attraction. Divers and snorkelers off the Florida coast participate in the Lower Keys Sanctuary as music and other sounds waft down from above.
The sea-focused playlist includes melodies like the Beatles' "Yellow Submarine" and the theme from "The Little Mermaid." Participants wear appropriate costumes. Some pretend to play whimsical underwater instruments made by a local sculptor.
A very different kind of music entertains guests during Hillbilly Days in Pikesville, Kentucky. Hillbillies, "authentic and aspiring," gather for three days to celebrate the Appalachian culture. A quilt show, traditional crafts, an appropriate choice of "vittles," and hillbilly music keep the vibe alive. For more information log onto hillbillydays.com.
Here are Americana festivals that are different
A long list of events doesn't fit easily into categories. It includes such disparate themes as duck tape, UFOs, and cow chips.
Duck tape, or duct tape — both names are used, is the featured attraction at the annual Duck Tape Festival. Appreciators of that very American product descend upon Avon, Ohio, to spend three days at activities that include a duck tape fashion show, statues made of the sticky substance, and a parade with duck tape floats. For more information log onto ducktapefestival.com.
---
READ ALSO:
8 Common travel scams and how to avoid them
How to keep what you do in your hotel room private
---
Besides celebrating duct tape, try UFOs
In 1947, an object crashed at a ranch near Roswell, New Mexico. The Air Force ever since insisted a weather surveillance balloon creashed. None the less, a persistent group of people clings to the belief that the accident involved an extraterrestrial spaceship. The alien occupants were recovered by the military which has since been engaged in a cover-up.
Whatever the facts surrounding that incident, one sure fact is that the area has been the go-to destination for those who cling to the belief that aliens visit our planet. True believers in unidentified flying objects, skeptics who could be convinced, and others simply seeking a bit of fun gather at the annual UFO Festival. A costume contest and "alien chase" take place. Presentations by authors of adult and children's books about UFOs sign their books. Paranormal experiences, and earthlings who recount being abducted by visitors from outer space tell almost unbelieveable stories. For more information, log onto ufofestivalroswell.com.
If none of these fun festivals appeal to you, fret not. An Internet search reveals a virtual a-to-z list of alternatives, including a Bigfoot festival, National Hollerin' Contest, kinetic sculpture race, and events that honor chickens, lentils, tarantulas, turpentine, dancing, and much more.
---
Photo information:
Garlic Festival – by Scott Jackson (Courtesy Gilroy Garlic Festival)
Wisconsin Cow Chip Festival
Bristol Renaissance Faire — Dancing
Lower Keys Underwater Music Festival — Playing Yellow Submarine

After gallivanting throughout the United States and to more than 75 other countries around the world, and writing about what he sees, does and learns, Victor Block retains the travel bug. He firmly believes that travel is the best possible education, and claims he still has a lot to learn.  He loves to explore new destinations and cultures, and his stories about them have won a number of writing awards.