---
A poll shows that 90 percent of travelers oppose increased airport taxes
---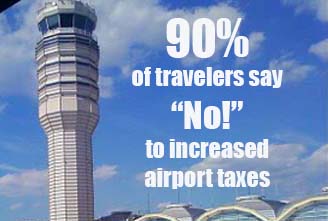 A new survey dramatically shows voters overwhelmingly oppose a proposed 89 percent increase in an airport tax according to a nationwide poll. Stopping the Senate-proposed increase in the Passenger Facility Charge (PFC) is spearheaded by both Travelers United and Airlines for America, the main airline association in Washington, DC. Nine out of 10 passengers oppose increased airport taxes.
The PFC is a tax paid by all airline travelers buried in the fare of every plane ticket. The PFC collections are used by airports for local projects. This tax allows municipal airports to pass almost all costs of operation to passengers. These PFC funds are even used to guarantee municipal bond issued by localities. Local businesses get a free ride as airline passengers pay for airport improvements.
The Senate Appropriations Committee inserted the tax hike into a spending bill that Congress must vote on by Dec. 8, 2017. For a family of four purchasing round trip tickets, the new tax could force families to pay up to $104 in PFC ticket taxes alone, an increase that 70 percent of respondents said would be a financial burden for their family. Sixty-five percent of survey participants said they would be less likely to travel by air if the PFC is raised.
"This poll makes it clear that passengers and constituents don't support this tax increase," said Sharon Pinkerton, A4A Senior Vice President, Legislative and Regulatory Policy. "Travelers shouldn't have to pay more simply because airports see them as piggy banks. There is no reason to force passengers to pay more when the taxes they've already paid are sitting unused."
Enough is enough. Passengers pay this hidden PFC charge, segment fees, federal excise taxes, and take-off and landing fees. Plus, at airports passengers pay for parking, extra taxi surcharges, overpriced food, car rental fees, and a surcharge whenever they buy anything at an airport shop. Last year, these fees and charges all created record per-passenger income for the airport operation.
Existing airport revenue streams are sufficient to continue supporting airport projects. In fact, the country's Airport Improvement Program currently has almost $6 billion in excess funds. Last year, PFC collections totaled $3.2 billion, the highest level in the history of the program. Plus, airport revenues collected per passenger have never been higher — these per passenger revenues have been increasing 25 percent faster than inflation.
The PFC increase is opposed across the ideological spectrum by every cohort of voters – 74 percent of Democrats, 76 percent of Republicans and 82 percent of Independents oppose the proposal, and 58 percent of those surveyed said they would be less likely to vote for their U.S. Senator if they voted in favor of this tax increase.
The survey conducted from Oct. 24 to Oct. 25, 2017, by Morning Consult as an online survey reached 1,992 registered voters. The questions on the Passenger Facility Charge were included as part of Morning Consult's National Tracking Poll. The survey's margin of error is +/- 2 percent.
Charlie Leocha is the President of Travelers United. He has been working in Washington, DC, for the past ten years with Congress, the Department of Transportation and industry stakeholders on travel issues. He was the consumer representative to the Advisory Committee for Aviation Consumer Protections appointed by the Secretary of Transportation from 2012 through 2018. He also served on the Consumer Advocacy Subcommittee of the Transportation Security Advisory Board.