Helping travelers plan and get the most out of vacations and assisting with resolution of travel problems are not the only ways that Travelers United works to make the travel experience better. Your organization is actively working, producing studies, surveys and petitions to educate regulators and legislators about consumer travel needs. The intersection of laws and rules being debated by Congress and rulemakers with travelers' experience is dramatic. Until Travelers United started working in Washington on The Hill, consumers had little voice in these decisions.

Our policy blog has a distinguished lineage. It is the longest-running travel blog on the Web. Started back in the days of long tarmac delays, we started as ticked.com. Later we morphed into TravelCommentary.com. Then we changed our name to Tripso.com. When our focus turned to Washington, DC, and advocacy work, the blog was renamed again, ConsumerTraveler.com. It is a go-to blog for dedicated travelers, congressional staffers and media for an inside look at travel policy.
Advocacy work in Washington with legislators and regulators
Members of the Travelers United team have met regularly with members of the House and Senate. Charlie Leocha, our Chairman and co-founder has testified before Congress works together with congressional staffers on travel issues.
DOT Advisory Committee for Aviation Consumer Protections
We work intimately with this influential, congressional-chartered committee and have a seat on the committee. The committee has had hearings about airline price transparency, privacy as it relates to travel records, informing passengers about their rights and disability issues.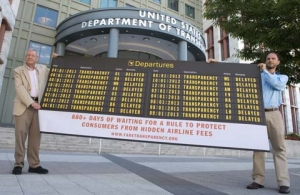 From spurring the creating of the 24-hours rule that allows passengers to correct, change of cancel their airline reservation within 24-hours (provided the reservation has been made a week before the day of travel) to keeping Greyhound bus stations open in the dead of winter, so that passengers are not faced with freezing while waiting for connecting buses, Travelers United has been hard a work. Here is a list of some of our accomplishments.