Thousands of Americans are waiting on the tarmac for hours. Hard-earned vacations are squandered. Businesses are losing hundreds of millions of dollars on lost time and extra travel expenses.
All I can say is "No wonder!" The U.S. air traffic control (ATC) system is literally creaking at its seams. And yet this antiquated system is now serving more flights and aircraft than at any time in the history of aviation. All signs are pointing to an impending meltdown that will dramatically impact air travel in the United States. It's time for Congress to wake up and deal with the many problems faced by the nation's ATC system.
– Air travel across the country is at an all-time high; in fact, it has surpassed pre-9/11 air traffic.

– The ATC technology behind the system hasn't been updated in decades.

– Many air traffic facilities are understaffed.

– Experienced air traffic controllers are retiring at a higher rate than anticipated.

– Junior air traffic controllers are handling traffic at our busiest airports before having a chance to hone their skills at smaller facilities as they did in the past.
Combined with these problems, the Federal Aviation Administration (FAA) has allowed the airlines to pack more and more planes into busy airports and their congested airspace that simply cannot meet the published take-off and landing schedules, even on a good day, with full ATC staffing.
And then there's the technology issue. Experts have been discussing the technical limitations of the current ATC system for years. Unbelievably, our air traffic controllers are using decades-old technology. However, a partisan Congress and the hapless FAA have not figured out a way to move modernization forward. The discussion of this is far too complicated for a few paragraphs.
Trouble on the ATC side
Even more pernicious, is the impending staffing crunch of the highly trained air traffic controllers who operate our control towers and watch radar screens. According to the Dallas Morning News, U.S. Special Counsel Scott J. Bloch who has studied ATC problems revealed by whistleblowers at the FAA, pointed out that the number of controllers at D/FW has dropped to 68 from 100 about five years ago. "I'm not saying that leads to more errors, but it means you've got tired eyes watching the skies," he said. "They're having to work more airplanes, more days, more hours."
Air Transport World reported that according to National Air Traffic Controllers (NATCA), one of the factors ignored in the final U.S. National Transportation Safety Board's (NTSB) investigation of the 2006 crash of a Comair flight at Lexington, Ky., was that a single controller was on duty at the time of the accident and had turned away from the window to handle paperwork when the CRJ taxied onto the wrong runway.
The larger problem of retiring controllers and their sinking morale is looming on the not-too-distant horizon for the FAA and the American traveling public. A Government Executive analysis published this July paints an ugly picture of unhappy controllers. This general disgruntlement combined with the fact that these controllers were hired en bloc in the early 1980s adds an ominous wrinkle to the situation.
It appears Marion Blakey, the FAA Administrator, felt the air traffic controller pay scale had increased unreasonably and when negotiations between the NATCA and the FAA were declared at an impasse last year, Blakey imposed a pay increase that averaged less than two percent a year over five years. This heavy-handed "settlement" did not rest well with the NATCA.
To add insult to injury, according to Government Executive, "In addition to slowing the rate of raises, the terms FAA required cut starting salaries from between $38,080 and $53,312 to $31,700 and eliminated incentive pay for controllers who move to more challenging facilities or take on supervisory duties. The agency also instituted new rules to restore managerial control, including a dress code and restrictions on entering and leaving air traffic control facilities."
Protests of the dress code included controllers showing up for work in outlandish costumes technically allowed according the code. But those kinds of protests are merely harmless, when the controllers, though unhappy, still show up for work. Leaving the workforce and retiring is far more threatening to the system.
Government Executive also reports that many of the block of air traffic controllers hired in the early 1980s have reached retirement age and are deciding that enough is enough. They are voting with their feet and retiring. FAA retirement figures that were extremely close to reality prior to the imposed settlement are now showing controllers retiring at almost three times the FAA-anticipated rate.
Recently, the pipeline for new controllers hasn't kept up with the needs of the FAA – they can't just be hired off the street, as they need to go through a long period of training and then must work almost as interns until they become familiar and at ease with radars, communications and regulations. Thus, with the increasing retirements, the staffing problems will only grow. Redefining "acceptable staffing levels" will soon lead to more disasters.
Congressional fiddling and diddling
With these ATC technology and personnel problems coming to a head this summer, Congress, who scary as this must sound, control these problems, has been fighting over philosophical differences and funding alternatives.
Crandall, interviewed on CNBC, said, "This is one of the things that only government can do and that government has done very badly," Crandall said. "It has been under-funded, under-planned, under-managed. We have a serious air traffic control problem and we're falling behind Europe and Asia. We need to get on with it. Congress needs to get out of the way – give them the necessary money and get it done."
But, to date, nothing is happening. There are too many Senators and Congressmen with their fingers in the pie and too many committees gumming up progress. It seems that any change needs to be negotiated through the Senate Finance Committee, the Senate Commerce Committee, the House Transportation Committee, the aviation subcommittee, the House Ways and Means Committee and more.
Though the airlines have made decisions that have exacerbated the national air transport malaise, the government has to a large degree been a major hidden cause of our discontent. When the same gang that has blocked ATC progress and overseen the mismanagement of the FAA decides that they should be passing an Airline Passenger Bill of Rights to fix what they are, to a large degree, responsible for making wrong, it sends chills down my spine.
Weather is unpredictable. Those delays are expected. However, storms turn to sunshine.
Congressional and Federal mismanagement, on the other hand, are beginning to be endemic. Time for our current ATC system is running out. Let's get on with changes.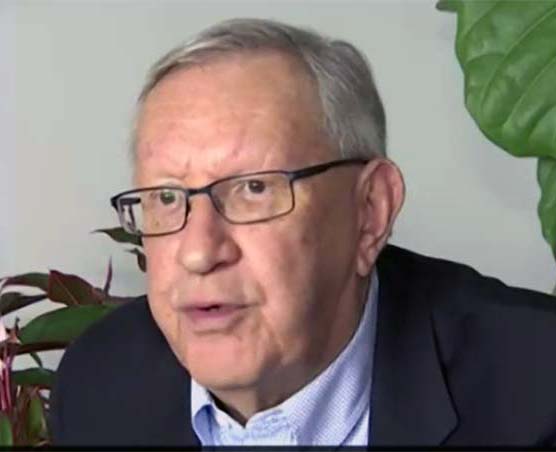 Charlie Leocha is the President of Travelers United. He has been working in Washington, DC, for the past 11 years with Congress, the Department of Transportation and industry stakeholders on travel issues. He was the first consumer representative to the Advisory Committee for Aviation Consumer Protections appointed by the Secretary of Transportation from 2012 through 2018.