---
Some Venetian ice cream stands never say die
---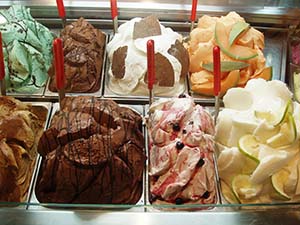 I was just in Venice and checked out these two ice cream spots that I first visited about a decade ago. I have returned regularly. Now, after a decade, I can say these are still two of the best in the city.
Italy is renowned for its gelato and Venice is one of the gelato centers of the country. For years guidebooks have proclaimed this gelateria or that one the best in the city. Truth be told, they are all mighty good.
OK, almost all ice cream on a hot day is good, but some are better than others. When my brother used to run an ice cream store and made his own ice cream, I learned that the best ice cream makers are true artists. They strive for the perfect consistency and are always working to create new blends of flavors.
At the end of this post, add your own favorite Venice gelateria. You'll still see some recommendations from a decade ago and earlier updates.
Venice is a tourist town and ice cream stands seem to be on every corner, but after visiting Venice for years and staying here for extended periods of time, I have come up with my two favorite spots to enjoy what I consider the best gelato in Venice. Both are worth going out of your way to experience.
Ask for a taste. "Assagio per favore" and then name the flavor. At a good gelateria, your request is not the mark of someone looking for a handout, but the sign of an ice cream connoisseur. The real ice cream makers will appreciate your request. Just don't go overboard.
These two gelaterie aren't ranked in any order. I flipped a coin to decide which would go first. They are both wonderful and unique. Il Doge has longer hours and may be easier to find. Alaska is more tucked away and always manned by the owner, Carlo.
I returned to Venice to check out these spots once again. If anything, their reputations for excellence and unique flavors have spread through the locals. Try the Crema Catalan ice cream at Il Doge and the Watermelon or very strong ginger ice cream created by Carlo at Alaska.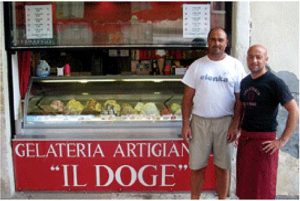 My first favorite is Gelateria Il Doge at the south end of Campo Santa Margherita. Massimiliano Rosso and his cousin Mauro Boscolo have been making and selling ice cream from this small shop for years. It seems that there is always a line of locals and tourists waiting for a cone or a cup of their flavorful gelato or granita (a kind of sherbet).
Be careful, a new ice cream place that only serves commercially produced stuff just opened next door in a former butcher shop. However, it is hard to mistake the right counter to place your order; follow the line of ice cream aficionados.
Mauro is the ice cream maestro and Massimiliano is the up-front salesman. During the summer months, the selection of ice creams is relatively normal with several flavors many Americans may not know. Nutella flavor is a chocolate hazelnut blend. Stracciatella is a kind of chocolate chip but with shaved chocolate in a super creamy mixture. Their specialty is the Crema de Doge, a rich mixture of eggs, cream and bits of oranges.
In the fall Mauro begins to play with various kinds of chocolate mixtures with ginger and hot peppers, for example. Even when the tourists are gone and the weather cools down, locals line up to try his latest creations.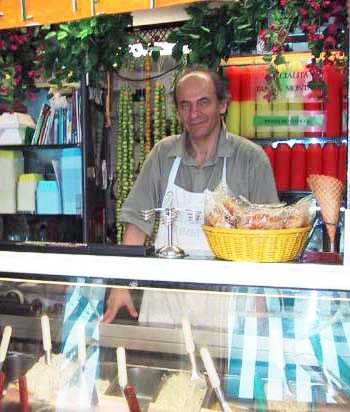 Gelateria Alaska on Calle Larga de Bari 1159 in the Santa Croce neighborhood is my other favorite. Here in this tiny shop the owner, Carlo Pistacchi, proudly presides over his presentation of homemade ice cream. He reminds me of the crazy professor, Doc Brown, from "Back to the Future," but without hair. When he speaks about ice cream his eyes light up and he explains his creations with loving attention.
This is, hands down, the place with the best ginger ice cream I have ever eaten. Come to think of it, I haven't had ginger ice cream anywhere else. In the summer, Carlo continues to create wild mixtures of flavors like fennel or basil and artichoke to help beat the heat.
His latest creation, when I stopped by, was a whimsical blend of arugula and orange. As Carlo was describing it to me, I was a bit skeptical. My hesitation only made his smile grow as he ducked into the back of the store to grab me a taste. It was perfect for a hot and muggy Venice August night.
But like any true master, Carlo held his hands up in a wait-a-minute position and said, "That was only a taste. Tomorrow the flavors will have had a chance to develop better after they spread from the salad greens and the orange fruit into the cream. I will give you a full serving tomorrow when you can enjoy it at its best."
Not that I had any choice — I returned the next day and agreed.
If anyone else has ice cream favorites in Venice please add them to this posting as comments. I'd love to hear what you have to say and hopefully, I'll find some new favorites and get to meet the owners.
[Updated: March 31, 2018. Some comments were added to an earlier version.]
Photos by Charles Leocha and Karen Cummings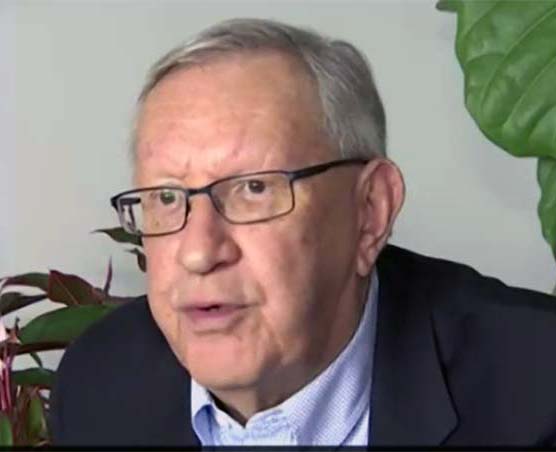 Charlie Leocha is the President of Travelers United. He has been working in Washington, DC, for the past 11 years with Congress, the Department of Transportation and industry stakeholders on travel issues. He was the first consumer representative to the Advisory Committee for Aviation Consumer Protections appointed by the Secretary of Transportation from 2012 through 2018.