---
10 ways to stay safe on the road this winter
---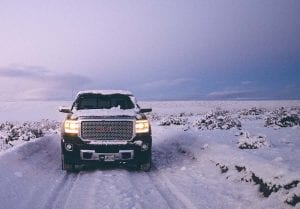 If driving during the Christmas/New Year period, keep in mind these holiday road trip safety tips. Many of us are on the road returning from the Christmas holidays with friends and families. Or, we are making plans to head out for New Years' festivities. Other would-be travelers are heeding the warnings of this writer and the Centers for Disease Control and staying home.
Whatever your plans, make sure to take into consideration these tips for having a safe trip in the snow and cold weather.  Here are my top 10 winter holiday road trip safety tips.
1. Anti-lock braking (ABS) systems are essential
In my opinion, only purchase or rent a vehicle with an ABS. ABS is an automated safety system which prevents the vehicle's wheels from locking up (ceasing rotation) to help avoid uncontrolled skidding. ABS automates threshold and cadence braking is practiced by skilled drivers with older braking systems, but at a much faster rate with better control than human drivers can apply.
2. Check your tires
Before you rent or get in your car, check each tire's tread and pressure. Tire Rack recommends drivers expecting to encounter snow-covered roads have at least 6/32" (0.5 cm) of remaining tread depth on all the vehicle's tires. Tires need adequate tread depth in wintry snow conditions and in case of rain to maintain traction despite wet roads.
Ensuring your tires are properly inflated is one of my winter holiday road trip safety tips. Correctly inflated tires are safer and less likely to fail at high speeds. Improperly inflated tires increase stopping distances, will skid longer on wet surfaces, and are less able to prevent vehicle turnovers.
3. Is there a spare?
Make sure you have a properly inflated full size or "donut" space-saver spare tire. While "donut" spares are not meant to be driven long distances, especially in winter weather, they are better than "tire inflator" kits, in my opinion. The kits, used to seal punctures and reinflate your tire, are generally simple to use, but often have trouble in cold weather.
This is another one of my winter holiday road trip safety tips that most travelers never dream about. The kit's sealant is designed to disperse and fill up puncture holes, aided by the heat of the tire, but in cold weather, if the tire gets cold, the sealant can uselessly pool toward the bottom of the tire. Moreover, the kits aren't always capable of sealing major punctures.
4. Do you know where the car's jack assembly is and how to use it?
You'll need a jack assembly to replace a flat tire with a spare. I've checked cars I've rented and found that the jack assembly or tire iron to loosen the tire nuts was missing. If your tires have a locking nut, make sure you have the adapter to unlock it. Be certain you know how to use the jack and where to place it on the car to safely jack it up.
5. Before heading out to drive your own car or a rental, make sure essentials work
Before heading out for your family Thanksgiving, or leaving the rental car lot, check your lights, mirrors, brakes, air conditioning, heater, windshield defroster, and rear window defroster. On a driving trip out of New Orleans a few years ago I went through three rental cars at the lot before I would accept one. Each had a major safety problem that violated these winter holiday road trip safety tips.
6. One of the important holiday road trip safety tips, especially in winter, is to check your windshield washer fluid
One of the most basic winter holiday road trip safety tips is to check that your windshield washer reservoir is completely filled with a non-freezing mixture. In winter, windshields can often get filthy from road spray. A partially filled reservoir can be quickly emptied, leaving you with a windshield that makes visibility dangerously difficult.
7. Check your windshield wipers.
Make sure your windshield wipers work properly and that the wiper blades aren't worn, warped or inflexible. It's essential that your wipers can clean off rain, snow, sleet, and road spray well.
---
READ ALSO ON THE TRAVELERS UNITED BLOG:
How to make road stops with your family like a pro
10 remote work skills to keep you from burning out on the road
---
8. Don't leave home or the rental car lot without a full tank of fuel
You should never leave home or a rental car lot without a full tank of fuel. In winter weather, it's possible to become stuck or stranded for a long time, for a variety of reasons, including being behind an accident completely blocking an Interstate, where backing out isn't possible. Fill your fuel tank as soon as possible when half-empty, in case of an emergency.
9. Children need to be buckled in going to the family get-togethers
According to the Centers for Disease Control and Prevention (CDC), in the U.S. during 2015 alone, 663 children ages 12 years and younger died as occupants in motor vehicle crashes. Of those children who died, 35 percent were not buckled in a Child Safety Seat (CSS) or seat belt.
For young children, parents must obtain the right type of Child Safety Seat. Choosing the right CSS depends primarily on a child's age and size. The National Highway Traffic Safety Administration (NHTSA) has detailed recommendations for buckling children into motor vehicles to keep them safe.
10. Look out for quick storms that wet roads after a long dry spell
Quick hitting storms after a long dry spell can immediately make many road surfaces extremely slippery. It can take 30 minutes of rain to rinse off road oils and dirt after a storm begins.
If you're driving this winter vacation, make sure your car is safe and follow these winter holiday road trip safety tips. Drive defensively. Be sure you and your passengers will arrive safely for that great time with friends and family.
---
Winter driving photo by Wesley Tingey on Unsplash
After many years working in corporate America as a chemical engineer, executive and eventually CFO of a multinational manufacturer, Ned founded a tech consulting company and later restarted NSL Photography, his photography business. As a well known corporate, travel and wildlife photographer, Ned travels the world writing about travel and photography, as well as running photography workshops, seminars and photowalks. Visit Ned's Photography Blog and Galleries.