---
An all-inclusive vacation spot in Jamaica
---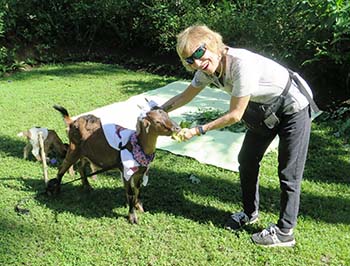 I was delighted when my husband and I received Betty's invitation to join her for a picnic at the Sunset in the Palms Resort in Negril, Jamaica. The setting was lush, the food and wine enticing. Conversation, though, was a tad strained. But then, her recent history was a bit dicey. Recently married, rumor has it that it was a shotgun wedding. Seems Betty (to the left with the author) had been knocked up and the kids already there. It was hard for her to attend to them and also focus on her guests. Still, she was already back at work maintaining the grounds — Betty is a very resilient goat. And one of the prime staff members at Sunset.
Sunset is an airy, compact oasis in the middle of a jungle, wood-filled and woodsy, the abundant foliage making the transition from outside to inside seamless, with towering masses of greenery at every turn of the head. So different from the many large, bustling, antiseptic resorts often lining Caribbean beaches. Here, you're a part of Jamaica, mon!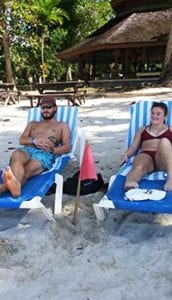 The beach is a short walk away, free of the seaweed currently plaguing so many Caribbean shores. Spotting a red flag usually indicates a warning sign of some kind. Here, placed in front of your chaise lounge, it simply means please bring me another Piña Colada…  I could get used to that kind of service.
Tranquil was a word I heard a lot. Maybe because the all-inclusive resort is adults only — except for Betty's kids, of course, and they're not likely to be running down the halls… And as appealing as reggae music is in the Caribbean, it is often ear-splitting along the beaches and the bars. Here, it is mellow — which for some, might seem an oxymoron.
But it is just that mellowness that so appeals to Liz Smelts from Ontario, Canada. On her fourth visit, she loves the peace and relaxation, the environment and the food, the friendliness of the staff. "It feels like home," she gushed.
This Jamaica resort comes by its name honestly. All the rooms resemble palm-fringed treehouses. The hammock on our tree-topped balcony was just a bonus. One morning I was awakened by an unaccustomed sound, only to find, Betty, husband Royal Brown and kids, bleating greetings below our balcony.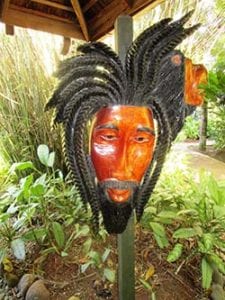 Sunset is all about service. Everyone sports a badge saying, "I am your personal concierge," which I initially mistook for … well… the actual concierge. And indeed, there did seem to be a more genuine camaraderie between staff and guests that I've seen at other resorts, possibly because so many are repeat customers.
Taking the pampering of guests to an extreme, there is a crossing guard to usher you across the street to the beach. Admittedly, I felt like I was in grade school again and petulantly assured the poor guard that I had been crossing the street by myself for decades without mishap.
Like every all-inclusive resort, there are a number of restaurant options, but how often do you go to a restaurant with no idea of what you're having for dinner? Welcome to the Chef's Showcase, where every night is a surprise. After an introduction, a request for food allergies and assurances to those who pronounced themselves gluten-free, to sit back and relax, the chef prepared a five-course meal in a candle-lit setting that sparkles with class and romanticism. But be prepared — it's a while between courses. This is island-time, the precision timepiece upon which Jamaica runs. Overheard at a bar one afternoon, a local remarked that he'd be ready in 3 minutes. He then added: "That's 6 minutes in Jamaica."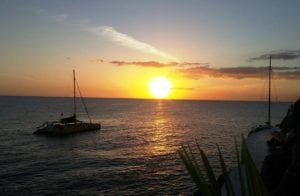 Just sitting at a Jamaica bar is an island experience in itself. Locals instinctively move to the music as if they were on a dance floor. And not just any dance floor, but one in the middle of a dance contest. And perhaps not without some explanation. Everywhere on the island, there is that unmistakable whiff of the ubiquitous substance for which the island is so famous. It was nice to hear that possession of small amounts is now even legal.
There are three things for which Jamaica is famous: Dunn's River Falls in Ocho Rios, the aforementioned ganja and Rick's Cafe in Negril, where everyone at one time or another has to go to see the sunset. So go we did, despite the noise, the crowds, the commercialism and a sunset like many others (okay, so it was a pretty nice sunset…) for which the masses erupt in applause. What a marketing idea! Which is what I applauded as I happily headed for the exit. Check the Rick's Cafe box — been there, done that.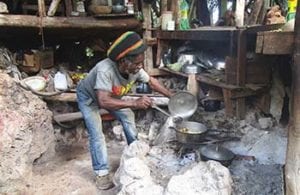 A much more authentic Jamaica experience happened on our Rasta Tour at Zimbali Retreat in Negril. Although Zimbali is a fascinating destination in its own right, based on organic farming and the Rastafarian philosophy, we were there to meet Fire. To say we climbed to the top of a mountain to do so is no exaggeration; to say it was worth it is also not an exaggeration, not only for the views and the excellent all natural meal prepared by Fire, but mainly for his story.
He's been living away from civilization for 33 years in a lean-to that doesn't even qualify as a hut. Long ago, he felt a need to get away from his mainstream life and learn how to survive — literally — in the 21st century. He grows what he needs to live, espouses a simple, less-stressful life living off Mother Earth, and adopts the Rasta approach of kindness and simplicity, eschewing financial gains.
When he started grating coconut on a grater, it sounded a lot like a Reggae beat – which somehow seemed fitting. Life as a Rasta, says Fire, became much easier after Bob Marley. The plantain, soy meat, carrots and callaloo flavored in coconut milk was perhaps not your most usual luncheon option, but it was tasty. Fire lost me just a bit when he answered his cellphone. He acknowledged, with a smile: "There goes my reputation." But technology is ubiquitous, even on top of a mountain.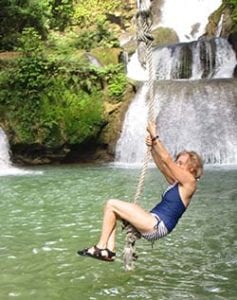 A more typical Jamaica outing was the trip to YS Falls and the Black River, one of the hotel tour options. YS Falls offers a multitude of ways to swing over, jump into, swim under and play in a wide variety of waterfalls. And if none of that appeals, the falls alone provide sufficient photo ops. The boat ride along the Black River is billed as a "river safari" – using the term very loosely. I suspect just having crocodiles in the river justifies the use of the term. Otherwise, it's a nice boat ride with all the de rigueur bird sightings that accompany all such ventures.
As we left the all-inclusive Jamaica resort kicking and screaming, our voices were subdued by the gentle bleating of the entire Royal Brown family, who all gathered below our balcony to say good-bye. A sad exit, mon! For more information, visit http://www.thepalmsjamaica.com.

Fyllis Hockman is a multi-award-winning travel journalist who has been traveling and writing for over 30 years — and is still as eager for the next trip as she was for the first. Her articles appear in newspapers across the country and websites across the internet. When not traveling, she is almost as happy watching plays or movies, working out and sitting on a barstool next to her travel-writing husband.