---
This Sunday we muse about voice-activated hotel rooms, better Amtrak service, and learn how self-driving cars work.
---
Voice-activated technology being piloted in rooms at Seaport District hotel

Voice-activated rooms are now being rented in the Seaport District of Boston. The new system allows guests, for an extra $50, to take command of their room. Everything from setting the thermostat to dimming the lights and from calling for room service to finding restaurants nearby can be done by speaking to the computer. It is a room with built-in Alexa or Siri. Heck, I have one at home. For me, there's no need to spend an extra $50 a night. What about you?
A voice-activated hotel room is being piloted right here in Boston. And the creators hope it's the voice of the future.

As soon as Eric Marlo enters a room at the Aloft Hotel in the Seaport district he says, "Hey Siri. Turn on the lights." And on they come.

Marlo is one of the brains behind the system.

"Definitely one of my babies, yeah," he says.

Then he decides to change the mood in the room with another voice command, "Hey Siri. Relax." And the lights change to a warm reddish tone.

It's the first of its kind in Boston, active in 10 rooms at the Aloft Hotel.

"We've pulled components from Apple's home kit and we brought it into the room and created the hospitality industry's very first voice-activated guest room," Marlo said.
Feds back ambitious plan to speed up Northeast rail aervice
Back in the beginnings of the Obama administration, Travelers United suggested that the motto for the Federal Railroad Administration (FRA) should be "incremental change we can believe in." The administrator at that time sought to slice about 20 minutes off the current travel time between New York and Washington, DC. Now, a new FRA plan seeks to cut travel times by 45 minutes between Boston and New York. Finally, a rail program we can understand that is doable.
In the past, politicians all kept making their pronouncements in front of bullet trains and kept using the term "high-speed rail." In fact, they weren't deploying any bullet trains, nor were they establishing high-speed rail lines. They were making travel times shorter and improving existing tracks, signals, and sidings. This program seeks to do just that.
The Federal Railroad Administration's plan unveiled Friday aims to cut down on delay-causing bottlenecks and increase capacity by upgrading outdated bridges and tunnels, including ones into New York City that are more than a century old, and realigning tracks to eliminate speed-restricting curves.

The agency estimates the changes will cut travel times between Washington and New York by 35 minutes, to about 2 hours and 10 minutes on the fastest trains, and save 45 minutes to an hour on trips between Boston and New York, which now take close to 4 hours.

The $120 billion plan is the product of a four-year process that sought input from state and local governments, residents, Amtrak and eight commuter railroads. About 750,000 people travel on the Northeast Corridor each day. Now it's up to the states, railroads and President-elect Donald Trump to figure out if they're on board.
How self-driving cars work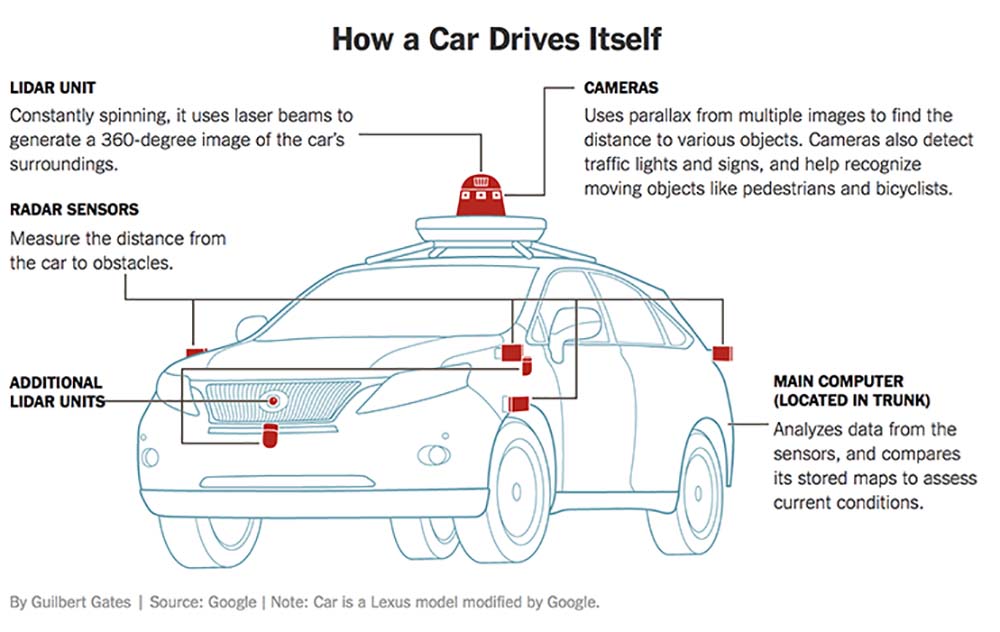 This article from the New York Times provides a good overview of the state of self-driving cars today. These vehicles are now in use in Pittsburgh and in San Francisco. Plus, Tesla has variations of self-driving cars and many cars on the road have self-driving features such as self-parking, cruise control, collision avoidance, and other features.