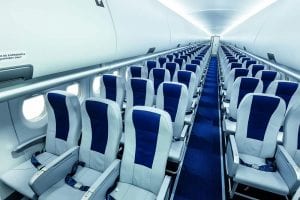 This Sunday we look at denied boarding statistics and look at airline progress. We have a story about the "rules" for reclining your seat in crowded aircraft. We learn about the problems of transplant organs going missing during air travel. Finally, we get a first look at a new Maine stamp to be released in a couple of weeks.
GAO finds fewer reports of involuntary denied boarding by US airlines
Since the infamous Day of Dr. Dow being dragged off a United Airlines flight, bloodied and crying, and appearing to be missing teeth, airlines have strived to limit forced bumping. The amounts of money that airlines are willing to throw at passengers to get them to "volunteer" to be bumped reached $10,000 in one verifiable case. And though the amounts of money may not be in the tens of thousands, they have increased dramatically.
The GAO report looked at trends in both voluntary and involuntary denied boardings at airlines, and at passenger complaints submitted to the DOT from 2012 through 2018. The GAO also reviewed seven airlines' overbooking and denied boarding policies: American Airlines, Delta Air Lines, Frontier Airlines, JetBlue, Spirit Airlines, Southwest Airlines, and United Airlines.

In its analysis of the data, the GAO reviewed relevant statutes and DOT regulations, and previous GAO work published in 2018 on denied boardings. The office also interviewed DOT officials, one airline industry association, two consumer advocacy organizations, and three airline revenue management specialists to gain additional insights on trends that were included in the report.

Their findings show that the number of passengers denied boarding, both voluntarily and involuntarily, has decreased overall. Combined, fewer than 1 percent of passengers are denied boarding. For every 100,000 passenger boardings in 2018, only 43 passengers were involuntarily denied boarding and about one passenger in 100,000 was involuntarily denied boarding.
The completely correct guide to reclining on an airplane
This article about Etiquette for Seat Reclining was just sent to me. I was reading a tweet about the CEO of Delta announcing that before one reclines their seat, they should ask permission. Well, all travelers can imagine the response to that request from the head executive of Delta Air Lines. (I am certain that the response would have been different if the tweet came from an aggrieved passenger.)
Comments like, "When he sits in coach for a long flight to Europe, I may listen to him." Or, "Having someone who has never seen coach dictate rules for a problem that he created is amazing." Other comments were along the lines of, "I paid for my seat, I'll do what I want with it." And, plenty more followed that thread.
The article lists Dos and Don'ts and it ends with the following:
Don't recline: When you hear the person behind you beg for mercy

Flying isn't easy for everyone. Whether tall, claustrophobic, anxious or just in the middle of a terrible day, it can become a gruesome endeavor. If you go to recline and someone asks you not to, reconsider. Sure, it's technically within your right to do so — why would the function be there in the first place if not to use it?

But take the high road and collect some traveler karma instead.

Ultimately, flier discretion is advised. Assess individual situations, use your best judgment, and recline or remain upright accordingly. Are there other hypothetical situations for reclining we should consider? Sound off in the comment section or tweet them to me at @natbco — we may update with a ruling.
How lifesaving organs for transplant go missing in transit
Scores of organs — mostly kidneys — are trashed each year and many more become critically delayed while being shipped on commercial airliners, a new investigation finds. A podcast can be found at this article link.
In a nation where nearly 113,000 people are waiting for transplants, scores of organs — mostly kidneys — are discarded after they don't reach their destination in time.

Between 2014 and 2019, nearly 170 organs could not be transplanted and almost 370 endured "near misses," with delays of two hours or more after transportation problems, according to an investigation by Kaiser Health News and Reveal from the Center for Investigative Reporting. The media organizations reviewed data from more than 8,800 organ and tissue shipments collected voluntarily and shared upon request by the United Network for Organ Sharing, or UNOS, the nonprofit government contractor that oversees the nation's transplant system. Twenty-two additional organs classified as transportation "failures" were ultimately able to be transplanted elsewhere.
New Maine statehood stamp celebrates state's bicentennial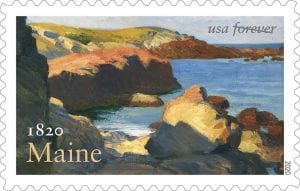 The U.S. Postal Service is celebrating Maine's Bicentennial with a new Maine Statehood stamp. This Forever stamp, featuring artwork by Edward Hopper, will be dedicated at 1 p.m. during the Maine Statehood Day Ceremonies, on March 15, at the Augusta Armory, Augusta.
Hopper painted Sea at Ogunquit in 1914. The USPS used another Hopper work on the 1970 stamp honoring the state's 150th anniversary.

The Postal Service printed 20 million of these stamps, so there should be enough for all who want them, whether for use on daily mail or as a souvenir or part of a collection. You can purchase the stamps here.
You may enjoy these other stories from Travelers United Blog:
How to self-insure for COVID-19 travel problems
7 solid reasons why you might not want an exit-row seat