---
Southwest founder found a magic formula for success at lowering airfares
---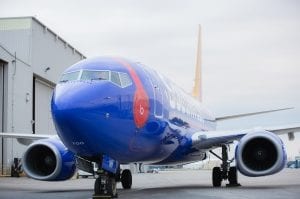 Today we ponder the rise of Southwest to become the biggest domestic carrier. They followed the vision of the Southwest founder. We read about drones disrupting flights in London and new countermeasures. Finally, the cost of visiting Disneyland keeps rising.
Southwest's Herb Kelleher: Five innovations that shaped U.S. aviation
The Southwest founder, Herb Kelleher, died on January 3rd, this year. He was a visionary who found a way to create a new airline model based on five beliefs that he found a way to put into effect nationwide while being battled by the major carriers.
Here are the five beliefs held by the Southwest founder. Click here to read more about how consumers began to save money, lots of money, by flying with low-cost carriers
1. Happy employees
2. Low fares
3. No frills
4. Efficiency
5. Secondary airports
Gatwick and Heathrow buying anti-drone equipment
During the past holiday period the two biggest airports in the United Kingdom were closed by unauthorized use of drones or unmanned aerial vehicles. Hopefully, these drone events will wake up governments to start putting into place ways to track and control all drones. We need registration for both hobbyists and for commercial drone operators.
Gatwick and Heathrow have not disclosed the equipment they plan to use in future.

A Gatwick spokeswoman confirmed the airport had invested in new anti-drone defenses after the disruption.
A spokesman for Heathrow said: "The safety of our passengers and colleagues remains our top priority.

"Working closely with relevant authorities including the Met Police, we are constantly looking at the best technologies that help remove the threat of drones."

Sussex Police, which is still investigating the disruption, says it was caused by "numerous instances of illegal drone activity".

The force said it has "relevant sightings" from 115 witnesses – 93 of whom it described as "credible" – including airport staff, police officers and a pilot.
Disneyland hikes ticket prices again–cheapest daily fee over $100
Airline prices are down. The stock market is drooping. Oil cost less than it has for decades. However, the price of visiting Disneyland and Disneyworld are increasing again. This is a perfect example of charging what the market will bear. If prices go up and visitorship also increases, it is an indication that consumers are willing to spend even more.
The Los Angeles Times reports price increases in recent years haven't thinned the throngs at Disneyland and nearby California Adventure Park.

A one-day, one-park ticket is now $104 for low-demand days, such as May weekdays. Tickets for regular- and peak-demand days cost more.

Visitor numbers are expected to increase for this summer's opening of "Star Wars: Galaxy's Edge."