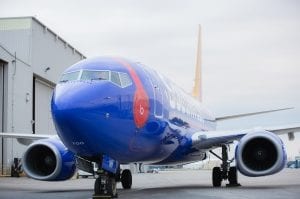 Southwest flies to Hawaii after much anticipation. Cheapest flights are already sold out, but watch the "Southwest Effect." We look at why we have daylight saving time. It is really necessary? And, finally, we take time to consider a big Airbnb scam. Is this room sharing site becoming a way for lawbreakers to skirt hotel laws?

Southwest Airlines has started selling tickets to Hawaii, with the first flights taking off March 17.
Finally, Southwest flies to Hawaii. Flights will take off starting on St. Paddy's Day. A lot of green beer will be drunk in celebration of the new route (or, maybe in celebration of St. Patrick's Day). In any case, it will be a festive day. And savings will be in the offing.
Southwest flies to Hawaii between Oakland and Honolulu, with additional flights from Oakland and flights between San Jose and Honolulu, Kona and Maui added in April and May. Tickets are available on Southwest's website for the new routes.

Introductory Southwest flies to Hawaii fares started at $49 one way for travel into mid-June, according to Southwest's website. The cheapest fares were available on Tuesdays and Wednesdays, but as of 12:30 p.m. ET, the $49 tickets were sold out with limited other cheap fares left. Fares for peak summer travel range from $189-$214 each way. The airline didn't formally announce the start of ticket sales but quietly launched a Hawaii ticket portal.

Southwest has a low-fare calendar to help find the cheapest fare. The starting dates for other Southwest flies to Hawaii routes, according to Southwest's website, are:

• Oakland-Maui: April 7
• Oakland-Kona May 12
• San Jose-Honolulu: May 5
• San Jose-Kona: May 12
• San Jose-Maui: May 26
Why do we have Daylight Savings Time? Was it Benjamin Franklin?
Here are five things to know about the time switch from Patch.com.
1. Daylight Saving Time is not an American invention. Yes, Benjamin Franklin proposed the idea way back when and said Americans could conserve candles if they just got up an hour earlier. But the first known advocate of Daylight Saving Time was Englishman William Willett in 1905. His proposal to move clocks ahead by 80 minutes between April and October was rejected by the English Parliament, though, and the first country to implement the practice was Germany, which used it to save fuel during World War I.

2. Daylight Saving Time isn't saving that much energy. The purported savings in the Energy Policy Act never materialized to a significant extent. A study by the U.S. Department of Energy in 2008 found the decrease in energy usage was hardly measurable — just 0.003 percent. … The authors of the 2008 study, which focused on the state of Indiana because it was slow to embrace the practice, said that based on conservative estimates, Indiana residents paid about $3.18 more a year for electricity. Statewide, that would add up to increased costs of $8.6 million a year.

3. Springing forward may be unhealthy. A study three years ago by the University of Michigan showed that the short-term risk of a heart attack goes up about 25 percent after the time switch. U-M cardiologist Dr. Hitinder Gurm, the study's author, said that though it's tough to pinpoint an exact reason, data showed a 25 percent surge in heart attacks on the first full work day after the time switch.

4. You're less likely to get mugged and robbed when Daylight Saving Time is in effect. In a 2015 paper published by the Brookings Institute found that on the day DST begins in the spring, robbery rates fall by an average of 7 percent for the entire day. The decrease was much greater — 27 percent, during the evening hour that gained extra sunlight.

5. Fatigue and sleep deprivation associated with the time switch may increase "cyberloafing." The number of Google searches for entertainment content, specifically "YouTube," "videos," "music" and "ESPN," rise sharply on the Monday following the time switch, according to a 2012 study published in the Journal of Applied Psychology.
Also on Travelers United: Timely complaints while traveling can be fixed now
Inside the rise and fall of a multimillion-dollar Airbnb scheme
Airbnb has been shooting itself in the foot for years and evidently skirting the law. Many Airbnb hosts are actually running giant hotels as though they were room-sharing operations. Rather than expose these operators who "booked tens of thousands of guests for 55,331 nights over three years across 35 different buildings (in NY)," Airbhb has defended its way of business. The New York Times just reported on a massive Airbnb Scam. The report noted, "Six buildings each generated more than $1 million in revenue; the top-earner was a residential building in Kips Bay that brought in about $1.8 million, according to the city." The facts are not nice and they do not bode well for Airbnb or HomeAway or other "sharing" operations.
Multiple misleading identities, more than 100 host accounts and 18 corporations were created to run an illegal hotel business in Manhattan, according to a lawsuit filed by the city.

Interviews and documents offer a glimpse at how the New York scheme worked. According to the suit, the ring used multiple misleading identities to dodge Airbnb's rules, text tourists and book apartments to budget-minded travelers. Addresses were fudged to avoid scrutiny. A cadre of cleaners was apparently recruited through Facebook.

In all, more than 100 Airbnb host accounts and 18 corporations were created to run an illegal hotel business that stretched north from TriBeCa to SoHo, Gramercy, the Upper East Side and Harlem, according to a lawsuit brought by the city.
…
Still, the company has voluntarily taken down more than 5,000 commercial listings since late 2015. The city estimates that about one-third of listings on home-sharing websites are run by commercial operators; Airbnb disputes those numbers.

Under Airbnb's "One Host, One Home" policy, New Yorkers can list only one apartment, with few exceptions.
Charlie Leocha is the President of Travelers United. He has been working in Washington, DC, for the past ten years with Congress, the Department of Transportation and industry stakeholders on travel issues. He was the consumer representative to the Advisory Committee for Aviation Consumer Protections appointed by the Secretary of Transportation from 2012 through 2018. He also served on the Consumer Advocacy Subcommittee of the Transportation Security Advisory Board.