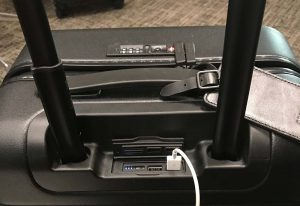 Most US airlines announced a smart luggage ban — suitcases equipped with batteries that allow them to charge mobile devices and be tracked using GPS — will be banned from both checked and carry-on luggage effective January 15. While this news may have startled many travelers who invested in these suitcases within the past two years, flyers will still be able to travel with most major brands of "smart luggage" after Jan. 15.
This airline announcement comes along with a host of rule changes having to do with lithium-ion batteries. The overall goal is to reduce the number of such batteries in checked and gate-checked baggage in order to prevent fires in aircraft baggage holds.
Also effective January 15, each passenger will be permitted up to a maximum of 15 personal electronic devices (anything that can be powered on or off) and a maximum of 20 spare lithium-ion batteries (including battery recharge packs) per person. Loose or spare cells or batteries (including power banks) must be protected from short circuit and transported in carry-on baggage only. Passengers are asked to transport PEDs in carry-on baggage. When this is not possible, the device must be switched off and measures must be taken to ensure it cannot be accidentally activated when placed in checked baggage.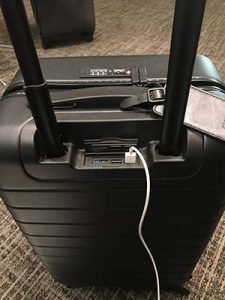 If the lithium-ion cells or batteries exceed 100 watt-hours, only 2 cells or batteries not exceeding 160 watt-hours each are permitted. Cells or batteries that exceed the 160 watt-hour limit are not allowed as checked or carry-on baggage. Lithium metal (non-rechargeable) batteries are limited to 2 grams of lithium content.
As of Jan. 7, the only US airlines that have not announced smart luggage bans in checked baggage, or on non-removable battery-equipped luggage in carry-ons, are JetBlue, Frontier and Sun Country. According to its website, Alaska Airlines will allow batteries to remain in checked pieces of "smart luggage" as long as they are detachable.
A piece of luggage is only banned outright if its built-in battery cannot be removed. Luckily, two major brands of "smart luggage" — Away (right) and Raden (below) — have equipped their suitcases with detachable batteries. After Jan. 15, owners of these suitcases will still be able to fly with them. If they are checked, the battery will need to be removed, powered down and placed in the passenger's carry-on luggage. If they are carried on, the battery must remain installed in the suitcase, unless the bag is gate-checked, in which case the battery will need to be removed and carried separately. Batteries in carry-ons must be protected from contact with other batteries or other sources of short circuits.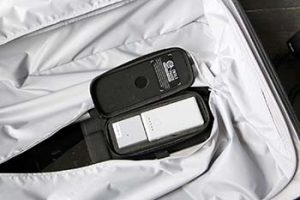 Southwest Airlines spokesperson Melanie Jones tells Travelers United that passengers who arrive at the airport wishing to check smart luggage after Jan. 15 and who are unable to remove the battery, will be given the option of transferring their luggage into an acceptable suitcase and disposing of the unacceptable one. They will also be allowed to rebook for a later flight to allow time to swap suitcases. The airline does not provide luggage that a customer can purchase, but a tote bag is available at the airport for $25. Passengers are solely responsible for disposing of unacceptable luggage and airline employees will not be allowed to handle such luggage.
If you attempt to carry on a suitcase with a non-removable battery, it will not be flagged at the TSA checkpoint. It will be up to airline gate agents to ensure that carry-ons conform to airline policy. If a checked battery-equipped suitcase makes it past the check-in counter, TSA baggage screening agents may flag it and either attempt to disable the battery or transfer the contents into a different bag or box.
These smart luggage ban policies apply to luggage regardless of whether the manufacturer states that it is FAA- or TSA-approved. These policies will also apply to other devices with detachable lithium-ion batteries, such as battery packs, electronic baggage tags, electronic locks, and personal transportation devices like scooters and folding electric bicycles. They will apply to both domestic and international flights operated by US airlines.
Passengers with disabilities who use battery-powered mobility or assistance devices should check with their airline regarding how it will be handled under the new rules.
Here are links to specific airlines' smart luggage ban policies regarding batteries and other "special luggage":