---
Join Travelers United and help us make travel better for all of us
---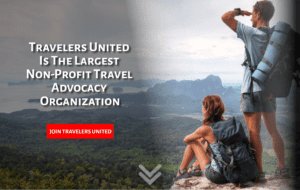 Travelers United is a membership organization that has been on the forefront of the battle between passengers and the airlines that want to treat their customers like cargo. During our time working in Washington, DC, we have been the primary consumer traveler force in getting the passenger rights in place that airline travelers can count on today.
We need your help. Join us and help with the battle in Washington, DC, against the airlines for better customer service. Plus, your membership will include secure WiFi, a travel vault for sensitive documents, a $25 dining coupon every month, and a downloadable copy of Travel Rights. In all, members will get about $400 in annual value for only $29 a year for the first year and then $39 a year afterward. 
Since coming to Washington, DC, in 2009, Travelers United has made a big difference for travelers. We are the only organization focused on travel from airlines to hotels and from rental cars to railroads.
Tarmac delay rules. Before that time, airlines were free to keep passengers on aircraft on the runways for 6, 8, 12 hours or more. Passengers were virtual prisoners on the planes waiting for take-off. FlyersRights was the lead organization and did the heavy lifting, but Travelers United and about a dozen other consumer groups all worked together to get the rule in place. Travelers United also worked with other stakeholders at the American Society of Travel Agents, with business travel organizations, and others, to help move the new rule forward. These rules were subsequently applied to all foreign airlines operating from the US.
After the push for the tarmac delay rule, Travelers United learned that a close relationship with the DOT was necessary for making rule changes. This, together with regular meetings with the Representatives and their staff on the House Transportation and Infrastructure Committee and the members and staff of the Senate Commerce Committee, began to bear fruit. Together with DOT, Travelers United began to piece together a series of rules that DOT would introduce to the rulemaking process. We didn't win every issue, but our results were exceptional.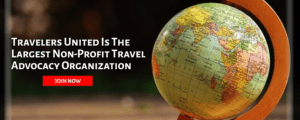 24-Hour Rule. Travelers United was the lead consumer organization in this effort. Our organization worked from the beginning with the Department of Transportation (DOT), shaping the rulemaking. We filed comments. And, when the final decision was announced, travelers had the right to cancel a reservation without penalty for 24 hours if the reservation was made seven days before the flight.
Full-fare advertising rule. Again, this rule came about from a record of complaints by consumers and Travelers United's continued pursuit of change. Anyone who purchased international airline tickets earlier than 2012 has seen the advertisements in newspapers proclaiming in headlines, "$65 Boston to London." Of course, after going through the purchasing process the absolute lowest cost ticket between Boston and London cost $751 round trip. The only way that airlines could advertise such misleading airfares was because they divided a roundtrip ticket by two and then removed all taxes and fees. The resulting "airfare" was ridiculously low. Since the imposition of the new full-fare advertising rule, airfares can be purchased for the advertised price.
Both of these rules incurred the ire of the airlines. Claiming financial harm and a first amendment right to free speech, airlines took DOT to court. Travelers United supported DOT together with the American Society of Travel Agents. DOT won the case. But that was not the end. The airlines then petitioned the Supreme Court to allow them to continue misleading the public. However, the Supreme Court allowed the District Court ruling to stand. Today, those protections are firmly in place.


Travelers like you can never be complacent. Every time a new authorization bill is taken up by Congress, the airlines manage to sneak an amendment into the House version of the funding bill stating that these rules should be removed from federal regulations. So far, Travelers United has been steadfast in support of the consumer protection rules and has managed to keep any companion bill from being introduced in the Senate. However, the battle goes on.
Here are other changes that irritate airlines. Travelers United has been key in getting these into rulemakings:
Complaints. Airlines now have to respond to all complaints within 30 days and provide a substantive response within 60 days.
Post-purchase price increases. Once a ticket is sold, airlines cannot change prices and demand more money, nor can they increase the ancillary fees.
Contract of carriage. Must be on every website and must be easy to read and find.
Code-sharing disclosures. As airlines have increased their code-sharing, DOT has required that the airlines clearly tell consumers which airline is operating the flight. Though a traveler's ticket says Delta, American, or United, in many cases the actual international flight may be on Air France/KLM, British Airways/Iberia, or Lufthansa.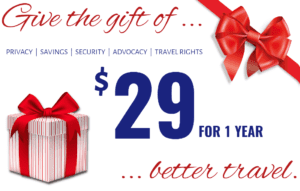 Baggage liability. Compensation for domestic flight has been increased to $3,500 for lost/damaged/delayed luggage. International compensation is handled under rules of the Montreal Convention international treaty. For international flights, DOT has specified that airlines cannot exclude liability for high-value contents (including, but not limited to, electronics, cameras, and jewelry). Though the total compensation for passengers is only about $1,600, all contents of checked baggage are covered.
There is much more. Travelers United has been at the forefront of efforts to get travel rights posted at airports. We have worked hard with Attorneys General, the FTC, and Congress to stop hotel false advertising where they advertise a room rate and charge an extra resort fee at checkout. We are working with Congress to develop a cruise line passenger bill of rights and to allow the FBI to investigate criminal actions aboard cruise ships in international waters.
Travelers United can use your help. If you are already a member, please consider an additional donation. If you have not joined, sign up and get our newsletters as well as secure WiFi, the travel vault, dining savings, and Travel Rights.
As you read this, the airlines are attempting to take away all passenger rights. Travelers United is working hard to keep our current rights in place and expand them whenever we find deceptive and misleading practices. Travelers like you are the reason we have been successful. Join us.
Help us by adding your voice to ours.
PS: Your membership and gift memberships are tax deductible.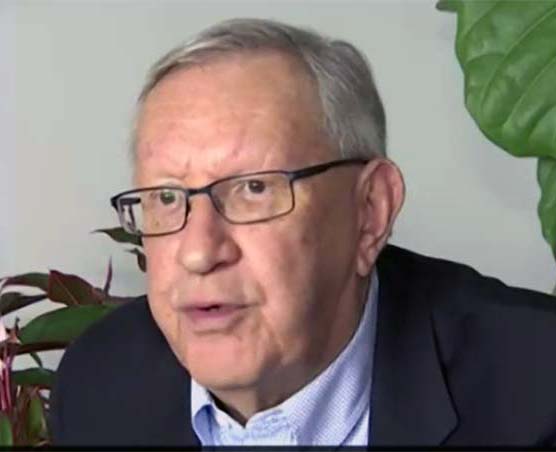 Charlie Leocha is the President of Travelers United. He has been working in Washington, DC, for the past 14 years with Congress, the Department of Transportation, and industry stakeholders on travel issues. He was the first consumer representative to the Advisory Committee for Aviation Consumer Protections appointed by the Secretary of Transportation from 2012 through 2018.