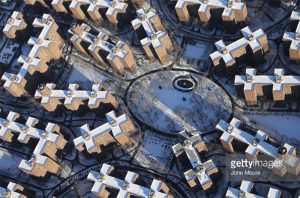 Today, we look at amazing photos of New York City after the Bomb Cyclone. We examine a new Japanese app that matches pregnant women with subway riders who will allow them to sit on crowded trains. And, we read reasons to visit countries denigrated by President Trump.
New York City survives "Bomb Cyclone"
Here are 17 amazing photographs of New York City after the snowstorm of January 4th and 5th. These dramatic shot were all taken from a bird's-eye view.
An app to end pregnant women's quest for subway seats
In Japan, a new app has made it easier for pregnant women who need to sit down on the subway to find riders willing to give up their seats. It is an interesting concept in an age when manners seem to be fleeting.
A good many people will offer a seat to a visibly pregnant woman, but there are enough who don't to prompt expectant mothers around the world to complain about the lack of civility they experience from fellow riders —especially men. One woman in New York City even carried around a 7-inch trophy honoring the "#1 Decent Dude" who offered her a seat. The dude didn't appear until the eighth month of her second pregnancy. The opposing camp's arguments often center on how pregnancy is not a disability, or that it's a woman's "choice," so she should bear it with fortitude.
…
And now, Japan may have come up with a better solution: an app that matches pregnant women requesting a seat with riders who have agreed in advance to give them up upon request.

The service is a collaboration between the Tokyo metro and Line, a popular Japanese messaging app. When a pregnant woman enters a subway car, she can push an "I wish to sit" button in the app.
13 reasons to visit the 'shithole countries' President Trump singled out
President Trump on Thursday referred to African nations as "shithole countries" during a discussion of immigration policy at the Oval Office, according to a Washington Post report — though it wasn't clear which of the 54 states on the continent the president may have been thinking of. The president also spoke disparagingly of El Salvador and Haiti, though he didn't specifically call them "shitholes," according to CNN's Jake Tapper. Fact is, there's plenty of magic and beauty in these destinations. Here's a brief look at just some of them.
Amazing and  impressive from a tourist point of view. Not sure I want to live there full time, however.