---
JetBlue stops selling tickets on all travel websites
---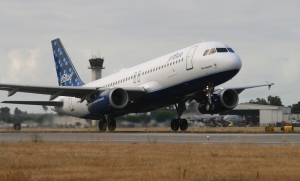 JetBlue recently decided to stop selling its tickets through a dozen different websites. This is a different change from that instituted by Delta Air Lines where the airline has forbidden certain websites from even using its pricing data. The JetBlue action simply stops sales on smaller websites.
Both actions make the airline ticket buying process more complex. However, JetBlue's actions do not restrict comparison shopping. Dropping the JetBlue content from the online travel agency sites will be the decision of the online travel agency.
According to JetBlue, these lower-yield sites cover a tiny percentage of their sales.
The sites dropped by JetBlue represent a "very small percentage" of overall ticket sales, according to the airline. Sites no longer selling JetBlue include SmartFares.com, FlightSearch.com, VacationExpress.com, FlyFar.ca, FlightNetwork.com, and Vayama.com. JetBlue calls them "lower-yield" online travel agencies.

"We looked at the cost structure and recognized that we had an intersection of a relatively high-cost channel and some relatively low-value customers," Marty St. George, JetBlue's executive vice president for commercial and planning, said in an interview. Passengers who bought tickets through the sites not only chose cheaper fares, but also spent less on ancillary items, he said. "They just weren't profitable customers for us."
Of course, Southwest Airlines has never sold its tickets through online travel agents. Plus, it notes when it tested sales through travel agents its different approach to flying caused problems and complaints. Travel agents failed to explain the different boarding procedures and the no-seat-reservation system that Southwest uses.
While Southwest has advertised heavily to inform passengers that they can only purchase tickets at Southwest.com, JetBlue and Delta have left consumers to figure out their sales channels on their own. This leaves consumers without any Delta Air Lines presence by the airline's choice and may leave consumers with a chance to see JetBlue prices when they are purchasing tickets, depending on the online travel agency's decisions.
In JetBlue's defense, most of the websites culled from being able to sell JetBlue flights do not have the technical capacity to deal with their differing fare structures.
Some sites, St. George said, do not display fares as the airlines want, so customers are not able to decide between lower-priced fares, with fewer options, and more expensive bundled fares. In 2015, JetBlue introduced three economy class fare families — Blue, Blue Plus and Blue Flex — all with different rules and perks.

Also on third party sites, JetBlue at times cannot sell customers ancillary products, such as extra legroom seats, or even pet booking. And sometimes, St. George said, the third-party sites do not share basic customer information with the airline, making it tough for JetBlue to contact customers if flights are delayed or canceled. Customers may also have trouble rebooking their flights when required.
In any case, comparision shopping will be more difficult for all airline consumers.
Here is the full list of sites JetBlue is dropping:
SmartFares.com
MyFlightSearch.com
VacationExpress.com
FlyFar.ca
FlightNetwork.com
Vayama.com
WhatsCheaper.com
Vegas.com
JetsetVacations.com
CheapFlightsFares.com
QuickTravels.com
kiwi.com