---
Are airline customer service commitments worthless?
---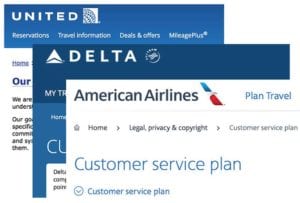 Every airline has a customer service commitment. The Department of Transportation (DOT) requires it. But, DOT refrained from making these customer service commitments a part of the contract of carriage. In other words, an airline customer service commitment does not have the force of law. Airlines cannot be held liable for any violation of their printed "commitment."
Back in the early 2000s, Travelers United worked closely with DOT to require the current customer service commitments. We also tried to require that airlines make their commitments part of their contracts of carriage. However, at that time, consumer advocates lost the battle. Airlines were forced to include a customer service commitment. But they were not required, under contract law, to abide by their commitment. It was only a partial victory for Travelers United and consumers.
After watching the abhorrent beating and dragging of a law-abiding and rule-abiding United passenger off his flight from Chicago to Louisville, it is time to revisit airline customer service commitments. Both Congress and DOT should take another look and require that basic customer service commitments are enforceable by law rather than at the convenience of the airlines.
Here are links to the customer service commitments of the five largest US airlines
Alaska Airlines Customer Service Commitment
American Airlines Customer Service Plan
Delta Air Lines Customer Commitment
United Airlines Customer Commitment
Southwest Airlines Customer Service Commitment
The DOT rule changes issued in 2011 required airlines to add important elements to their customer service commitments.
Lost bags and bag fees — Increased the compensation to $3,500 for lost, damaged, and delayed checked baggage. If baggage was lost, the rule requires airlines to refund the checked-baggage fees.
Disclosure of additional fees — Here, Travelers United did not get what it sought — full disclosure of fees at all points of sale. DOT mandated that airlines link to their ancillary fees from their website homepage.  A subsequent rulemaking that has not been completed is reexamining this issue.
Bumping (denied boarding) — DOT doubled compensation and added inflation adjustments. One- to two-hour delay compensation increased to $675 and delays of more than two hours received compensation of up to $1,350. (These are the current compensation amounts after inflation adjustments.)
Tarmac delay rules — Expanded to foreign carriers.
24-hour rule — Rule allows passengers to cancel reservations without penalty for 24 hours from booking when flights are booked a week before departure.
Passenger notifications — Requires airlines to promptly notify consumers of delays of over 30 minutes, as well as cancellations and diversions. This notification must take place in the boarding gate area, on a carrier's telephone reservation system, and on its website.
No post-purchase fare increases — Fare can only go up in the case of government-imposed taxes or fees, and only if the passenger is notified of and agrees to the potential increase at the time of sale.
These changes that come into force in 2012 with the publication of the second Passenger Protection rulemaking are all controlled and enforced by DOT. They have not been made part of the contract of carraige or the official contract with passengers.
Other customer commitments published by airlines do not have the force of law. They are published with an understood "best efforts" disclaimer.
Take a moment to see what customer service commitments your airline is making to you. The airlines strive to fulfill these commitments, but if they fail, an apology and a few frequent flier miles is all most passengers will get in compensation.