---
20 states are not yet Real ID compliant. Passports can serve as ID replacements. Use this passport FAQ.
---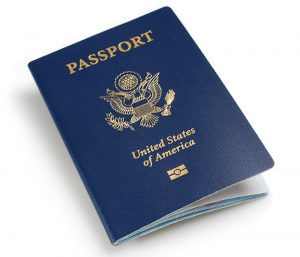 More than twenty U.S. states' and territories' Real ID extensions expire on October 10, this year. This passport FAQ provides instructions should the federal government not provide extensions for new state IDs.
Many U.S. citizens worry about having a U.S. passport or passport card by October for domestic travel if their state can't supply them with a Real ID compliant driver's license or nondriver's ID.
States like Pennsylvania already know they won't have Real ID compliant IDs available until 2019. Unless Pennsylvania can obtain a new Department of Homeland Security (DHS) extension, their citizens will need a passport or other acceptable Real ID compliant identification to fly domestically after the extension expires. No one knows if DHS will grant new extensions.
For those who need to apply for a U.S. passport or passport card for the first time, here's a Passport FAQ.
How do I apply for a first time U.S. passport or passport card?
First-time applicants must apply in person. Use form DS-11, which you can fill out online, then print. Don't sign the application until instructed by an acceptance agent. Children must have their own passports or passport cards.
Later this year, it's expected that passports will be able to be renewed online; however, first-time passports will continue to need to be applied for in person.
What information must I supply with the application?
You'll need your Social Security number. You must provide evidence of U.S. citizenship and the evidence must be either an original or certified copy. It's critical to understand that photocopies or notarized copies of your proof of citizenship aren't acceptable.
Birth certificates are the most commonly used proof of citizenship. Midwifery and hospital birth certificates aren't acceptable. You'll need a state or territory certified birth certificate. In addition, you'll need a photocopy (single sided of white letter-sized paper) of your proof of citizenship.
Bring proof of your identity, such as your state driver's license or non-driver's state ID with you to show to the acceptance agent. Submit a photocopy (single side of white, letter-sized paper and both the front and back of the ID must be included) of the proof of identity document with your application.
What are the requirements for submitting my passport photo?

You must provide a single 2" x 2" color photograph of yourself with a plain white or off-white background, taken within six months of your passport application date. You must look directly at the camera with a neutral expression or natural smile and both eyes open. If you wear glasses, remove them for the photo. Your face must fill most of the photo.
You can't wear a hat or head covering unless it's for religious or medical purposes. If you wear it for religious purposes you must certify it in writing. If you wear it for medical purposes, your physician must certify you need it. In both cases, the certification must include a statement that it's worn regularly.
In the photo, your full face must be visible. A hat or head covering can't obscure your hairline or cast a shadow on your face. Don't wear headphones or hands-free devices in the photo.
What are the fees for a first time U.S. passport application?
The passport fee for first-time adult applicants is $110, plus a $35 execution fee. Applicants pay extra for other services such as expedited service.
Where do I submit my first time U.S. passport application?

To find the nearest passport acceptance facility, the U.S. Department of State provides a search page on their Internet site. Submit your application at many local post offices across the U.S.
How long will it take to get my U.S. passport?

Today, passport applications processed within 4–6 weeks for routine service. Expedited service takes 2–3 weeks.
If you wait until close to the October deadline to find out if you absolutely need a passport or passport card, you'll likely find that the passport processing times will be longer, as others may delay applying to the last minute, too.
International travelers who can show proof of an immediate need to have a passport can obtain one within a day, at added cost. The U.S. Department of State hasn't indicated a willingness to extend that for domestic travelers, even if DHS doesn't extend their deadline for states still working to get their Real ID compliant ID programs going.
Can I get a passport card to travel domestically?

You can use a passport card as identification to fly domestically. For first-time applicants, passport cards cost $30 plus a $35 execution fee, which is considerably less than a passport.
Remember that you can't use a passport card to fly anywhere internationally and a passport card application requires all the same documentation as a passport application. Learn from our passport FAQ.
If you might need a passport or passport card to fly domestically in the future, there's no need to apply until July or early August to ensure you'll have your passport or passport card by the October Real ID deadline. Hopefully, more will be known by then to make your decision easy.
Check here if you are thinking about getting a second passport.
After many years working in corporate America as a chemical engineer, executive and eventually CFO of a multinational manufacturer, Ned founded a tech consulting company and later restarted NSL Photography, his photography business. Before entering the corporate world, Ned worked as a Public Health Engineer for the Philadelphia Department of Public Health. As a well known corporate, travel and wildlife photographer, Ned travels the world writing about travel and photography, as well as running photography workshops, seminars and photowalks. Visit Ned's Photography Blog and Galleries.