---
Scientists have concerns about current vaccines' Omicron protection. Face masks remain highly effective against all COVID variants.
---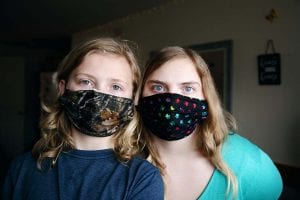 The world just discovered the Omicron variant of the COVID-19 virus. Speculation about Omicron protection has caused fear about its infectiousness, transmissibility, and spread. Scientific experts have noted that with more than 30 mutations on its spike protein. Antibodies from prior infections and vaccinations may significantly reduce its preventative effect. These discoveries have sent stock exchanges plummeting and caused nations to close borders.
National Institutes of Health (NIH) Director, Dr. Francis Collins, in an interview on "Fox News Sunday," said,
"If you've raised antibodies against COVID-19 from previously being infected or from being vaccinated, the question is, will those antibodies still stick to this version of the spike protein, or will they evade that protection? We need to find that out, to be honest, though that's gonna take two, three weeks in both laboratory and field studies to figure out the answer. And that's what all of us as scientists want to know."
It may not be until the end of the year before we know about Omicron infectiousness and vaccine efficacy against it.
So, right now we don't know a lot of the specifics about Omicron protection. It's going to take a while to understand Omicron and its potential, compared to prior variants of the COVID-19 virus. We may not have answers about good Omicron protection until late December.
For domestic or international travelers in the next month, we know this about the COVID-19 Omicron variant.
Omicron cases are identified worldwide.
• At this point, Omicron exists in South Africa, Botswana, Hong Kong, Israel, the Netherlands, Denmark, Australia, Canada, the United Kingdom, and Belgium. France has identified eight possible cases.
• Omicron-based travel restrictions with southern Africa have been put into place by much of the world. The European Union (EU) has restricted travel with Botswana, Eswatini, Lesotho, Mozambique, Namibia, South Africa and Zimbabwe. The U.S. targeted those nations, plus Malawi. The United Kingdom added Angola and Zambia to the U.S. list. While the restrictions may slow the spread of Omicron, like Delta, it's highly unlikely it will stop it.
It's likely that Omicron has already spread more than we know and will cause more and more travel restrictions over the coming weeks.
• Travelers can count on more and more international travel disruptions during the coming weeks, while scientists investigate Omicron and more countries discover cases.
• The World Health Organization (WHO) has designated the Omicron strain of COVID-19 a variant of concern. WHO confirmed multiple studies are underway to learn about Omicron and monitor it across the globe.
• Dr. Ashish Jha, dean of the Brown University School of Public Health, said that he doesn't believe Omicron will render COVID vaccines useless. Speaking publicly, he characterized the question to be one of how much of a hit will Omicron make to the vaccines' efficacy. Pfizer/BioNTech, Johnson & Johnson, and Moderna are already working to determine how effective their COVID vaccines are for Omicron. Both Pfizer/BioNTech and Moderna also said they're working on booster candidates that will be effective for Omicron.
• The concern about the Omicron variant is that nearly all the sites that COVID-19 antibodies target are different than in the other variants for which the vaccines have been effective. Therefore, scientists are particularly concerned that this version could turn out to be an "escape variant," one that the immune system cannot recognize.
In light of Omicron, NIH Director Dr. Francis Collins has called on all Americans ages five and up to be fully vaccinated and get a booster if authorized.
The Omicron variant is a reason for everyone to be fully vaccinated but also get the booster. Dr. Collins explained that,
"The booster basically enlarges the capacity of your immune system to recognize all kinds of spike proteins it's never seen."
So much is unknown. Travelers ask what actions will prevent infection? Will their case be mild?
Wear a mask and get fully vaccinated for Omicron protection.
Take these two actions to prevent or at least mitigate infection with COVID-19 including the Omicron variant.
• Every traveler, ages 5 and older, should become fully vaccinated and get a  booster. The Delta variant is still the most common COVID-19 strain, and current vaccines are highly effective against Delta. Moreover, as Dr. Collins said, the booster, in particular, should help against Omicron.
Quality face masks provide Omicron prevention. 
• Every two and older traveler should wear a quality face mask whenever inside in public areas and when among others who may not be vaccinated. A massive study of public health measures used to reduce the incidence of COVID-19 was published earlier this month. The study found that wearing a face mask was the single most effective public health measure can take. The study found that wearing a mask could reduce COVID-19 incidence by 53 percent.
The Omicron variant, like other COVID-19 variants, is transmitted by respiratory droplets and aerosols. Wearing a high-quality face mask such as a surgical, N95, or KN95 show can filter the droplets and aerosols, thus substantially reducing the transmission of COVID-19, including Omicron.
All travelers should be fully vaccinated and wear a quality face mask at all appropriate times to prevent becoming infected with COVID-19 and to prevent, to the extent possible, the virus' transmission to others if they have become infected with COVID-19 themselves.
---
READ ALSO:
As hotel travel recovers, rein in mandatory hotel resort fees.
COVID testing, vaccination and passport woes can ruin international journeys
---
After many years working in corporate America as a chemical engineer, executive and eventually CFO of a multinational manufacturer, Ned founded a tech consulting company and later restarted NSL Photography, his photography business. Before entering the corporate world, Ned worked as a Public Health Engineer for the Philadelphia Department of Public Health. As a well known corporate, travel and wildlife photographer, Ned travels the world writing about travel and photography, as well as running photography workshops, seminars and photowalks. Visit Ned's Photography Blog and Galleries.