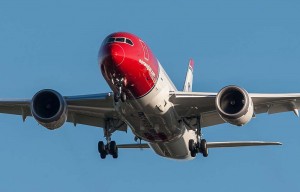 Today we take time to think about the effects on transatlantic airfares of Norwegian Air. We examine how Delta Air Lines is managing to irritate even their most devoted travelers. And, we take a look at customer service at rental car counters.
Norwegian What? Little-known Oslo-based discounter is disrupting big airlines' profit model
Norwegian Air has made a big impact across the Atlantic with its low airfares. It is accompanied by WoW! Airline. They are changing the pricing of international flights — finally. For years, the transatlantic routes have been dominated by big airline names and more recently by airline alliances that hold a grip on more than 80 percent of these international flights.
Don't forget Southwest Airlines that is beginning with international flights in the Caribbean, Mexico, Canada, and Hawaii. These all mean trouble for airline fat cats who had entire markets to themselves. Plus, Norwegian has already teamed up with EasyJet out of London and is wooing JetBlue as a partner in the US. That kind of low-cost carrier alliance would send shivers up the airline spines of American, Delta, and United together with their European cohorts.
The trans-Atlantic routes have been dominated for 70 years by powerful, big-name U.S. and European "flag carriers" like British Airways, Air France, Lufthansa, American, Delta and United (and their various predecessor brands). But Norwegian and WoW, a similar startup based in Reykjavik, Iceland, have so disrupted that historically lucrative, high-priced travel market that two of the biggest conventional European airline companies are launching new "low cost" units to beat back the threat to the industry's long-standing profits formula.
…to combat the potential draining of their market share the big conventional airlines on both sides of the pond are having to keep their coach prices lower than they would prefer and to make bigger percentages of their coach seats available at those uncomfortably low (for the carriers) prices.

Delta SkyMiles change infuriates many frequent flyers
Delta Air Lines has been making "improvements" to its SkyMiles frequent flier program. These improvements that customers have been demanding include a ten-fold increase in the spend on Delta's affiliated credit card to reach the highest status. Delta knows how to make their best customers happy.
Beginning Jan. 1, SkyMiles members will have to spend $250,000 annually on their affiliated American Express credit card to meet one of the requirements for Diamond Medallion status, which provides the airline's best perks. That's 10 times more than the spending amount — $25,000 — required in past years.
Other annual SkyMiles requirements to achieve Diamond Medallion status will remain the same. Members must fly 125,000 miles or take 140 flights, and they can spend $15,000 on tickets for Delta or partner airline flights instead of $250,000 on the American Express card.
"It will be cheaper to purchase real diamonds than to qualify for Diamond status on Delta," says business traveler Michael Sommer, a technology consultant in Park City, Utah.
Travelers' rights: When reservations aren't honored
Sometimes reservations made online are not honored when travelers try to pick up a rental car or check into a hotel. What is going on? Do passengers have any rights? Bill McGee, a travel veteran and a travel advocate, got lucky. All travelers don't have such happy endings. Enjoy the Seinfeld episode below.
Last month I visited a friend in Baltimore and decided to avoid racking up mileage on my own car by renting through Budget in Connecticut. I booked the reservation online and received a confirmation for a compact car at Tweed Airport in New Haven.
When I arrived one hour later I was told — not at all politely — that no cars were available, and absolutely no assistance was offered. I was not given help in finding a car at another location or through a rival rental firm, and no insight into why a reservation was confirmed 60 minutes earlier when no cars were available. When I produced the hard copy of my confirmation number, it literally was met with a shrug.
…within the hour my faith was restored by the professional and polite staff at Budget's sister company Avis in Fairfield. I was given a low-mileage, freshly washed premium car and was assisted with my luggage and parking — AND the original compact rate was honored.
https://youtu.be/4T2GmGSNvaM