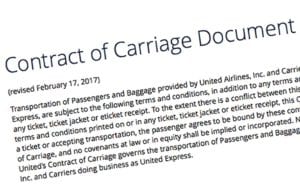 United Airlines several months ago directed police to remove a paying, law-abiding passenger from one of their planes. The ensuing viral video changed the customer service point of view of United. It sent the American public into a rage. And, it resulted in United Airlines proclaiming that they will never remove another passenger from a flight but with no changes to the airline contract of carriage.
Note: The last change of the contract of carriage was on February 17, 2017. The Dr. Dao incident took place on April 9th, 2017, and United Airlines claimed to change their policies on April 26th. But, so far, the airline has only offered lip service, nothing in writing where it counts in its contract of carriage.
News reports on April 26th noted:
The Chicago-based carrier is adopting 10 policy changes in response to the outcry over the April 9 incident, recorded by other passengers, during which aviation police pulled David Dao from his seat after he refused to exit the plane. Dao was one of four fliers selected to give up their seats to make room for airline employees.
"Actions speak louder than words," said United Airlines Chief Executive Oscar Munoz, who has apologized repeatedly for the incident after initially describing Dao as being "disruptive and belligerent."
"Today, we are taking concrete, meaningful action to make things right," Munoz said in a statement Wednesday.
The actions were reported as a litany of positive customer service actions.
United Airlines will offer up to $10,000 when a traveler voluntarily gives up their seat on an oversold flight
Limit the use of law enforcement on a plane, except for safety and security reasons.
Stop forcing passengers already seated to give up their seats, except for safety or security reasons.
Come up with creative solutions for finding alternative transportation for passengers who have been denied boarding, such as flying them from nearby airports, putting them on flights of rival airlines or using ground transportation.
Ensure airline crews book a seat at least an hour before departure.
Provide employees with additional annual training.
Create an automated system for soliciting volunteers to change travel plans before they take their seat.
Reduce the amount of overbooking.
Empower employees to resolve customer service issues on the spot.
Cut the red tape that passengers face when reporting lost luggage.
It all sounds good. However, none of these actions has been codified in United Airlines' contract of carriage. The contract of carriage is the operative contract between an airline and its passengers. Nowhere are the changes noted above written into the contract of carriage.
Passengers still may legally drag a passenger off the plane for overbooking based on their boarding priority rules under section 25. Those rules can be enforced for any reason, according to the contract of carriage.
The priority of all other confirmed passengers may be determined based on a passenger's fare class, itinerary, status of frequent flyer program membership, and the time in which the passenger presents him/herself for check-in without advanced seat assignment.
As for the other promises in the litany of announced changes, nothing has been put into writing. No changes to the contract of carriage and no changes to the Customer Commitment. The Customer Commitment posted on their website (and therefore the operative commitment) was last changed on March 13, 2017.
Frankly, United Airlines seems to be happy to make grandiose statements and promise passengers the world, but they have not put anything in writing publicly yet. There are no written promises that codify their words. The airline doesn't give a damn.
"Actions speak louder than words," declared the CEO of United.
Let's see something in writing, because if there is another incident those words, whether part of the contract of carriage or not, may come back to haunt you.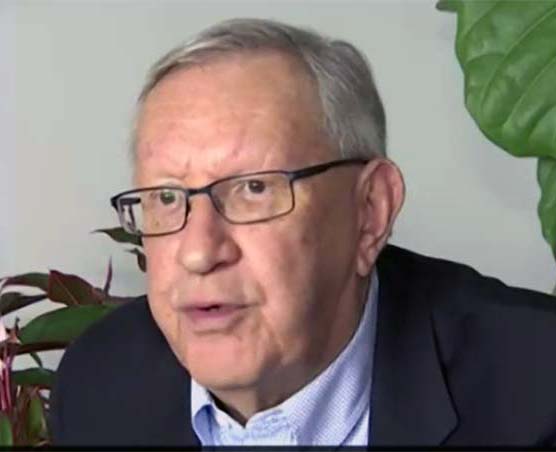 Charlie Leocha is the President of Travelers United. He has been working in Washington, DC, for the past 11 years with Congress, the Department of Transportation and industry stakeholders on travel issues. He was the first consumer representative to the Advisory Committee for Aviation Consumer Protections appointed by the Secretary of Transportation from 2012 through 2018.