---
Sun and sustainable tourism: A good-natured getaway
---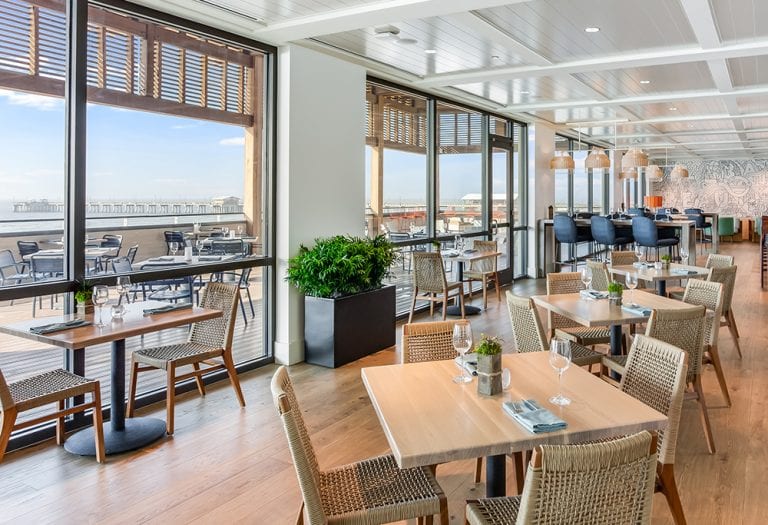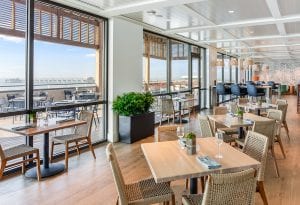 The Lodge at Gulf State Park on Alabama's Gulf of Mexico coast was designed and built, and is operated, to be as nature-friendly and environmentally conscious as possible. That's because it's located where, as the hotel's promotional material claims, "Nature is at your doorstep." No surprise then that at the popular vacation destination, sustainable tourism is a way of life.
In many ways, there was nothing unusual about the dining experience that Don and Marsha Byer were enjoying. In many ways, there was a lot. The coasters under their water glasses were made of bamboo, the straws through which they sipped were compostable wheat and the coffee cups that accompanied their dessert had been fabricated from biodegradable corn-based material.
Author's note: This Rooms to Explore feature focuses upon places to stay throughout the country and the world that become part of a visit to a destination. These are hotels, inns and other accommodations that help to bring the local history, culture and lifestyle alive in a very meaningful way — where the sightseeing and travel experience begin in the lodging itself. When I'm lucky enough to come across such places, I take pleasure in sharing my fortunate encounter, and my observations, with others.
Their delicious fish entrée was an invasive species that had been caught just offshore from the resort hotel where they were staying. Harvesting of unwelcome aquatic visitors helps to rid the adjacent waters of unwanted species.
ALSO IN TRAVELERS UNITED: What is the secret to scoring a hotel room upgrade?
Floor-to-ceiling windows along the beach side of the dining room allowed the ample sunlight to brighten the area, reducing the need for artificial lighting during much of the day. In addition, the glass contains a network of fine lines which are visible to birds so they avoid flying into it.
Visitors come face-to-face with this unique nature.
Visitors come face-to-face with this unique setting at the park for which the hotel is named. That 6,150-acre preserve encompasses nine distinct ecosystems and more than two miles of sugar-white sand beach. It's home to a wide variety of fauna and flora, including native birds, nesting sea turtles and the tiny, elusive and locally loved Alabama beach mouse. Another attraction is the carnivorous pitcher plant, which is nourished by insects that it traps and drowns in nectar.
In keeping with its location within the park, the Lodge does its part to protect the environment that surrounds it, and then some. The dining experience that the Byers enjoyed is typical of the attention to every detail that went into the planning and construction, and which goes into operation, of the property.
The story began with initial design of the Lodge. It was situated far back from the shoreline to protect the fragile beach dune system. About 75 percent of the site was set aside for landscaping, using native species that can survive without irrigation, chemical pesticides or fertilizer. Sea grasses, sea oats and fencing help to anchor the sand in place, and recycled Christmas trees also capture sand and facilitate dune growth.
Recycled building materials were used whenever possible and most construction waste was salvaged rather than going into a landfill. The structure was sited to take advantage of cooling Gulf of Mexico breezes and sheathed in wooden screens that filter the bright Alabama sunlight to reduce energy use.
The long list of innovative enhancements leaves nothing to chance.
No opportunity to protect and preserve, no matter how seemingly inconsequential, is overlooked. Rain water which hits the roof is collected and directed to a wetland area rather than being diverted to sewers. That which falls on the car parking lot drains into the ground through permeable material and ends up nourishing plants. Condensation from the HVAC system is collected and used to replace water in the swimming pool.
Liquid soap, shampoo and other bathroom amenities are stored in large bottles rather than small, individual-sized containers which waste plastic. The kitchen participates in the environmental efforts by, among other things, recycling all of the cooking oil it uses and sorting trash into livestock food, compost, recyclable material and waste.
Water bottle stations encourage guests to refill and reuse flasks rather than discard them. Reusable straws made from bamboo shoots which are served with some beverages replace plastic, and pens that are provided to guests tout the message, "I used to be a newspaper."
READ ALSO: 5 Under-the-radar national parks to visit this year
These and many other innovative features enable guests of The Lodge at Gulf State Park to become active participants in sustainable tourism at the same time that they enjoy the property's vacation offerings. They range from the outstanding beach to bicycles, from fitness room to fishing and include the attractions of the Park which surrounds the hotel.
For more information about what the Hilton-operated Lodge describes as a "Good-Natured Getaway," call (251) 540-4000 or log onto lodgeatgulfstatepark.com.


After gallivanting throughout the United States and to more than 75 other countries around the world, and writing about what he sees, does and learns, Victor Block retains the travel bug. He firmly believes that travel is the best possible education, and claims he still has a lot to learn.  He loves to explore new destinations and cultures, and his stories about them have won a number of writing awards.