---
Less-Basic Economy airfares mean more passenger attention to detail.
---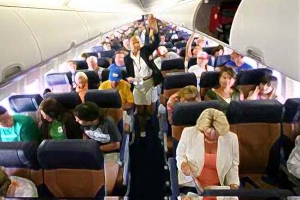 Sometimes competition gets in the way of extra fees. American, Delta, and United are tinkering with less-Basic Economy fares. Changes are coming for transatlantic flights since the network carriers' basic economy fares are not competitive with many low-cost carriers. They are also tinkering with their domestic products, too.
Benefit-by-benefit the major US airlines are rolling out new less-Basic Economy fares. The airfare picture is becoming more complex. The latest tweak has been with whether or not a rollaboard carry-on bag can be included in the basic economy fares. Though transatlantic low-cost carriers have plenty of fees where passengers end up paying for everything from printing a boarding pass to a cup of water, these passengers can normally carry on one personal item plus a rollaboard carry-on.
The original concept as legacy carriers started rolling the idea out of the Basic Economy seemed simple. Passengers were just buying space on the plane. No seat assignments, no changes, no refunds, no checked bags, no carry-on bags, no nothing.
Although I've seen comedians in England do routines on the fact that a $5 fare might end up costing $200 with all the fees added, carry-on baggage has not been removed from many of the lists of low-cost carrier perks. And, back in the USA, Delta has always allowed carry-on bags with its Basic Economy airfares.
And now legacy carriers are rolling out international Basic Economy fares. First Delta, then American, and now United. But, unlike with fare sales and fare increases, when airlines magically seem to march in lockstep, all the products started out a little different. Now, it seems they may be coming to resemble each other in more than a name.
What this means for travelers, of course, is that the booking process requires even more attention to detail. Cheap fares abound, but so do tickets that might have you boarding last, in a middle seat, separated from your travel partner — and potentially with no meal, checked bag, or blanket to speak of. True, these new "baseline" fares might have you in the same seat type as a classic economy ticket, but it's important to remember amenities matter a lot more on longer flights. The last thing you want is to board a long flight on a basic ticket unprepared.
Even as a travel agent I find these new less-Basic Economy airfares confusing. I can only imagine what consumers will be going through. No doubt, all of this is going to be subject to change. And, for travelers using online travel agents, the options get even more complex. Sometimes passengers can pay for checked baggage, other times no. Some flights allow passengers to bring along carry-on bags and use overhead space, other times no.
Delta's basic economy on transatlantic is like its domestic product — no seat guarantees (including no guarantees of passengers sitting together, no changes, boarding last, and no upgrades. Passengers do, also, get some miles.
American's international basic lets passengers select seat assignments for a fee at the time of booking, and to make some changes for a fee. Soon, all less-Basic Economy travelers will be able to bring a carry-on bag aboard, but not today.
Now United Airlines is getting into the less-Basic Economy airfare act, with even more confusing fares that's different from a regular economy fare:
There is no first checked bag included. As with Delta in its Transatlantic Basic Economy fares, United will charge $60 for the first bag.
Fares are non-refundable and non-changeable.
These fares can't be combined with non-"almost Basic" fares.
Upgrades are not allowed.
If this sounds like a Basic Economy fare, well, it's because it is almost a Basic Economy fare. So what's different? Three things up front and one big thing behind the scenes. The three upfront things: Seat assignments are still allowed as normal; carry-on bags are not restricted; and boarding occurs in normal boarding groups, not at the end.
Behind the scenes, we enter into the world of airfare skullduggery. The structure of the airfares with United Airlines differ from other less-Basic Economy airfares. This structure will make it more difficult to combine airfares but will allow United's StarAlliance partners to influence its offerings and blend them with Lufthansa and Air Canada products. From the customer perspective, this doesn't matter unless there are ticket changes in the future.
The bottom line: Less-Basic Airfares are going to be causing more problems for passengers, with more restrictions in some ways and less in others. Airfares are more fragmented than ever and passengers (and their travel agents) need to pay more attention than ever to detail.