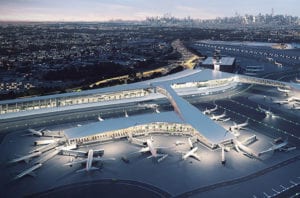 This week we look at the new La Guardia airport terminal, cruise ships, and rental cars. We want to allow you to understand better the world of travel and its intricacies. New airline terminals normally improve passenger service. Cruise lines are adding butler services. And, Hertz is starting facial recognition.
Governor opens new La Guardia airport gate, touts progress on $8B overhaul
Finally, travelers will begin to see progress with the construction at LaGuardia Airport, NY. After years of dust and detours, it appears that progress is being made. And, passengers can begin to enjoy the fruits of the years of construction.
The new, 250,000 s/f light-filled Eastern Concourse in Terminal B opened to the public on December 1, marking the largest milestone to date in the airport's historic transformation. The concourse will house a total of 18 gates with modern customer amenities, state-of-the-art architecture and more spacious gate areas.
…
The new Eastern Concourse is designed with 55-foot ceilings and floor-to-ceiling windows, an indoor park with benches, landscaping and real trees. Charging stations are placed throughout the gate seating areas, with free, fast and unlimited high-speed Wi-Fi enabling travelers to surf, search and stream while they wait.

Family amenities include an airport-themed children's play area, family-friendly restrooms and a private nursing room. Large, modern restrooms include spacious stalls and above-sink shelves designed to keep belongings.
Also on Travelers United: The best ways to upgrade your FF status with mileage runs
Cruise Ship Butlers: A Very "Suite" Luxury
Many travelers yearn for the British butler services that they see on Downton Abbey. But, these services are hard to come by even in high-end establishments. However, many cruise lines have begun to offer this amenity as a luxury perk on even mass market cruise ships.
Turns out that Downton Abbey fans are more apt to find their Thomas Barrow at sea (or Batman fans, their Alfred Pennyworth). That's because cruise passengers can book staterooms or suites that come with the perk of butler service—not only on luxury, all-inclusive lines but also on some higher-priced cabins on mass-market ships. These genteel crewmembers, who generally rise up through the ranks, have come to epitomize luxury and personal service.

According to Cruise Critic (a cruise review site and online community), some lines that currently offer butler service on at least some ships include Azamara Club Cruises, Celebrity Cruises, Costa Cruises, Crystal Cruises, Cunard Line, Hapag-Lloyd, MSC Cruises, Norwegian Cruise Line, Oceania Cruises, P&O Cruises, Regent Seven Seas Cruises, and Silversea.
Hertz speeds up car rentals with biometric scan technology
Taking a page from the Customs and Border Protection (CBP) facial recognition programs that are being rolled out across the country for international travel, Hertz is adding facial recognition as a perk for upscale travelers. However, privacy advocates may have a bone to pick with Hertz. Unlike the CBP program that has strickt controls and immediate destruction of any photos taken, this program makes use of the facial recognition photos to identify clients. Time will tell is this system meets privacy standards.
Hertz claims the system "drastically" speeds up the rental process and can get travelers "through the exit gate and on the road in 30 seconds or less — a time savings of at least 75 percent." By that calculation, the regular rental process only takes a couple of minutes, so unless you're really pressed for time, some folks might question how much difference it's likely to make to their day.

Hertz Fast Lane can be used by Hertz Gold Plus Rewards members and is already up and running in at Hartsfield–Jackson Atlanta International Airport, with plans to roll out the system to more than 40 additional Hertz locations, among them Los Angeles International Airport and New York City's John F. Kennedy International Airport.
Charlie Leocha is the President of Travelers United. He has been working in Washington, DC, for the past ten years with Congress, the Department of Transportation and industry stakeholders on travel issues. He was the consumer representative to the Advisory Committee for Aviation Consumer Protections appointed by the Secretary of Transportation from 2012 through 2018. He also served on the Consumer Advocacy Subcommittee of the Transportation Security Advisory Board.