---
Cruising up close to Kilauea Volcano lava has a bit of a daredevil feel
---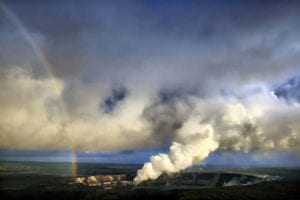 Is Hawaii a disaster area? Should vacationers be canceling reservations and avoiding the islands? I don't think so.
Fortunately, there were no fatalities when a chunk of molten rock from Kilauea Volcano crashed into a tourist boat off the Big Island of Hawaii's coast last week. There were 23 people injured, 13 taken to the hospital, all but one of the injuries were classified as minor. (One woman sustained a serious leg injury.)
Following the Kilauea Volcano incident, the Coast Guard eliminated exceptions to the rule that all boats needed to stay about 1,000 feet from lava, where previously experienced captains could get exemptions to be about 200 feet away. (It's not clear how far away the boat that got hit was, the captain said about 600 feet.)
These daredevil lava tours have seen no drop off in business. Tour operators are still reporting brisk business. It wouldn't surprise me if thrill-seekers mean business actually picks up. More people wanted to climb Everest after "Into Thin Air" came out.
Overall, though, most vacationers aren't daredevils or thrill-seekers, and travel to the islands has been hurt somewhat by the Kilauea Volcano eruptions. Not because the islands themselves are dangerous, but because Hawaii, an exotic destination to many Americans, still confuses them.
This volcano is isolated on the Hawaiian Islands
Personally, as a travel agent, I've had clients worry that the Kilauea Volcano eruption will endanger their vacation … on Maui. There is 26 miles of ocean between the two islands at their nearest point. And, it's 117 miles from Maui to Volcanoes National Park. Other travel agents and hotel operators have told me they've had people nervous about visiting Oahu and Kauai, the westernmost populated Hawaiian Islands.
Even on the Big Island itself, it's about a two-hour drive, without traffic, from the Kohala Coast, where most resorts are located, to the Volcanoes.  And there are mountains in the way. Kona Airport, the main airport on the Big Island, is 91 miles away from the lava flows, and a two hour drive around the southern part of the island from the volcanoes.
Now, at the time of this writing, Volcano House hotel, the only hotel in Volcano National Park, is closed for precautionary reasons until August 16, as is the Park itself. But, at other hotels, travelers are likely to have no idea of the eruption unless they see it in the newspaper or on television. And, the air on most of the island is many times better than it was, for example, in the San Francisco Bay area with fires 100 miles away.
Americans don't know Hawaii
Part of the problem is that many Americans just don't get Hawaii. Not only is the Big Island, where Kilauea is located, really big, I've had more than one person ask if there are bridges between any of the islands. Others have asked if they can use a US driver's license or US money in Hawaii (no joke).
To be fair, the media doesn't help by covering the most dramatic pictures and running stories of destruction. There HAVE been homes destroyed, but not hotels. And, then there are the headline stories about when a volcano really causes damage, as the one in Iceland did some years back.
This isn't to say it's not worth looking into conditions at travel destinations. If anyone has medical issues that might be exacerbated by air conditions it also makes sense to be extra cautious. As always in Hawaii, where many if not most tourist injuries are avoidable, it's not smart to ignore warnings about where to walk or drive or swim.
Research the issue before canceling a vacation to Hawaii
With Hawaii, and in general before canceling a trip, or just dismissing the idea of a trip, go beyond the headlines and do some research, or call a travel agent who knows the area you're considering. You might even be surprised with a bargain because of the ignorance of the geography of Hawaii. (Right now, for example, the fear factor has prices generally much lower than usual, even for the remainder of the summer.)
There are no guarantees, especially with the weather. And, of course, no one can say a location is totally safe. However, the dangers in Hawaii are being overdone. This year more people have had vacations spoiled by heat waves and storms in the Midwest and East Coast than by Volcano Kilauea in Hawaii.
Photos courtesy wikipedia