---
Where the Du Pont family resided and today visitors take a step back in time
---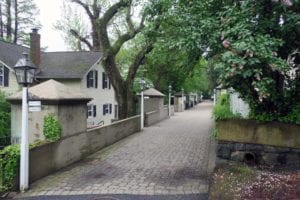 Three intersecting roads which are near what today is the eastern border of Delaware appeared on 18th century maps, and are believed to have followed Native American trails. The Inn at Montchanin sits here within a minuscule village which is enclosed within the triangle formed by those thoroughfares and traces its roots back to as early as 1799.
The original settlement on the site contained a smattering of houses, a blacksmith shop, workshops and a schoolhouse squeezed into about 2.4 acres of land. It now includes 21 structures sprawled across 20 acres.
Author's note: This Rooms to Explore feature focuses upon places to stay throughout the country and the world that becomes part of a visit to a destination. These are hotels, inns and other accommodations that help to bring the local history, culture, and lifestyle alive in a very meaningful way — where the sightseeing and travel experience begin in the lodging itself. When I'm lucky enough to come across such places, I take pleasure in sharing my fortunate encounter, and my observations, with others.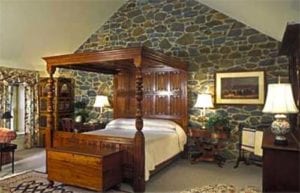 Present-day visitors to the hamlet of Montchanin in many ways are immersed in a world of their own. They find an enchanted retreat where time seems to have stood still, life is slow and the ambiance and attractions of a 19thcentury village are preserved for those who seek them out.
The heart and soul of the little community is the Inn at Montchanin Village. It and the surrounding buildings relate intriguing chapters of history at the same time that they offer visitors gracious accommodations, outstanding meals, and other upscale amenities, along with proximity to a varied wealth of sightseeing magnets.
Montchanin is near Wilmington in the center of Du Pont country. The story of how that family's saga began is related at the Hagley Museum, which is located at the site of gunpowder works founded by an Eleuthère Irenee du Pont in 1802. That industry gave rise to the dynasty which spawned one of the wealthiest families in America. Other must-see treasures in the area include the chateau-like Nemours estate, antique-filled Winterthur, and Longwood Gardens, which were lovingly created by Pierre S. du Pont.

The village of Montchanin was worlds apart from the splendor in which the du Ponts lived. It was named to honor Anne Alexandrine de Montchanin, the grandmother of Eleuthère. Many of its early residents worked at the family-owned powder mills.
Today's visitors enter a tranquil setting of landscaped walkways, gentle terraces, and attractive gardens. They find 21 structures, including 11 lovingly restored buildings dating from 1799 to 1910. Most have their roots in the locale, having been constructed of native stone, wood, and other materials.
The 28 rooms and suites of the Inn are in separate buildings that originally served as apartments for mill workers. They're flush with 19th-century antiques and reproductions which set a scene of casual elegance and add to the sense of traveling back in time.
So do other structures which dot the landscape.  An 1890 stone school house is hidden among trees at the southern end of the triangular site. A dollhouse-size replica of it occupies a corner of the Gathering Room in the reception enter, and a 1920s photograph of students in front of it hangs on a wall. The center itself is housed in a former barn.
A pink stucco farmhouse, part of a 19thcentury spread that was incorporated within the village, now holds four guest suites. A tree-lined walkway is lined by privies that were used for decades before indoor plumbing was introduced. Today, they serve as sheds for storing gardening equipment and supplies.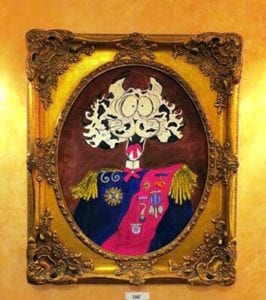 Another example of multi-use adaptability is Krazy's Kat's Restaurant, which brings fine dining to what formerly was a blacksmith's shop. The original forge has been converted to a fireplace which provides heat and ambiance during winters.
The name of the restaurant provides a hint of the wit and whimsy that pop up during a visit to the Inn at Montchanin. It recalls an eccentric woman who in the past lived on the ground floor of the blacksmith shop. The current inn owner, Nancy Lickle, who belongs to the seventh generation of Anne Alexandrine de Montchanin, relates that her grandmother knew and referred to that resident  as "one crazy cat."  Ironically, the woman had two dogs but no cats.
Other light-hearted tidbits take various forms. Cows and crows, the favorite animals of the current owners, are encountered in paintings, figurines and images on paper napkins. Signs with pithy phrases are scattered about the grounds. An eclectic collection of art and artifacts demonstrates both the skill of their creators and the sense of joy that pervades the property. It adds to what makes the Inn at Montchanin, and the charming tiny community surrounding it, worth exploring and experiencing.
For more information log onto montchanin.com or call (800) 269-2473.
Photos by Victor Block except room shot of Inn at Montchanin courtesy of the hotel.

After gallivanting throughout the United States and to more than 75 other countries around the world, and writing about what he sees, does and learns, Victor Block retains the travel bug. He firmly believes that travel is the best possible education, and claims he still has a lot to learn.  He loves to explore new destinations and cultures, and his stories about them have won a number of writing awards.