---
A Handy Guide for Travel Influencing
---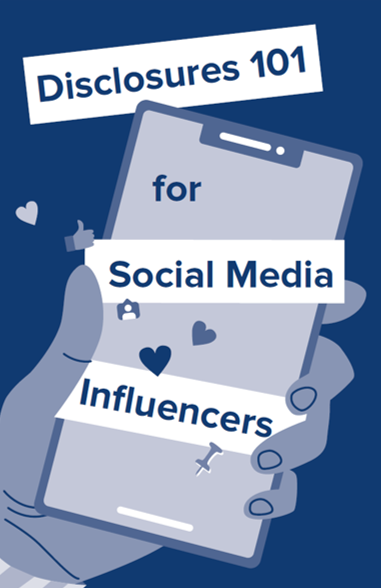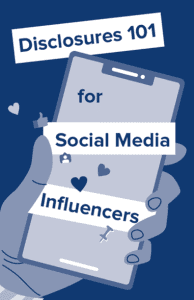 Today many people can share their love of travel easily on social media. Those who make a living off of social media, by sharing their lives and the brands and products they love, are called influencers. Influencers try to get their social media follower count as high as they can so they can earn as much money from brands as possible. These influencers are paid by companies to advertise to their followers. Though certainly, not everyone is following the rules, there are actual guidelines for how influencers must explain their material connection to the products they are promoting.
Influencers Must Disclose Material Connections to a Brand/Product
There are many influencers who specifically focus on travel. Even with general lifestyle influencers, many make travel at least a small part of their personal brand. Travelers United would like to strongly remind influencers that the Federal Trade Commission (FTC) has issued guidance that must be followed in order for social media posts to be legally compliant.
The FTC has made a very easy to follow guide for Influencers – Disclosures 101 for Social Media Influencers
Clear and Simple Language
Clear and simple language must be used for disclosures. For example, let's use the example of an influencer at the hypothetical Springfield Hotel. "Thanks to The Springfield Hotel for the free room" is enough if the text is placed at the beginning of the post in a hard-to-miss spot. Meaning, the influencer must make sure that his text is at the beginning of his post – not at the bottom after four paragraphs of his thoughts, tips, and recommendations about Springfield. The text here would be an appropriate disclosure if the influencer simply got free accommodation in exchange for his social media post.
Alternatively, if the Springfield Hotel is paying an influencer to stay at their hotel and advertise through their social media channel, the influencer should make sure "Ad" "Advertisement" or "Sponsored" are prominently placed in the text. This is more than a free stay, this is paid relationship and advertisement. The influencer needs to make that clear.  The easy way to do this is to simply write in the text "Ad | I loved my stay at The Springfield Hotel. It's such a great hotel…"
Many social media platforms now have a disclosure tool but the FTC says "Don't assume that a platform's disclosure tool is good enough, but consider using it in addition to your own, good disclosure." In other words, if an influencer is posting on Instagram, don't assume using "Paid Partnership with The Springfield Hotel" at the top is a substitute for writing Ad at the beginning of the text. It's not. Influencers should write both "Ad" at the beginning of the caption below the photo and use the Instagram disclosure tool in addition.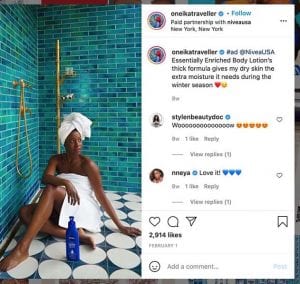 Don't think that disappearing posts like on Snapchat or Instagram stories are not also subject to FTC compliance, they are. Even stories that disappear in 24 hours must be properly noted as advertisements. Simply writing "Ad" in a clear easy to read, large enough font in a readable color on the story is enough to be compliant. Note, if an influencer is wearing white pants and writes Ad in tiny white text over their pants making it almost impossible to find and read that's not compliant. Simply writing Ad anywhere on the page does not make it compliant, the text must be clear and conspicuous.
@Oneikatraveller shows how to be FTC compliant in this Instagram post of hers where she partnered with Nivea. The first word of her caption is #ad and additionally, she uses Instagram's paid partnership disclosure tool at the top where it says "Paid partnership with niveausa." This is the compliance the FTC expects on Instagram.
Video
If you are speaking on Instagram stories in a video, on TikTok, or on any video platform, the FTC has made clear that the disclosure cannot just be in the text below the video. The Disclosures 101 for Social Media Influencers states "if making an endorsement in a video, the disclosure should be in the video and not just in the description uploaded with the video. Viewers are more likely to notice disclosures made in both audio and video. Some viewers may watch without sound and others may not notice over superimposed words." Remember! Audio and video disclosures are what the FTC is looking for with video endorsements. An influencer should verbally state the connection as well as write it out in the caption.
Here @lexielimitless shows how to be FTC compliant in a video Instagram story. She's talking about a product, mentions the relationship verbally, and has #ad imposed over the video for the entire time while she is speaking.
False Statements
It goes without saying but the FTC believes influencers should not make false statements in relation to selling a product. Influencers must be honest about who they are, where they come from and what they represent when making an advertisement. Otherwise, as the FTC says in their Guide Concerning the use of Endorsements and Testimonials in Advertising, "advertisers are subject to liability for false or unsubstantiated statements made through endorsements… endorsers may also be liable for statements made in the course of their endorsements." The FTC has made clear an influencer cannot just make up claims about themselves to help sell a product.
Here @professionaltraveler on TikTok talks about her remote work that allows her to travel which is made possible with Oberlo. She does actually own an online business which she operates remotely while traveling. She mentions this verbally in the video in addition to making sure #sponsored is the first word in her post. This is what the FTC is looking for regarding compliance on TikTok.
It's Not Just About Money – Disclose Any Personal, Family, Employment Relationship
The FTC says "Financial relationships aren't limited to money. Disclose the relationship if you got anything of value to mention a product." To follow our example, if an influencer's mom is the General Manager of The Springfield Hotel and the influencer starts posting about her love of the hotel, the connection must be clear. The influencer may not personally profit from the hotel but a direct family member does. Remember, the FTC simply wants influencers to use clear and simple language. Something like "My mom is the General Manager of The Springfield Hotel so I love this hotel. I grew up going here! Look at me enjoying the pool above."
Conclusion
When in doubt, keep it simple. The FTC has the ability to fine people and companies millions of dollars for violations. This does not just stop at the FTC. State Attorneys General could get involved to enforce compliance and even a nonprofit could take action. If you are getting paid to post, even just a little bit, make sure to add an "Ad" to the start of your post. Never pretend to be something you are not when selling a product. We look forward to seeing your content!
Note: Nothing here is legal advice.