Today we take time to ponder the magic of wonderful hotel gardens filled with shrubs, trees, plants, and flowers. We take the time to read about how interior designers are planning new airline seating configurations. And, we report on the results of our newsletter poll about travel refunds in the days of COVID-19.
Discovering spectacular above-and-beyond resplendent hotel gardens
I have just recognized the inspiration that plants and flowers provide. Many others have for centuries. For example, the hillsides of the western North Carolina Blue Ridge Mountains are a Rhododendron paradise that explodes in blossoms of brilliant colors ranging from white and pastels to vibrant purple and red. This collection of extraordinary hotel gardens provides more than only a clean lobby and comfortable beds. Hotel gardens provide a unique natural space for relaxation, enjoyment, and pondering.
Rosemary Square, West Palm Beach, Florida
Fairmont Pacific Rim Hotel Gardens, Vancouver, Canada
Barnsley Resort, Adairsville, Georgia
Mohonk Mountain House, (1869) New Paltz, New York
Grand Hotel, (1887) Mackinac Island, Michigan
The Wigwam, (1929) Litchfield Park, Arizona
Hotel Villa Cipriani, (1899) Asolo, Italy
---
READ ALSO ON THE TRAVELERS UNITED BLOG:
How to travel as a pedestrian during lockdown
Why conserving flowers and art is so important
---
Plane cabins could change dramatically because of the pandemic. Here's how.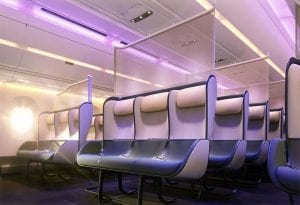 As we are flying or pondering the thought of flying after the pandemic has slowed down, designers are changing how we will sit on planes. The cabins are being redesigned and initial thoughts are double-decker rows, color-changing seats, and front- and back-facing rows or passengers. Some airlines are no longer distancing passengers and some are still trying to keep middle seats open. However, in the long run, airline economics will not allow space between passengers.
We are attempting to use facemasks to add a sense of distance. Airlines are also using disinfectants every day and sometimes between flights. Even the air that passengers breathe is filtered and it is replaced in airline cabins every three to four minutes. The cleaner cabins, air, and masks all are an attempt to provide more confidence for passengers and crews.
"It's important to innovate while being mindful of the realities of the world we live in. We know, for instance, that keeping the middle seat free is not a viable economic model for airlines," says Anna Meyer, a spokesperson for London-based design firm PriestmanGoode. "Equally, we know that screens between every seat does not present the best investment at this time. Nor will it suit all passengers, especially families or couples traveling together."

Some new seat designs are squarely focused on physically separating passengers, while others aim to implement new technologies that will make it easier to sanitize plane cabins and give passengers peace of mind.
Are travel companies excuses for late or nonexistent pandemic refunds valid?
Last week Travelers United polled their members to see what reality about airline refunds. Unfortunately, it is not getting easier to get refunds from airlines and tour operators. Excuses abound. About 90 percent of our readers are not believing the airline and travel company excuses. One hundred percent of our readers want their money back when tours do not operate and flights are canceled. Here are the results of our latest poll that was conducted when we sent out our newsletter on Thursday a week and 10 days ago.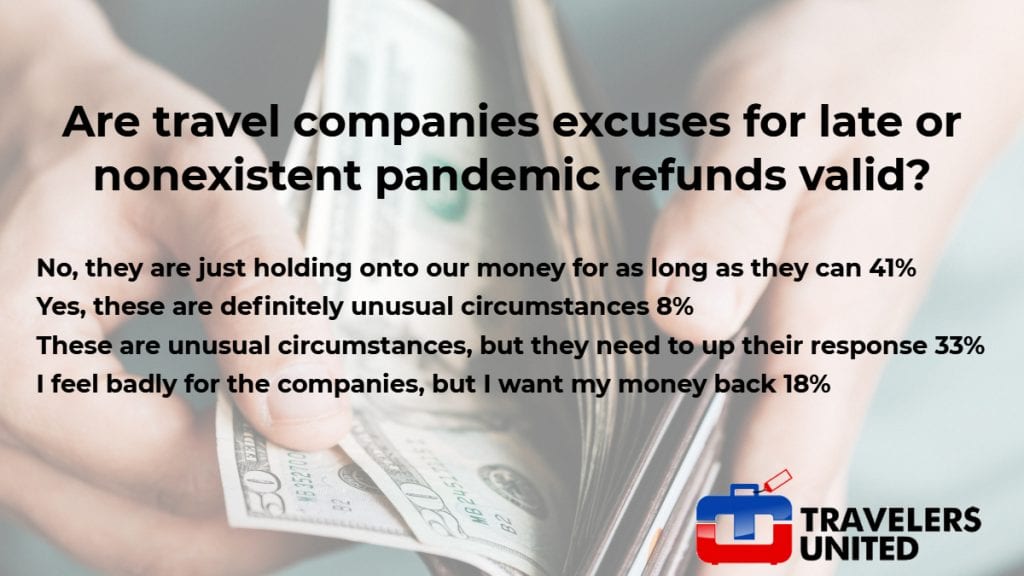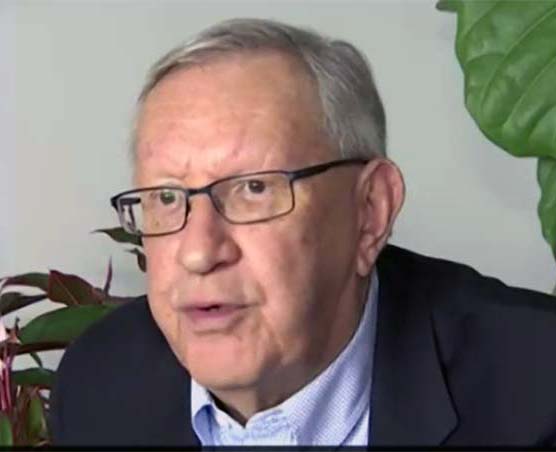 Charlie Leocha is the President of Travelers United. He has been working in Washington, DC, for the past 11 years with Congress, the Department of Transportation and industry stakeholders on travel issues. He was the first consumer representative to the Advisory Committee for Aviation Consumer Protections appointed by the Secretary of Transportation from 2012 through 2018.