---
When it comes to hotel fees and surcharges, guests are wondering: What's next?
---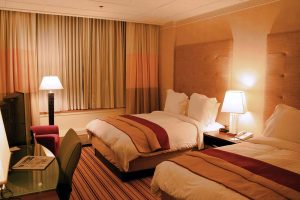 Mandatory "hotel fees" mushroomed last year, even as hotels added new charges for all kinds of things, including cancellations and late checkouts. With pressure to squeeze even more profit from customers, you don't have to be an industry insider to see where this is going.
"Rate growth has not kept pace by traditional standards," explains Bob Habeeb, chief executive of First Hospitality Group, a firm specializing in hotel management, acquisition and development. "Traditional add-on costs that once made healthy contributions to the bottom line, like telephone revenue and in-room movies, have all but evaporated."
No one knows what 2018 will bring, of course, but that isn't stopping anyone from making predictions. Regardless of what happens, the takeaway is clear: Be on the lookout for surprises.
Some hotel guests say that they've seen incentives to opt out of housekeeping, for example. During a stay in Newport, R.I., says Nancy Jerdan, a retired office manager who lives in Springfield, Va., the Newport Marriott offered her up to 5,000 loyalty points to skip the cleaning. Jerdan accepted, but had misgivings.
"I have mixed feelings about the 'no maid service' policy," she says. "Are they trying to put people out of jobs in order to save money?"
Others see further-reaching motives. If enough people skip housecleaning and take the points, they fear that hotels might try to flip the equation. Rather than offering points for forgoing maid service, they argue, hotels could charge extra for providing it. Some hotels already charge extra for housekeeping, but those fees usually aren't optional.
Industry insiders doubt that housekeeping could become an extra fee in 2018. Not only is there an unwritten agreement that housekeeping is part of a room rental, but hotels have noted with dismay the negative reaction to airlines separating checked luggage, which was also a traditional part of the ticket, from base fares.
"A clean and tidy room throughout the stay is a basic expectation when paying for a hotel room and fundamental to the overall guest experience," says customer-service consultant Helen Horsham-Bertels, who once oversaw the consumer-affairs department at Starwood Hotels & Resorts Worldwide. "Charging for the service would not be perceived well."
Another area of concern: mandatory resort fees. In 2017, these surcharges rose dramatically, with the average resort fee climbing to almost $21, up 9 percent from December 2016. While these charges aren't new, experts say that more hotels probably will add them in 2018, including many that don't offer traditional "resort" amenities such as pools, exercise facilities or concierge service.
For some hotel guests, these fees have already gone too far. David Bond, a retired deepwater-drilling-team manager who lives in Phuket, Thailand, says resort fees are "among the worst" in the travel industry. The reason? When you book online, especially through a third-party site, the fees don't have to be included in the initial price quote.
Bond thinks that the United States should adopt a tough consumer law similar to that of Australia, which makes it illegal to advertise or charge a rate that includes a mandatory fee unless it's reflected in the total cost.
Habeeb of First Hospitality Group says that it is far more likely that hotels will introduce new, customer-friendly fees in 2018, and they will be for optional items that guests want, as opposed to mandatory charges — like resort fees — for things that guests do not necessarily want. (The only way resort fees will be eliminated is if the government or courts get involved. As of now, that appears to be improbable.)