---
Home checklists are useful for long-trip preparation
---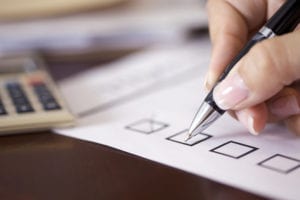 Everybody has a mental home checklist of things they need to do to make sure everything is safe and well taken care of while they're away for an extended period of time. It is helpful to put your home checklist in writing to make sure you don't forget anything. Here are 11 important things to deal with before you leave. They make a good start for a suggested home checklist of things to consider before leaving town, particularly on a longer trip. Some of these may seem obvious, but nevertheless bear explicit mention, while others may be particularly helpful in your situation.
Make a plan for how you will retrieve any important or not easily replaceable item — such as a major electronic device, passport or other required documents — you may have forgotten and left at home. (Travelers United Plus Secure Vault — a benefit of membership — can handle this issue in some cases.)
Put your mail delivery on hold, or make sure a neighbor, friend or family member can retrieve it while you're gone

.

If you'll be away for more than two weeks and the size of your mailbox is limited, mail may not get to you or may be severely delayed if your mailbox becomes full or inaccessible. One option is to request that the U.S. Postal Service hold your mail starting on a particular date and ending on a particular date. You can

file a Hold Mail request online

, by phone (1-800-ASK-USPS), or with the clerk at your local post office. To make sure your request is acted upon, it is best to obtain the local number for the mail sorting and distribution center that serves your address, and call that number a day or two before you leave to confirm that they have your request on file. You'll be given the option of having your held mail delivered in one lump sum when you return, or going to the post office or distribution center to retrieve it.

If you trust someone else to retrieve your mail while you're gone, make sure they have access to your mailbox. If it requires a key to open, be sure that the person you've entrusted has a copy of that key.
Put newspaper and magazine deliveries on hold

. You don't want newspapers piling up on your front porch, driveway or in the hallway in front of your apartment. Not only do they pose a tripping hazard or become messy when it rains, but a large pile of them signals to would-be burglars that nobody is home. Most newspapers and other periodicals allow you to set vacation holds online; others require a phone call. Note that many publications no longer credit your account with the value of the issues that won't be delivered on the presumption that you will use your subscription to access the content online while you're away.

Ensure that all pets not coming with you are taken care of

 by a trusted friend or family member, petsitter, or at a boarding facility whose grounds you have personally inspected. Make sure the petsitter or boarder has all your pet's vital and veterinary information (including primary veterinarian and emergency vet contact info) and feeding, exercise, cleanliness and other instructions, as well as how to reach you while you're away.

Make sure nothing is wasting electricity or water while you're gone

. Ideally, all non-essential electric appliances or devices should be turned off and/or unplugged. If your home entertainment system is plugged into a power strip with an on/off switch, you can safely turn the power strip off once everything plugged into it has been powered down. Same for any power strip into which computers, printers, scanners and other accessories are plugged, once everything plugged into it is shut down or powered off. And of course, turn off all lights and switches, including fans or vents in bathrooms. All sinks, faucets, and showers should be completely shut off, ensuring that there are no drips or leaks. You can also unplug your broadband internet/WiFi modem or router. The only things still on and plugged in should be your home security system, clocks, and the refrigerator and/or freezer.

Set your thermostat so that your home is only minimally heated or cooled when nobody is living in it

. Before I leave town, I usually set my thermostat to cool to 80ºF in the summer or to heat to 60ºF in the winter. This could save a lot of energy and thus money. If you're reasonably confident that the outdoor temperature will remain in a comfortable range for the duration of the trip, you can even turn your heating and air conditioning system off.

Flush toilets and take out trash, recycling, and compost just before closing up the home

.

Make sure any trusted neighbors or nearby friends are aware of your travel plans and know how to reach you while away

.

Close and lock all windows and doors, including garage doors

. Draw the curtains or close the blinds over any window visible from the street or public area.

If you have a home answering machine or voicemail system, and you want anyone who calls your home number while you're away to be able to reach you, you might want to

provide your cell or alternate number in your outgoing message

. However, indicating that you're away from home in your outgoing message can also provide a signal to would-be burglars, so exercise your best judgment. If you aren't anticipating any important calls to your home number, you can leave your outgoing message as is.

If an election is taking place in your jurisdiction while you're away

, be sure to plan to vote during the early voting period before you leave, or arrange with your town, city or county election office for an absentee or mail-in ballot to be sent either to your home at least two weeks before you leave, or to an address where you'll be staying during your trip. Be sure to leave enough time to mail a mail-in ballot at least one week before the election date — most locales will not count ballots received after the time the polls close on election day (note that some states require one or two witnesses or a notary to sign the outer envelope of a mail-in ballot). Also plan time before you vote to research the candidates and questions on your ballot so you can be an informed voter. This is a home checklist item that is often forgotten.