This weekend we take time to read about new high-speed trains coming into service in Florida and California. A new bill is introduced to make the changeover to Real ID easier for PreCheck members. And, a GAO report notes fewer involuntary denied boarding reports from the airlines.
Are Americans ready to fall in love with trains again?
Brightline is a private company that is planning on high speed trains for the first time in about a century. Trains, especially ones run by private companies, are a relic of the old days. They are not future-looking — or are they?
An investor is beginning to create a series of train lines between cities that are too long to drive and too short to fly. The first test of his vision is a train between Miami, Ft. Lauderdale, and West Palm Beach. His vision includes the value that the train will bring to the nearby land surrounding stations.
He has already sold off the rail portion of his investment, but is going to be running the trains and has built major commercial centers at the stations that will accompany the tracks at every stop of the train.
Brightline is looking to expand
The private equity firm is now sniffing about for similar deals that would enable it to stitch together cities that fit a simple criteria: too long to drive, too short to fly. Atlanta to Charlotte, Los Angeles to San Diego, Portland to Vancouver, and Dallas to Houston are among those it's mentioned.

For Goddard [the CEO], Brightline's plan to reinvent passenger rail in the U.S. couldn't be more intuitive. Growing up in Ireland, he biked to elementary school, rode buses to high school and college, and took trains everywhere else. He didn't get a car until he moved to the U.S., at which point he found himself stuck in traffic. "I could never get my head around that," he says.

His next investment will be a high-speed train running from Victorville, California, to Las Vegas, Nevada. Why Victorville? The investor found that, "no matter where you start from most parts of California, you have to pass through Victorville to reach the gambling capital." His vision is a trailn that will eliminate the last half-hour of bump and grind driving and replace it with high-speed rail moving at 125-150 mph.
House introduces bill that would buy time for Real ID adoption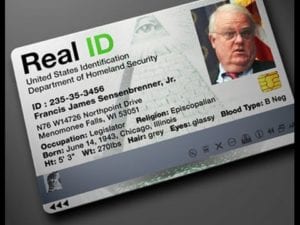 As we get to only eight months before the full implementation of Homeland Security's Real ID rules, the US House of Representatives has introduced a bill to take a bit of the hassle out of converting one's ID to the new system. A bipartisan bill will allow PreCheck membership to be a temporary alternative to having Real ID.
An article that appeared in Travelers United last December noted that Real ID will have unintended consequences. Many travelers thought all of those lists of states that have already complied with Real ID rules were set for airline travel in October. However, having a state with Real ID-compliant documents still meant that each citizen would have to go through the process at their DMV and get a new license. That part of the changeover was not clarified.
In Virginia, where I reside, I still need to visit the DMV. I must bring my passport or appropriate ID, and get a new license. I will have to pay for a new license. The money is not the important issue. The visit to the DMV and the lost hours of work is more of an issue.
Travel organizations support this bill
Travelers United, travel advisors, airlines, and US Travel Association all support the bill. There is a good chance that this will become law in the next months.
The Real ID Act requires American travelers to present a state-issued Real ID driver's license or identification cards that meet increased security standards established by the Real ID Act of 2005. Citing data showing that only 16 percent of Americans believe they have a Real ID, Rep. Lesko said in a statement: "These figures are clear indicators of the mass confusion, chaos and delays that will most certainly occur across our nation's airports if proper measures are not taken by Oct. 1. We must take action to ensure a seamless transition when Real ID requirements take effect."

The proposed measure, [Trusted Traveler REAL ID Relief Act of 2020,] would require the TSA to accept PreCheck enrollment as an alternative to Real ID-compliant identification for domestic air travel until April 1, 2022 to give people more time to get Real IDs. For those arriving at airports on Oct. 1 without Real IDs, the bill requires TSA to develop and implement alternative screening procedures.
GAO finds fewer reports of denied boarding by US airlines
Yes, involuntarily denied boarding cases have dropped dramatically over the past four years. A GAO study examined both voluntary and involuntary bumping cases. They found no increase in complaints. The airlines have tightened up their denied bumping rules. Congress passed a bill saying that once someone is on the plane, they can't be bumped. Airline payments to entice "voluntary" bumping were increased.
Since the infamous Day of Dr. Dow …
The GAO report looked at trends in both voluntary and involuntary denied boardings at airlines, and at passenger complaints submitted to the DOT from 2012 through 2018. The GAO also reviewed seven airlines' overbooking and denied boarding policies: American Airlines, Delta Air Lines, Frontier Airlines, JetBlue, Spirit Airlines, Southwest Airlines, and United Airlines.

In its analysis of the data, the GAO reviewed relevant statutes and DOT regulations and previous GAO work published in 2018 on denied boardings. The office also interviewed DOT officials, one airline industry association, two consumer advocacy organizations [including Travelers United], and three airline revenue management specialists to gain additional insights on trends that were included in the report.

Their findings show that the number of passengers denied boarding, both voluntarily and involuntarily, has decreased overall. Combined, fewer than 1 percent of passengers are denied boarding. For every 100,000 passenger boardings in 2018, only 43 passengers were voluntarily denied boarding and about one passenger in 100,000 was involuntarily denied boarding.
Other Travelers United stories you may enjoy:
Know the real rules for compensation when you are bumped
10 lost luggage rules for maximum compensation
There are no more Real ID extensions