---
The Big Island means big adventure and plenty of activities
---
Some vacationers soak up the sun on Hawaii's Big Island beaches with white, black, and even green sand. Nearby, skiers speed down snow-covered slopes of a dormant volcano. Other people check out a surreal moonscape of hardened pitch-black lava and hike through lush tropical rainforest.
A continent-wide choice of activities awaits visitors here because the big island of Hawaii is in many ways a miniature continent. Since it shares its name with the state, information often refers to it as The Big Island to avoid confusion, and with good reason. Almost twice the size of the other Hawaiian islands combined, the Big Island presents a world of its own.
The Big Island provides every kind of natural site from volcanos to beaches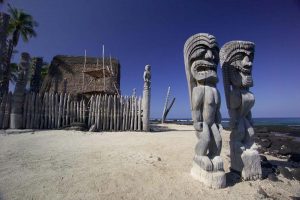 Visitors find a miniature world that encompasses virtually every kind of landscape. Cactus-dotted desert lies near rain forests. On the Big Island, barren lava fields contrast with waterfalls plunging into verdant valleys.
At Hawaii Volcanoes National Park travelers come face-to-face with an active volcano. Mauna Loa erupted 33 times in the past 175 years, most recently in 1984.
Kilauea, the world's most active volcano, first erupted in 1983. In recent years the lava flow invaded populated areas and prompted an evacuation by some residents. Lava flows from Kilauea add about 42 acres to Hawaii Island every year.
Hard to believe, but you can ski on the Big Island during the winter.
Those massive mountains also have another claim to fame for The Big Island. They measure more than 30,000 feet from their base far below the sea to the summits, making them taller than Mount Everest. Because of their height, enough snow falls on the volcanoes during winter for skiing.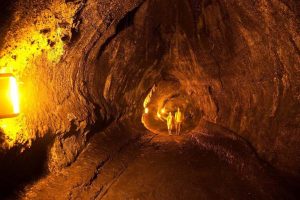 The Crater Rim Drive in the park leads to several major attractions. The Jaggar Museum provides a detailed introduction to volcanoes, and the overlook outside offers a breathtaking panoramic view. The Thurston Lava Tube was formed when an underground river of molten lava ran out of its channel and the walls cooled and hardened. The aptly named Devastation Trail leads through an area that was buried beneath a thick blanket of cinders during an eruption of Kilauea in 1959.
Along with volcanoes and the usual sun-and-sand vacation activities, there are plenty of other reasons to visit Hawaii Island. For fishermen, waters off its Kona Coast are known as the best in the world for catching giant blue marlin.
Soak in nature from whale watching to hiking.
Much bigger sea life drops by during whale-watching season, from December through May. While Humpbacks have top billing, it's also possible to spot sperm and melon-headed whales.
For people who prefer to keep their feet on firm ground, hiking opportunities are outstanding. Volcanoes National Park alone offers 150 miles of trails.
For history buffs, the story of the island's past is as intriguing as what greets visitors today. The earliest settlements were established by Polynesians who arrived after a long ocean voyage in large double-hulled canoes. Estimated dates of their arrival span hundreds of years, from the fourth to eighth centuries.
Relics of bygone days in Hawaii still exist on The Big Island
Clues to the lifestyle of the ancient Hawaiian civilization abound. They include remnants of villages, temples (heiau), agricultural mounds and other archeological remains.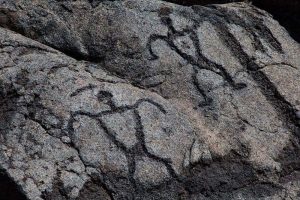 Some relics, like royal fish ponds constructed to satisfy noble palates, and petroglyph lava rock carvings have been incorporated into the grounds of hotels. The images depict humans, birds and other recognizable forms as well as undecipherable lines and dots. Their precise meanings are unknown, but scientists believe that they record births, deaths and other major events, and perhaps include astronomical symbols.
One of the more intriguing sites is the Pu'uhonua o Honaunau National Historic Park, a reconstructed royal compound. Known as the "City of Refuge," it served as a sanctuary for people who angered the gods in some way. Transgressors who were able to reach this sacred place were absolved by a priest and allowed to go free. The compound encompasses temples, sacred burial places, petroglyphs and other reminders of ancient times.
The Big Island history includes kings and today it includes the new frontier of space.
Another chapter of island history comes alive in the Waipio Valley, a six-by-one-mile gash in the land rimmed by 2,000-foot-high cliffs over which numerous waterfalls cascade. The meandering river they create gave the valley its name, which means "curved waters."
Also known as "Valley of the Kings," it once was home to many rulers, and contains remains of important temples. Visitors may view the valley from a small overlook, or take a guided tour into it.
In contrast with the view at the bottom of a deep valley is the opportunity for a look at the stars as few people have seen them. Hawaii's Big Island is home to one of the most renowned astronomical sites on the planet. Perched above the cloud cover on a dormant volcano,13 powerful telescopes are trained on the sky.
Because of the high elevation, clear air, and minimal light pollution, the stars resemble glitter scattered overhead. Guided tours include transportation, warm parkas, and dinner.
An opportunity to peer at stars in a way that few people have isn't the major reason why most people visit Hawaii Island. It's but one in a long list of attractions that appeal to various interests well beyond the beaches, no matter what the color of the sand.


If you go read these tips first
When deciding where to stay on Hawaii Island, the perplexing but pleasant challenge is choosing from an abundance of hotels. The Kohala Coast on the northwest corner is known as the "Gold Coast" because of the string of glittering resorts set amidst the lava landscape.
While many of these properties share similar attractions, the Hilton Waikoloa Village and Beach Resort stands out in the extent to which it immerses guests in varied touches of local lore. A stretch of the 175-mile King's Trail, which linked ancient communities, temples, and other historic sites, skirts the hotel grounds. The Petroglyph Trail winds through a field of early rock carvings.
An intriguing mile-long Museum Walkway is lined with more than 1,800 art pieces from areas whose cultures influenced that of Hawaii. The resort offers classes in lei making, stone bowling, and other traditional activities, and even the spa gets into the act with treatments that include cane sugar, coconut milk, and other local ingredients.
For rates at the Hilton Waikoloa call (800) 445-8667 or log onto their site.
A very different setting awaits guests at the Volcano House, the only hotel in Hawaii Volcanoes National Park. Situated on the site where the first hotel, a small thatched structure, was built in 1846, today's lodging is perched on the rim of the Kilauea caldera, a crater-like depression that was formed following a past eruption.
The small hotel (33 recently refurbished rooms) is designed to take full advantage of its location, with oversized windows overlooking barren lava fields and numerous steam vents, which glow reddish-orange at night. Photographs that line lobby walls and a continuous video depict volcanic eruptions from the past, and daily guided walks provide close-up introductions to various volcanic-related features. For more information, call (866) 536-7972 or log onto hawaiivolcanohouse.com.
Check out the Big Island website to learn more about this island
Call (800) 464-2924 or log onto gohawaii.com/hawaii-island. For accommodations click here.
---
Photos (top to bottom):
Couple by crater: Hawaiian Tourism Authority/Tor Johnson
Puuhonua O Honaunau: Big Island Visitors Bureau
Lava tube: Hawaiian Tourism Authority/Tor Johnson
Petroglyphs: Hawaiian Tourism Authority/Tor Johnson
Beach: Courtesy Big Island Visitors Bureau/Kirk Lee Aeder

After gallivanting throughout the United States and to more than 75 other countries around the world, and writing about what he sees, does and learns, Victor Block retains the travel bug. He firmly believes that travel is the best possible education, and claims he still has a lot to learn.  He loves to explore new destinations and cultures, and his stories about them have won a number of writing awards.