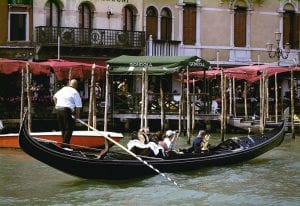 Today we ponder the ridiculous, with gondoliers restricting overweight tourists. (Some say it's because they are trying to spread the tourists around a bit.) We look at places in the USA that look like Europe. (We may head there (if quarantines don't keep us away). And then we look at mask revolts here in the US even as almost 675,000 died. Guess the situation is normal…as we used to say in the Army.
Venice gondola tours reduce capacity due to "overweight tourists"
Gondola capacity has been reduced from six to five riders because the average weight of passengers has increased. Gondoliers have reluctantly shifted to lower numbers of overweight tourists to keep their gondolas from sinking. Of course, with the lower number of "overweight tourists," this may be the perfect excuse to allow fewer riders per gondolier. Expect to pay about US$100 (€80) per half hour of gliding through the city along the canals. And, in the evening the costs climb to about US$150 (€120).
"It's true that compared to 10 or 15 years ago, tourists weigh a bit more," Andrea Balbi, president of Venice's gondoliers association, told the Guardian. "Unlike in a lift, where there's a message that says 'only six people or a maximum weight', we don't have scales to weigh people, and so we reduced the number of passengers."

Speaking to La Repubblica on the topic, Raoul Roveratto, the president of the association of substitute gondoliers, didn't mince his words: "Tourists are now overweight. From some countries, bombs load [on to the boats]. And when [the boat] is fully loaded, the hull sinks and water enters. Advancing with over half a ton of meat on board is dangerous."
11 places in the United States that feel like Europe
Having a problem getting to Europe this summer? Many are having the same problem. The US is banned. (Of course, the Europeans have been banned from traveling to the US since March 2020 as well. However, that small tit-for-tat fact is rarely mentioned.) As the world struggles with the coronavirus, the media struggles with telling the full story. However, the good news is that there are many places in the US that can substitute for European countries with a similar look. The feel and food is another thing. And, there is no need to feel like overweight tourists.
Of course, in order to make headlines match today's realities, many of these states are requiring 14-day quarantines. I guess for most of us the state restrictions are just as stringent as Europe's.
If you love: The artsy and craft-centric coastal region of Cornwall, England
Consider: Cape Cod, Massachusetts
Where to stay: Chatham Bars Inn

Miles of gorgeous Atlantic coastline, sweeping sand dunes, delicious seafood, and a thriving arts and crafts community: Cape Cod could easily pass for Cornwall, as long as you're OK with swapping Cornish pasties for clambakes. Wake up to ocean views at the historic 1914 Chatham Bars Inn and spend the rest of the day enjoying its private quarter-mile long beach, or head into town to admire the small galleries and houses with picket fences. Sorry, Ross Poldark not included.

If you love: The sunny beaches and sea breezes of the Greek Islands
Consider: Catalina Island, California
Where to stay: Hotel Atwater, Pavilion Hotel, or Mt Ada

Matching Greece's Mediterranean climate, Catalina Island is a short ferry ride from Newport Beach, Dana Point, Long Beach, or San Pedro. Through October 2020, the island is offering a "Your Boat's On Us" deal, so whether you stay at the Hotel Atwater, Pavilion Hotel, or Mt Ada, round-trip transportation for two on the Catalina Flyer (from Newport Beach) or the Catalina Express (from Long Beach, San Pedro, or Dana Point) is covered.
What did people say about wearing masks in the 1918 pandemic? It sounds familiar
Does the rhetoric about whether people should wear masks bother you? Back about 100 years ago, the world suffered more than 60 million deaths. Even back then Americans complained about government rules. Plus, even the pandemic that caused 675,000 American deaths in 1918 and 1919 was faced with enforcement problems. "Many businesses, unwilling to turn away shoppers, wouldn't bar unmasked customers from their stores. Workers complained that masks were too uncomfortable to wear all day."
Some protested and openly defied local orders as World War I raged in Europe, J. Alexander Navarro, assistant director at the University of Michigan's Center for the History of Medicine, wrote this month for The Conversation.

About 2,000 members of the so-called Anti-Mask League gathered in San Francisco in 1919 "for a rally denouncing the mask ordinance and proposing ways to defeat it," Navarro wrote.

Sound familiar?

Face masks have been a political and cultural flash point in the United States as the country struggles to contain the coronavirus pandemic, which has killed more than 140,000 people in the country since March.
---
READ ALSO:
Discover a collection of wonderful American drives
Will families ever sit together for free when flying?
---
Featured gondola photo by ALVENSIA ANGELA on Unsplash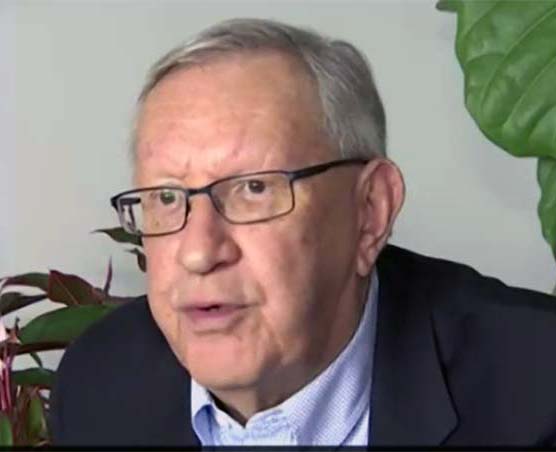 Charlie Leocha is the President of Travelers United. He has been working in Washington, DC, for the past 11 years with Congress, the Department of Transportation and industry stakeholders on travel issues. He was the first consumer representative to the Advisory Committee for Aviation Consumer Protections appointed by the Secretary of Transportation from 2012 through 2018.