---
Should change fees be capped? Is there a better way than simply charging a flat fee of $200 or $300?
---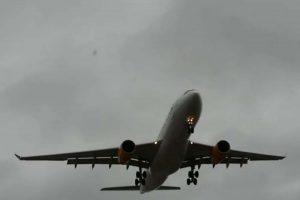 An airline seat is one of the most perishable commodities in the world. Once the flight takes off, it cannot be resold.  Plus, these days a seat doesn't just represent a fare-paying passenger, it represents an opportunity to sell up with baggage fees, extra legroom fees, inflight food and drink, etc.  So, it would make sense airlines would do everything possible not to let a seat go to waste.
The change-fee issue comes up in the US with any airline not named Southwest.  When an airline ticket has less value than the $200 change fee, there's no advantage to the client in changing it — it's  cheaper to buy a new ticket.  Another situation can come up when a passenger wants to change just the return flight of a trip before departure of the outbound flight, and the fare rules require the entire ticket be redone. In that case, the best thing for the traveler to do is keep the original ticket and buy a second return.
(Note, on the roundtrip ticket issue, I'm not talking about one of those cases where the roundtrip fare is less than the one way or where it is against airline rules to do a throwaway ticket. I'm talking about tickets issued roundtrip, but using two one-way fares. In those cases, if you simply cancel the return before departure, the airline can charge you a change fee on the outbound, and even a higher fare.)
From the traveler point of view, keeping the reservation in the system and simply buying a new ticket is a no-brainer. Obviously, the passenger is saving money.
From an airline point of view, however, they are not only losing the possibility to resell the original ticket, but the airline also loses extra ancillary fees.

Of course, airlines overbook. This means the flight for the unused ticket may still end up full, but the fees are another story. Now, the passenger could be a nice person and cancel the unused flight, but if it's a one way ticket, or a very inexpensive roundtrip, there's no passenger benefit to doing that. And, even though the airlines benefit, they don't budge.
Here's an example on a straightforward unused ticket.
A client arranging job interviews purchased tickets from Denver to Washington, DC — two one-way tickets on United — for about $100 each, during a fare sale.  (There was no advantage to a roundtrip fare — these are two one-way airfares.) About a week after booking the tickets,  the passenger gets another interview. As it turned out, a new sale meant he could buy a new return ticket for the day following his original return for not much over the original $100 fare, much less expensive than a $200 change fee.
This passenger still is holding the original return. Since there was no advantage to canceling that flight, and since the last interview could fall through, it made some sense just to keep the extra reservation and flight. However, since this passenger was an elite status member I suggested he write United to ask if they would do anything in terms of a credit if he canceled the ticket. Yes, it was only $100, but he also was holding an exit row seat, which I know United sells for over $100 to non-elites, not to mention this was a Sunday flight that was likely to be overbooked.
United's answer was a polite, "No."  Fair enough; I suppose rules are rules. Plus, it won't hurt this passenger to have a potential backup flight if things changed. But had United even offered to give him half the price as a credit he would have canceled that flight. Then, United would have made more money too. (I've checked — exit row seats and economy-plus are sold out.)
Airlines make a lot of money on change fees.  Clearly, most carriers have decided the Southwest model, where changes only result in the fare difference, not a penalty, isn't lucrative enough for them. But, a simple solution would be to cap the penalty at half the fare, even when it's a very small amount. No one likes to feel taken advantage of, and everyone likes to feel compensated for doing the right thing. Any airline want to try this proposal?