---
In an about face, United tightens their highest level of frequent flier — Global Services
---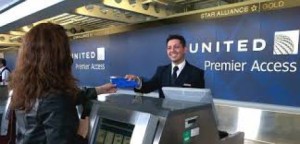 Most airline policy changes these days seem to have one goal – benefiting the big spenders. Occasional fliers and even relatively frequent fliers are seeing their costs increased and benefits reduced. But now, United Airlines has made a so-far-unannounced change that takes aim at their most golden of geese — Global Services members.
There is no official threshold for Global Services, but membership is by invitation only, and generally seems to require at least $50,000 a year spent with United. Usually, members fly internationally frequently and on paid business-class tickets.
A client who once flew over 170,000 miles in a year asked if I could have a contact at the airline review him for possible Global Services. The response from the airline ended up being, "Most of his travel is on discount fares." They suggested he buy more high-priced tickets.
In return for their spending, Global Services members get concierge-like treatment, with special phone numbers and airport assistance, along with the highest priority for upgrades. Knowledgeable travelers and travel agents also know that when an upgrade is waitlisted, and there are still any premium seats left on the plane, a phone call 24 hours in advance will get that upgrade confirmed.
Earlier this week, however, a United agent told me they were just informed this was going to stop. Global Services members still get the highest priority, but United will keep trying to sell those last premium seats until the last minute.
Now, this policy change will help a few Global members, those who waitlist and didn't know or didn't have time (or a travel agent) to call to request the upgrade. But United may well be able to sell some of those seats last minute. Even more likely, since United, like other airlines, often offers the chance to upgrade for some amount of money at check-in, more travelers will take them up on the offer. (Personally, I've been offered upgrades within the US for everything from less than $100 to more than $1,000.)
The agent I spoke to also said that some travelers have been abusing the policy by making duplicate bookings and then cancelling late in hopes of getting the seat as an upgrade. If that's true, wouldn't it be easier to simply warn those people they could lose miles or benefits if they are caught? (Trust me, United can know everything about reservation histories when they want to know it.)
Upgrades have become amazingly difficult to get recently for all but the most frequent fliers. Even with this change, Global Services members will still be upgraded frequently; they just may not know for sure in advance.
My guess is most people reading this will be thinking, "Get out the violins." Obviously, having to wait until arrival at the airport for a possible free upgrade is a serious first-world problem.
Then again, these are by and large United's biggest spenders. They don't like problems. Stay tuned. Pass the popcorn.