---
In addition to liquids, TSA powder rule will add scrutiny to powdered substances
---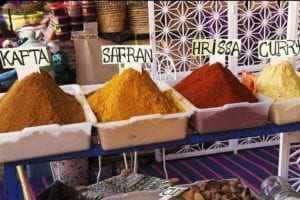 Starting Saturday, if you're flying to the U.S. with a big bag of ground cinnamon or other powdery substance, consider putting it in a plastic bag to prevent leakage, in your checked luggage. That way, you can avoid triggering the new TSA powder rule. It's being enforced by airport security at foreign airports across the globe.
For air travelers returning home to the U.S. or visiting there, the new Transportation Security Administration (TSA) powder rule for powders in carry-ons will be added to the long-established liquids rules this Saturday.
On a lengthy journey in Morocco a few years ago, I visited numerous medinas there. Medinas are walled districts in some Moroccan cities with interesting narrow and maze-like streets with numerous shops. During our trip, many of those journeying with us bought wonderful spices, including Moroccan cinnamon sold in large bags. Their colors and aromas were amazing.
As of June 30, travelers flying to the U.S. who purchase spices or other powdered products, packed in their carry-ons, will trigger extra scrutiny, questions, possibly rescreening of their carry-ons, and maybe a direct inspection of the powder to determine its identity. This may cause the passenger to be delayed in security, perhaps for an extended time. If the spices and other powders can't be easily identified, or are thought to contain something banned, it's likely they'll be confiscated.
By now, you probably have the TSA liquids rule under control. With few exceptions, you're aware that liquids and gels in your carry-ons must be in containers with a capacity of no more than 3.4 ounces, and that the containers must all be stowed into one quart-sized bag.
A new TSA powder rule to deal with, too.
At TSA's request, foreign airport security will scrutinize all passengers' carry-ons on flights to the U.S. that have more than the equivalent of a regular size soda can of powder in their carry-ons. Powdered substances are defined by TSA as fine, dry particles manufactured by grinding, crushing, etc., such as makeup, drink mixes, spices, baby powder, and coffee.
Powders aren't banned from carry-ons, but they are restricted.
1. Powdered substances in containers larger than 12 ounces (350 ml) should be packed in checked luggage.
2. Powdered substances which can't be readily identified will be confiscated.
3. Powdered substances in carry-ons may — and likely will — trigger enhanced screening of all passengers' carry-ons. This may include rescreening of passengers and their carry-ons.
4. While the new powder rule is directed toward international flights to the U.S., TSA, through its "enhanced screening procedures" at U.S. airport security check points, is already carefully scrutinizing powders in carry-ons on U.S. domestic flights.
At TSA security checkpoints, passengers in standard security lines must remove their personal electronics larger than a cell phone from their carry-ons and place them in bins for x-ray screening. In addition, according to TSA, Transportation Security Officers (TSOs) "may instruct travelers to separate other items from carry-on bags such as foods, powders, and any materials that can clutter bags and obstruct clear images on the x-ray machine." I have seen TSOs require this often in the last year.
The enhanced scrutiny of powders follows an almost year-long review of a foiled attempt to blow up an Etihad Airways aircraft last year, traveling from Australia to Abu-Dhabi, United Arab Emirates, with an improvised explosive device (IED). IEDs made with powdered explosives have been a serious concern of TSA, at least since the "Panty Bomber" Umar Farouk Abdulmutallab's unsuccessful attempt to blow up a plane over the U.S. in 2009, using PETN explosive powder mixed with triacetone triperoxide (TATP).
Exempt from the new powder rules are baby formula, medicines and cremated human remain; however, security at airport checkpoints must be able to properly identify those items to permit them on planes. It's strongly suggested that baby formula and medicines are kept in their original containers. Human remains should be accompanied by a crematorium certificate to prove authenticity.
Use common sense
If you must take a powdery substance with you when flying, it shouldn't be difficult to comply with the new powder rules. Take a commonsense approach.
• If possible, put any amount of powder in excess of a few ounces in your checked luggage.
• Keep powders in their original labeled container, if possible, for easy identification. If the container is sealed, be prepared with a plastic bag to hold its contents if security has to open the container to inspect the powder. They may run an explosives test on a sample of the powder.
• For powders in generic bags or plain containers, keep your sales slip to help prove what it is.
Don't hesitate to purchase wonderful spices or coffee during your travels. Just be prepared to handle it properly when at airport security.
(Image: Marrakech medina spice shop Copyright © 2018 NSL Photography. All Rights Reserved.)