---
Are frequent-flier programs worth it for everyone? Sometimes the answer is no.
---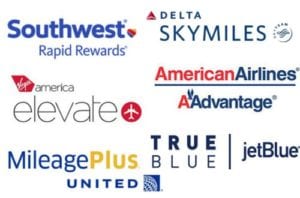 I have a love-hate relationship with United, my preferred airline, but I fly enough that I have status. While United Airlines can drive me crazy, the perks, better seats, more help with problems, even the occasional upgrade, are worth the frequent flier hassles.
However, the question for many travelers is whether it is worth focusing on one airline for frequent flier miles. There's no right answer for everyone. Here are a few questions to ask yourself.
1. How much do I fly?  This simple question is the most important. If passengers fly once or twice a year, there's little chance they will ever get elite status, and that's still the brass ring. Yes, there are not nearly as many upgrades as there used to be,  but the treatment is still better, and the ancillary fees are (usually) reduced.
The magic number on miles is around 25,000 a year. At that number of miles, carriers start offering free checked bags, priority boarding, access to more experienced phone agents, etc.  Sometimes an airline-branded credit card can reduce that number even more, as can travel in business or first class. (Although, if a passenger can afford business or first class, he/she might be less likely to care about the fee savings.)
Even more perks come with 50,000 miles — things like free access to airport lounges for international flights, priority baggage tags, exit row seats, and higher wait-list status.
While it may seem like a lot, that 25,000-mile threshold is reachable much more easily if travelers have an international trip or two in a given year. Or, if they do much cross-country travel. If a flier is mostly doing short hops, that's a different story.
2. What really matters to me when traveling? If it's cost, especially when traveling with carry-on bags, and you don't care about seat assignments, then the logical thing to do is to take the cheapest fare available at all times. If sitting in the back of the plane, or in a middle seat, is a passenger's idea of hell, then that's more reason to aim to achieve status if they can, since the cost of a good economy-class seat with extra legroom can rival the actual cost of the ticket. Plus, baggage fees can often add up quickly
3. How much is my time worth?  On this question, it depends on whether fliers live near an airline hub and where they travel. If a passenger decides to focus on an airline with plenty of service from their home airport to places they travel, then this question is easy. But in some cases, sticking with a preferred airline might mean extra stops and time, not to mention out-of-the-way routings.
4. Can I take advantage of miles for free tickets? This question is not that simple. For those who fly a lot, the miles add up fast. But even if not, several friends and clients manage to snag a ticket every couple of years. The trick, besides taking one airline or airline group, is also to be the kind of traveler who makes plans well in advance.
Sometimes, there are last minute travel awards available with various carriers. These tend to be during off-peak times. More frequently, free seats disappear early, especially to popular destinations around the holidays. It's also worth knowing roughly how many miles you need, because distance is not always the main factor.
For example, Hawaii is one of the most popular destinations with award miles, and "costs" more miles than flying cross-country or even to Mexico and the Caribbean. But if a traveler lives in California, where Hawaii fares are often discounted, they might be better off forgetting about miles and just buying tickets for their vacations.
Two other general thoughts, if travelers fly at all regularly: It doesn't hurt to sign up for airline programs, because — so far — there's no cost. Plus, travelers never know when a job or vacation situation might result in taking a trip to get a large number of miles, so having some base miles doesn't hurt. Keep an eye on frequent flier accounts, though: Miles may expire. And, travelers who decide to chase miles should keep an eye out for bonus offers that might not require flying at all, like online shopping, car rental, and so on.
Again, with these questions, answers are different for everyone. But they are worth asking before a traveler decides to chase miles and status.