---
United Airlines isn't wrong every time they remove passengers from flights.
---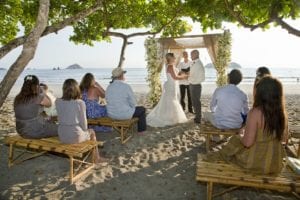 What?! United Airlines removed a bridal couple on the way to their wedding from their aircraft?! After the debacle in Chicago and scorpions falling from luggage bins, one would think that United would do anything to avoid another public relations disaster about customer service. But, United may have been right in this bridal couple case.
According to KHOU, a Houston television station, the bridal couple flying from Houston to Costa Rica "found a napping man sprawled across their assigned seats, 24B and 24C."  They moved to empty seats three rows up, 21B and 21C. In their statement, these seats were, "simply in an economy row a few rows above our economy seat." The flight was apparently only half-full.
The bridal couple claims that they returned to their assigned seats when asked, then were told to leave the plane.
United disputes the account. "These passengers repeatedly attempted to sit in upgraded seating which they did not purchase and they would not follow crew instructions to return to their assigned seats," according to the airline. "We've been in touch with them and have rebooked them."
Here's the rub: "Upgraded seating" in coach is "Economy Plus" on United. On average, these seats have 4-5 more inches of legroom. However, these weren't just any Economy Plus seats.
Now, as a travel agent I realize this is "inside baseball," but United Airlines uses standardized seat numbers on their narrow body planes. Row 21 is not only a good row, it is the exit row. More precisely, it is the BEST exit row.  Row 20, which is the first exit row, has seats that do not recline.
Travelers who are Gold level or higher with United — which means either 50,000 miles a year or one million lifetime miles — are entitled to sit in exit row seats for no extra charge. Otherwise, United sells the seats, usually for at least $100 each on an international flight, although I've seen it over $200. (There isn't a set price for the seats; it varies with demand and the price of the ticket. And, prices can change from day to day.)
It's never fun finding someone in your assigned seats. I can understand how the bridal couple, especially if they weren't frequent fliers,  might have figured it didn't matter since the plane wasn't full. On the other hand, United tries so hard to squeeze revenue out of everything they can that I can't imagine they didn't suggest upgrading to "Economy Plus" during the check-in process.  (Even though I am enough of a frequent flier to get the better seats, United asks me every single time if I want to buy more miles.)
I don't know for sure what happened. Presumably, if the bridal couple told the flight attendant someone was in their seats she would have told them to move to any seats in the regular economy section. Had they told her they were on their way to get married, who knows, he/she might have offered them a free drink and it's even possible she might have offered them "Economy Plus" seats. But United loathes doing that on a regular basis. It is not just for the revenue, but because it can annoy people who have paid serious money for the seats, especially if it means filling a coveted empty seat next to another flier.
Even if the plane was "half empty," I can see how another passenger who thought they had a row to themselves would be justifiably annoyed to have it filled by others who felt entitled to the seat. Certainly, it is not the kind of precedent an airline wants to set.  Otherwise, it would be open season for passengers to try to get free seat upgrades. And, it would make the preferred seating area more crowded than the regular seats in the back of the plane.
I've seen people try to move to preferred seating fairly often. Usually, a polite word from the flight attendant gets them to move back, though I've seen arguments. I've also seen people, most often parents with children, try to get passengers with better seating to swap with them for free so they can sit next to their children.
Once, my husband was badgered by a woman who had already been upgraded by a kind gate agent from the back of an international flight along with her children into Economy Plus, to give up his aisle seat for one in the second to last row on the plane so that her mother — the children's grandmother — could sit next to them. When he finally said no, the flight attendant quietly told him later that she couldn't have stopped him, but that he made the right decision.
So many mistakes were made at O'Hare that United Airlines really did put a clear target on their back. However, sometimes the customer isn't always right. When the airline removed the bridal couple from their flight, it might have been one of those times.
Photo: http://www.costaricaweddingcelebrations.com/