---
Are hotels outdoing airlines with extra fees?
---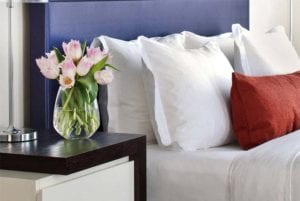 If there is anything worse than airline fees, it may be irritating hotel fees. Many hotel fees are excessive and too many hotels aren't particularly forthcoming about their fees. Too many make it difficult for their guests to know what fees they'll be paying before they check in.
The U.S. hotel industry hasn't been timid about charging fees and surcharges. Dr. Bjorn Hanson, professor at NYU's Tisch Center for Hospitality and Tourism, reports that U.S. hotels charged a record $2.6 billion in total fees and surcharges in 2016 and are on pace to eclipse that record this year.
Let's take a look at specific, irritating hotel fees and determine how to avoid or minimize them.
1. Resort or amenity fees:
Resort fees are normally mandatory fees generally charged in high volume tourist locations. Resort fees are prevalent in areas such as Hawaiian resorts, Florida, and Las Vegas Strip hotels. They're charged by the top hotels and "economy" hotels alike in these areas.
These irritating hotel fees are no more than "drip pricing" schemes, where fees are separately charged to hide the real cost of hotel rooms until it's time to pay the bill. While many hotels will tell you about their resort fee before guests sign on the dotted line, it's not part of the advertised price of their rooms.
Resort fees typically combine unpopular fees together into a single mandatory fee. The fee often includes pool use, towels, telephone, Internet, gym access and newspaper delivery. Part of the problem is that many hotel guests have no interest in using all the amenities for which they are being charged aggregately. The other part of the problem is that resort fees, even within major chains, are not consistent — consumers while booking often have no idea of what is included in this mandatory, irritating hotel fee.
Unfortunately, it's often hard to avoid paying resort fees when your destination is a high volume tourist area. In those areas, virtually all the hotels charge a resort fee which can be a substantial portion of the final bill. If you research the hotels at your destination and include their fees in your hotel cost calculation, you can minimize their impact. One place to start your research is the ResortFeeChecker website.
Click here for Travelers United's hotel resort fee micro-site. Travelers United is leading the nationwide battle against hidden mandatory hotel fees.
2. Valet parking and self parking fee:
I understand charging a fee for valet parking. Valet parking requires multiple employees to provide a 24/7 parking service. Too often, however, valet parking fees can be excessive, especially for those who don't use their car daily. On the other hand, self service parking fees by hotels that provide a self-service garage or lot are often outrageous at $25 or more per day.
At some resorts you won't have a choice for parking, but in major cities, it's possible to find nearby parking lots or garages which may be less expensive than the hotel's.
3. Housekeeping gratuity:
Some hotels add a housekeeping gratuity fee on to your bill which sometimes totals as much as ten percent of your room fee. If you're like me and normally leave a gratuity for your room's housekeeper each day, find out if your hotel adds it as a standard fee to your bill, so you don't pay it twice.
4. Mini-bar and snack fee:
Most everyone knows whatever is in the mini-bar is pricey. What some people don't know is if you simply move an item in the mini-bar, it will likely result in a charge for it. When you check out, make sure you're not charged for anything you didn't consume. If there are complementary-looking water bottles or snacks in your room, before drinking or eating them, find out if they're really free.
5. Telephone fees:
Other than to call the front desk, room service, another room or another phone in your hotel, don't pick up the phone in your room. Most hotels not only charge for long-distance calls, they also charge for local calls. I use my cellphone for all "outside" calls.
6. Internet fees:
Many hotels have stopped charging for Internet usage, at least DSL speed Internet. Some hotels charge for any Internet use, and others for high speed Internet use. Charges may run from $10 to $35 per night. Be aware of the fee before you book your room. Some hotel loyalty programs give guests free Internet. I often use a MiFi router as an alternative to the hotel's Internet. It obtains the Internet from my cellular provider.
7. Newspaper fees:
When you check in, ask if the newspaper delivered to your hotel room is free. If it's not, and you don't want it, tell them to skip your room. Newspaper fees are big revenue generators for hotels. Only pay for a newspaper if you want it.
8. Luggage storage fee:
Many travelers arrive at their hotel before check-in or need to check out well before they must leave for the airport. As a result, they need to stow their luggage at their hotel temporarily. Some hotels are now charging as much as $5 per bag stowed. If you need that service, know if they charge for it in advance.
Strategies to minimize or eliminate hotel fees, hidden or stated, depend on each hotel guest paying close attention to the fees and their bill. Research your hotel carefully. Find out the true cost of your stay. In addition to what's mentioned above, hotel loyalty group membership can reduce or eliminate some fees, as can booking directly on the hotel or hotel chain's website.
(Image: Room at Copenhagen Radisson Blu Royal Hotel. Copyright © 2010 NSL Photography. All Rights Reserved.)