---
Why kitsch is catchy and offbeat is normal in Branson, Missouri
---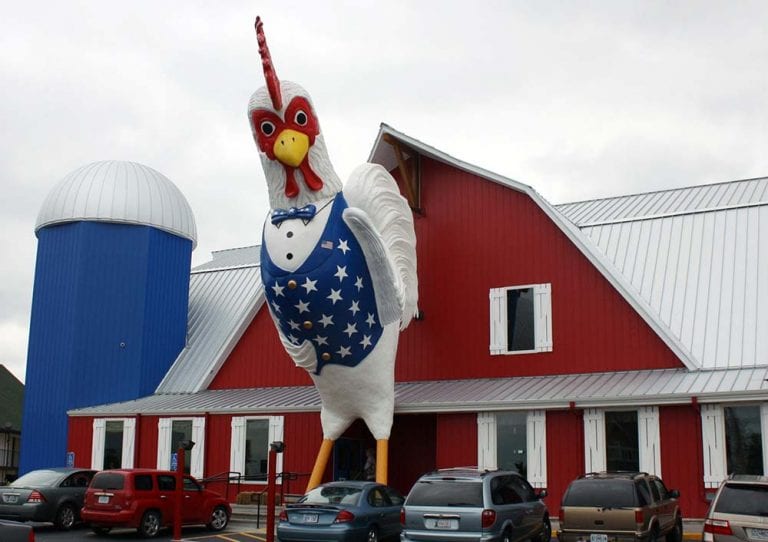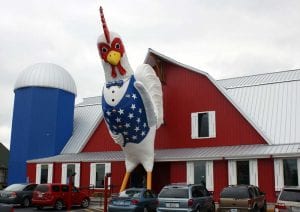 Our car crested the last hill overlooking the town ahead. I rubbed my eyes to make sure they weren't deceiving me. The first thing I spotted was a giant King Kong perched menacingly on the roof of a building.
Another roof was topped by a helicopter that appeared to have just landed or was about to take off. Other hard-to-believe visions and Branson, Missouri, sights came into view.
A huge chicken, an equally oversized fork piercing a large meatball, and a half-size replica of the Titanic nestled against the iceberg that it had struck all appeared before me.
Branson, Missouri offers fun and frivolity in a pastoral setting
Welcome to the town of Branson, set in the rolling Ozark Mountains of Missouri. Contrasting with the rather pastoral area that surrounds it, Branson is an island of fun and frivolity. Visitors will find exciting thrill rides and a long and varied list of entertainment. Plus, they'll discover a choice of more educational alternatives.
READ ALSO: Learning about ridin' and ropin' at the Arizona Cowboy College
These experiences combine to create a destination that is somewhat, shall I say, different. Here's a place where kitsch becomes catchy, the offbeat seems normal, and visitors may find themselves abandoning what is real for, at times, the surreal.
Consider this fact: Bigfoot is alive and well in Branson. More about that later.
Thrill rides, toys, and kitsch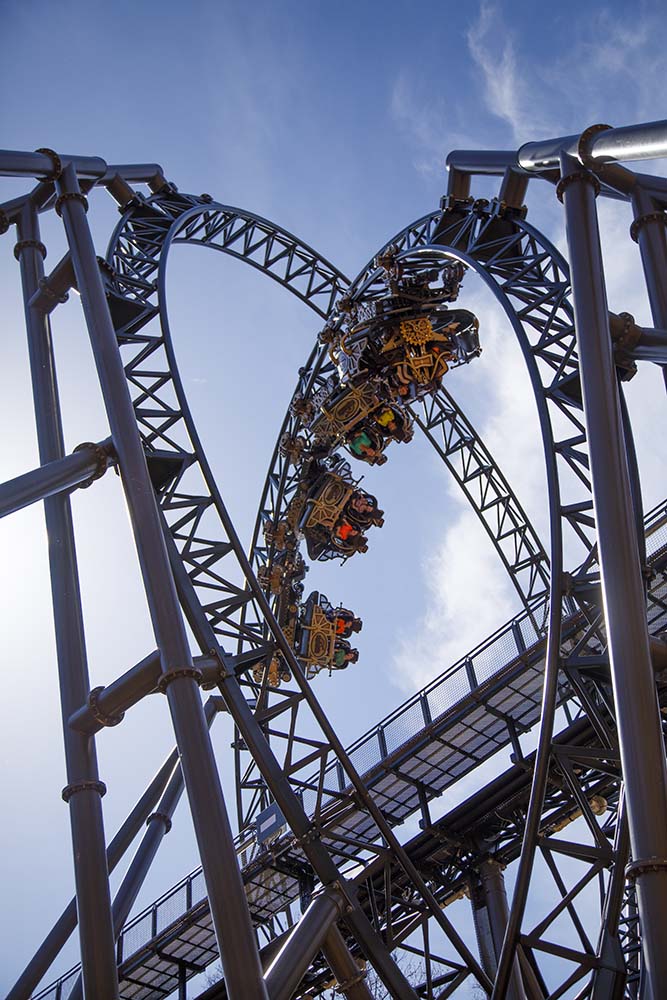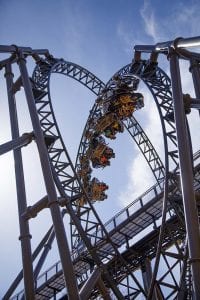 Among other claims to fame, Branson hosts the world's largest toy museum and the biggest rooster weather vane. It boasts about the fastest, tallest and steepest spinning roller coaster.
My wife and I went to Branson with some trepidation. From what we had heard, it's the kind of place that, to be blunt, we usually hate. And, we left loving it!
Let me add that we left Branson liking the town for what it is. Some of what goes on there may be corny and cliched, but it's done very well.
In addition, there's plenty to see and do that's downright educational and exhilarating in a more serious way. But first — some fun.
If you're a thrill ride aficionado, Branson may well be the place for you. Just a few examples from a lengthy list of heart-racing alternatives include a windmill-shaped ride that propels passengers at speeds up to 60 miles-per-hour. It is the second-fastest wooden roller coaster in the world. Then try a skydiving adventure and a four-story-high go-kart track that hurls passengers on a twisting, turning and spiraling ride.
For those not enthralled by such stomach-churning experiences, they can live life in the slow lane.
ALSO ON TRAVELERS UNITED BLOG: Should 3- to 13-year-old kids pay extra to sit with families?
From museums to Marilyn Monroe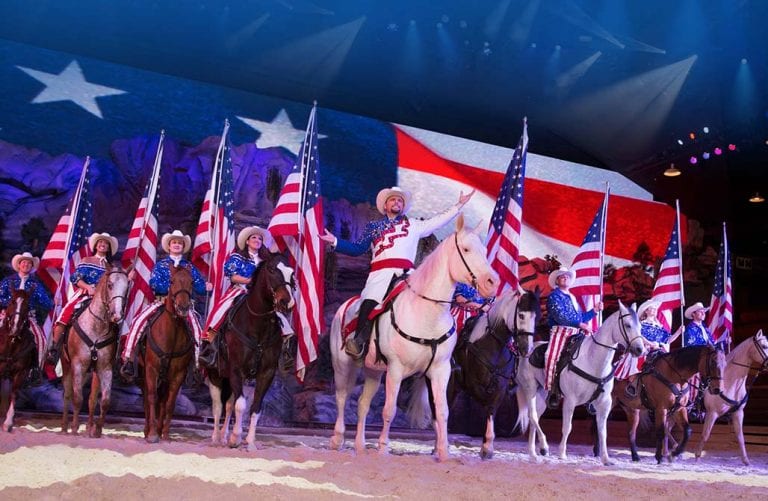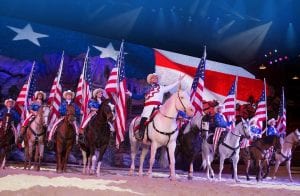 A wax museum provides introductions to famous movie stars. A collection of auto and farm equipment includes more than 200 "cool cars" and almost as many tractors and steam engines. Passengers on the Branson Scenic Railway experience the luxury travel of times past during a 40-mile ride through the Ozark foothills.
There's also a lengthy list of entertainment options. They range from country and rock music to comedy and acrobatic performances. Legends in Concert includes tributes to the likes of Elvis, Marilyn Monroe, and the Blues Brothers. Dolly Parton's Stampede offers a four-course meal along with exhibitions by trained dogs, racing pigs, horses and human entertainers in a rodeo-like setting.
Slow fishing to fast rides
In contrast with the fast rides and frenzied activity, it's somewhat ironic that the area initially was a favorite destination for fishermen seeking a quiet outing. Its rivers and warm water Table Rock Lake, continue to serve as magnets for anglers in search of largemouth bass and other freshwater fighters.
The primary draw for many is Silver Dollar City. That complex alone would be worth a visit. Its history traces back to the 1890s when a series of underground caverns was opened as an attraction named Marvel Cave. Crowds began to gather. Eventually, a small complex of rides and other attractions was built to give guests something to do while they waited for a cave tour. It wasn't long before more people began coming for the recreation than just the cave. That set the stage for the mega-park which greets visitors today.
Attractions in Silver Dollar City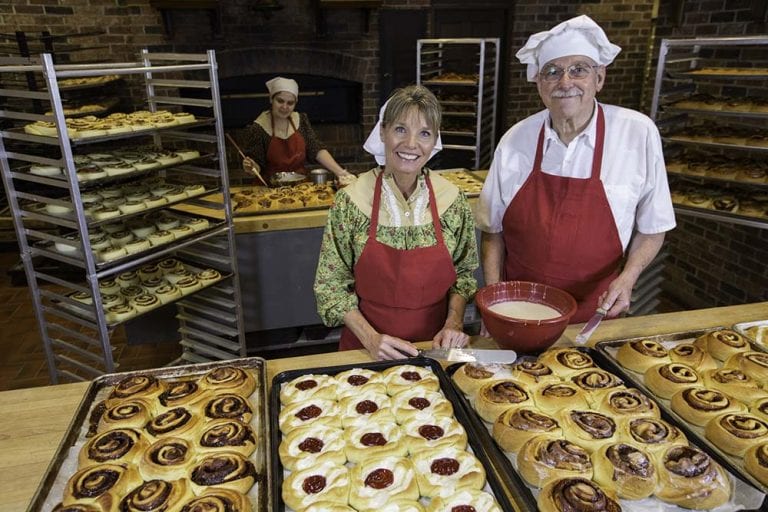 The setting recreates the atmosphere of the Ozarks in the late 19th century. That theme is carried out in a number of ways.
Almost everything made, used and even eaten in Silver Dollar City is made by some 100 resident craftspeople. They keep alive an American heritage. Leathercrafters, candle makers, glass blowers and other artisans create items. These are sold in shops and used throughout the park.
Even the food becomes part of experiencing the lore of the Ozarks. Veggie-filled succotash is cooked in a six-foot skillet that was made by the blacksmith. The family recipe comes from a park employee. A stop at the bakery is a step back in time, with demonstrations of making taffy and other treats, followed by tastings.
At Sullivan's Mill, an old-fashioned waterwheel powers a stone wheel. The mill grinds yellow and white cornmeal which is used to bake sourdough, cinnamon, and seven-grain Indian bread.
In addition to the usual theme park rides and entertainment, some carry out the Ozarkian theme. For example, the Giant Barn Swing is based upon ropes that were attached to the rafters of barns long ago to provide a basic, but enjoyable, experience. The wooden roller coaster is a throwback to the thrill rides of decades ago.
Signs of Bigfoot in Branson, Missouri
Earlier I promised you an introduction to Bigfoot and I can report that our Exploratory Expedition to search for a large hairy beast achieved some success. I spotted oversize muddy footprints, heard ear-shattering screams and was subjected to musty beast-like smells. However, a vow of silence imposed upon Bigfoot searchers keeps me from divulging more.
On the other hand, little else about Branson is a secret. You're likely to find a number of things to your liking. And even when it comes to appeals and attractions in Branson, Missouri, that have little interest for you, you may agree that at least Branson does them well.
For more information, call (417) 334-4084 or log onto explorebranson.com.

After gallivanting throughout the United States and to more than 75 other countries around the world, and writing about what he sees, does and learns, Victor Block retains the travel bug. He firmly believes that travel is the best possible education, and claims he still has a lot to learn.  He loves to explore new destinations and cultures, and his stories about them have won a number of writing awards.