---
Consumers cannot compare travel costs and schedules based on false advertising. 
---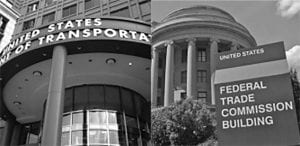 In the consumer world advertising is how travelers learn about pricing. Honest price information makes the free market work.
Most consumers shop for travel based on the bottom line — how much something costs. Unfortunately, our government, even in these past years of liberal and progressive governance, does not protect travel consumers from downright false and deceptive advertising.
False advertising has gotten worse over the past years
The airlines and the hotels deceive consumers. Even after years of hard work behind the scenes, consumers are left in the lurch. Organizations like Travelers United must educate the new appointees and the new Congress members about these false advertising issues.
After the last four years of the Obama administration and the first three of Trump, travelers still suffer from false and confusing advertising. Both the Department of Transportation (DOT) and the Federal Trade Commission (FTC) are failing the American public.
Airline advertising is filled with unadvertised fees (read hidden fees)
During the first term of the Obama administration, the DOT issued the controversial full-fare advertising rule to counter false advertising. This regulation required airlines to advertise the full cost of travel, including airfare plus mandatory taxes and fees. The advertised price is the cost of flying, including all mandatory charges. Such a rule, at the time, was audacious. Imagine an executive department requiring an airline to produce honest advertising!
Travelers United was intimately involved with this rule from its inception. This organization has been at the heart of discussions through the comment period and the rule's implementation. Later, the airlines took DOT to court to get the rule rescinded. Travelers United supported DOT in its legal efforts. Forcing an industry to advertise honestly is hard work.
READ ALSO: Important ways DOT should help passengers like you
Deceptive airline advertising still continues
The impetus for the full-fare rule, the explosion of ancillary/extra fees for everything from checked baggage to seat reservations and from telephone reservations to in-flight food continues. The new rule required airlines to reveal mandatory fees. They were not required to clearly advertise what DOT called "optional fees."
These optional fees became more and more complex, with many exceptions and exemptions. Some fees come into effect only for non-frequent fliers. Other fees are waived for elite fliers. Yet, others are bundled together with no reference to the original fee structure. The system today, except for Southwest Airlines, which has continued permitting travelers to carry two checked bags and make changes and cancel flights without penalty, is more complex than ever.
Airline advertising of ancillary fees is nonexistent
Today, no traveler has the ability to accurately price the entire cost of travel. Travelers know the airfares and mandatory fees, but they do not know the real extra fees where the airline industry makes up to about 50 percent of its profits.
Advertising false prices is one way that false advertising works. The other way is creating a pricing structure that is so complex that the average consumers cannot understand the price they are paying. Even with the full fare advertising rule, ever-increasing fee complexity allows the airlines to operate in a world of false advertising.
DOT's airline on-time statistics are not honest
When it comes to honesty in advertising, one would think that government agencies would be required to tell the truth. However, that is not the case with DOT and airline schedules. Back in the 1950s DOT set a rule that provided a 15-minute window for airline schedules. Both departures and arrivals have on-time leeway built into the system. Basically, on-time does not mean on-time according to the airline schedules.
When most flights were point-to-point in the early days of aviation, it didn't make much difference. Today, however, almost 70 percent of flights are connecting flights. Now, a 15-minute delay can make connecting at large airports difficult and the rule adds unnecessary stress for passengers.
READ ALSO: UPDATE: Is this the beginning of the end for hotel resort fees?
Passengers assume that on-time means on-time according to scheduled flight times. That is not the way that on-time statistics are reported. Travelers deserve truth in reporting from its agencies.
Hotel pricing involves increasing mandatory fees
Hotels suffer from false advertising when mandatory hotel fees are hidden from consumers. This problem has been growing over the past 10 years. Today, it is worse than ever. Consumers attempting to compare prices across hotel chains see false advertising. Whenever a hotel website, online travel site like Expedia or a metasearch site like Kayak lists hotels by room rates, consumers face false advertising.
In a listing of rooms by price in Las Vegas, at least half of the room rates are listed with false prices. The real cost to spend the night at most hotels in Vegas is not listed. Hotels are not required to include mandatory fees in their advertised prices. If a hotel wants to appear less expensive, it advertises a lower room rate. Later, the hotel lets the consumer know that there will be another hefty mandatory fee. On average, these mandatory hotel fees at hotels engaging in this false advertising cost consumers an additional $30 a night.
The FTC has done nothing to ban this false advertising
Even after more than seven years of work by Travelers United and other consumer groups to end this false advertising scourge, the Federal Trade Commissions (FTC) has not taken action.
Travelers United has been successful in getting legislation introduced in Congress to stop unadvertised mandatory hotel fees. Plus, through a parallel effort Travelers United has succeeded in getting the National Association of Attorney Generals (NAAG) involved. Today, Marriott and Hilton Hotels are facing lawsuits brought by members of NAAG's consumer protection committee.
Hopefully, the legislative, administrative, and judicial efforts will bear fruit soon.
ALSO ON THE TRAVELERS UNITED BLOG: Know the full-fare advertising rule for airlines
The solutions are not difficult, but the travel industry loves false advertising
In the airline world, simply requiring airlines to make their fees with all exemptions public will end the problem of price comparison. Software developers and travel agents are eager to begin designing new computer interfaces. Websites and shopping search engines can bring honesty to the amazingly complex system created by airlines.
In the hotel world, a simple decree that all mandatory hotel-imposed fees be included in the room rate would do the job.
Ending these false advertising issues isn't difficult. The American public only needs a government that works for the people rather than for the airlines and hotels. Consumers need to allow the free market to work with honest advertising and the ability to easily compare prices.