---
Memorial Day is the day America remembers its fallen heroes who died in the military service
---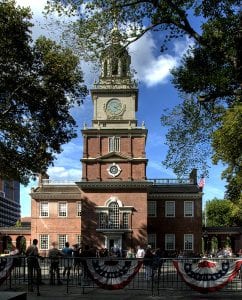 Today is Memorial Day. It's the day America sets aside to honor our fallen heroes. They are the men and women who died while in the military service of the nation, These fallen heroes sacrificed their lives for the nation's survival and well-being.
This is without a doubt a different Memorial Day. I've lived through the years of the Korean War, the Vietnam War, the Gulf War, Afghanistan, Iraq, and others. Today, we are in a different kind of war, fighting daily on the homefront against COVID-19. We've had wars like this one before. I've lived through the polio epidemic, the measles epidemic, the mumps outbreak — in which I almost died — and the Asian Flu, HIV, Hong Kong Flu, and Swine Flu pandemics. Now along with you, I'm living through the COVID-19 pandemic.
Much of the United States is still in lock-down. Parades and memorial ceremonies have been diminished or canceled. Vacations are on hold and general travel curtailed. This does not seem like Memorial Day for many Americans.
During the COVID-19 pandemic, it is a different Memorial Day
While this Memorial Day may look and feel different, I believe that it is a truly exceptional moment to look back, remember and think through our hearts to say, "Thank you for your service."
Unfortunately, after the past few months, we have many new uniformed heroes to remember. They've fought valiantly in the COVID-19 war against the enemy virus and too many have died. They include members of our state national guards, police departments, fire departments, paramedics, ambulance attendants, nurses, medical technicians, doctors, and others.
We now mourn more than 100,000 Americans who have died since January. It has been less than half a year from when this dread disease first attacked the US. I believe that we should remember other heroes, too. We should remember those on the front lines, despite their lack of uniform. We can't forget those who have transported us, those on farms, in grocery stores, pharmacies, power plants, water treatment plants, information centers, communications centers, research centers, etc., who died serving the nation.
America's flag remains at half-mast for Americans who have died recently in the pandemic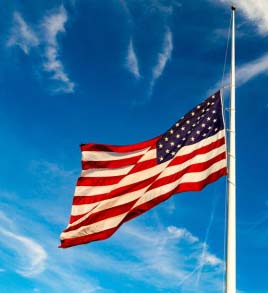 Our American flag remains at half-mast for our heroes who have recently fallen. We need to remember all these Americans in the distant and recent past. We must remember their sacrifice to keep us safe from both the foreign and domestic enemies we've faced. America remembers. We should meditate about what they've done and celebrate their lives.
When travel resumes on future Memorial Days, I think that at some point, all Americans should travel to Philadelphia, Pennsylvania, America's birthplace. Here you can walk in the footsteps of our earliest American heroes. Many wore the uniform of our young nation and some not, but heroes all. Philadelphia's importance to the nation and to the world has been recognized internationally. It's the only UNESCO World Heritage City in the United States.
---
READ ALSO ON THE TRAVELERS UNITED BLOG:
What makes Memorial Day travel memorable
How to see Pearl Harbor — both over and under
---
For Memorial Day, a visit to Philadelphia and Independence National Historical Park should be on every American's list
Anyone who wants to learn about America's fight for independence must view the center of America's historic beginnings. Philadelphia is where we began as a nation, Independence National Historical Park must top your destination list. Within and surrounding the Park, don't miss Independence Hall (where the Declaration of Independence and the U.S. Constitution were created and signed). View the Liberty Bell, Carpenter's Hall, the Betsy Ross House, the Bishop White House, Christ Church, the National Constitution Center, and many more places of great importance in American history, including Pennsylvania Hospital, the nation's first.
Each Memorial Day I visit Washington Square, just behind Independence Hall, where the Tomb of the Unknown Revolutionary War Soldier stands. A statue of George Washington watches above a large memorial tomb in the Square. Underneath the Square, an estimated one thousand fallen soldiers of George Washington's Army lie forever, their identities unknown. An eternal flame burns to remind us of their everlasting spirit, which brought freedom to the nation.
At Gettysburg, President Abraham Lincoln expressed the true meaning of Memorial Day
In years past, I've traveled to Gettysburg National Military Park, 150 miles west of Philadelphia. On Memorial Day, I think about what President Abraham Lincoln said in November 1863, in his 271 word Gettysburg Address. His succinct message beautifully expresses my feelings about my friends and their comrades who died in the service of our nation, to keep our freedoms secure, and maintain our nation as a bastion of liberty from tyrants.
"It is for us the living, rather, to be dedicated here to the unfinished work which they who fought here have thus far so nobly advanced…It is rather for us to be here dedicated to the great task remaining before us, that from these honored dead we take increased devotion to that cause for which they gave the last full measure of devotion."
No American should forget the sacrifices of heroes who lost their lives in service to the American people
Let none of us ever forget the sacrifices of our fellow Americans in and out of uniform who maintained and guarded our nation. Let us not forget the valiant souls who bravely fought on the front lines to save American lives while risking, and too often losing, their own.
(Image: Independence Hall, Independence National Historic Park, Philadelphia, PA. Copyright © 2008 NSL Photography. All Rights Reserved.)
After many years working in corporate America as a chemical engineer, executive and eventually CFO of a multinational manufacturer, Ned founded a tech consulting company and later restarted NSL Photography, his photography business. Before entering the corporate world, Ned worked as a Public Health Engineer for the Philadelphia Department of Public Health. As a well known corporate, travel and wildlife photographer, Ned travels the world writing about travel and photography, as well as running photography workshops, seminars and photowalks. Visit Ned's Photography Blog and Galleries.