---
Tragic train drailment calls for improved safety and mourning
---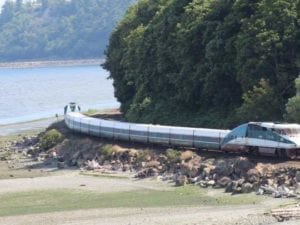 Last month's calamitous derailment of Amtrak Cascades train 501 in Washington State has focused renewed public attention on the state of the nation's infrastructure and the safety of public transportation systems. In addition to having considerable bearing on my career as a freelance writer/researcher and consultant specializing in passenger rail and transit, the tragedy is a personal one for me as I lost two dear friends.
Jim Hamre and Zack Willhoite, both passionate and long-time rail passenger advocates, were aboard to celebrate the inaugural run over a new, faster route that they had spent years pressuring the state government to rebuild and implement. They were two of the three passengers who lost their lives as the car they were in landed on its side and had part of its side wall torn off. If circumstances were only slightly different, I might have been on that train with them, probably in the same car, to join in the celebration.
But instead of celebrating, I am mourning, and inspired by Jim and Zack's memories, I am pressing everyone who has a role to play in shaping our transportation future to do a better job. There were multiple levels of failure that contributed to the events of December 18, 2017, and it is impossible to assign blame to one individual or body. The Washington State Department of Transportation (WSDOT), which oversaw the project to rebuild the Point Defiance Bypass and ready it for passenger service, decided it was not worth spending $412 million (double the entire project's estimated cost without the bridge rebuild) to rebuild the 30-mph curve over Interstate 5 where the disaster took place to make it straighter. But it was the decision of Congress to require the available federal funding to be spent and projects completed by Sept. 30, 2017, that weighed on WSDOT's decision.
The bypass project's goal was not primarily to save 10 minutes off the Seattle-Portland trip — it was to permit increased frequencies (two more daily round-trips initially) and greater reliability (the original route, which Amtrak trains have reverted to using since the derailment, has limited capacity, is clogged with freight trains and is prone to mudslides, each of which blocks the line to passenger traffic for 24 hours under host railroad policy). It also allows commuter trains to serve a more populous area than the coastal route. The idea is to make the train the default mode for business and leisure day-trips between the two Pacific Northwest cities and for commutes from southern Pierce County into Tacoma and Seattle, cutting into worsening traffic congestion on I-5 and reducing energy consumption, emissions and the other negative effects of automobile dependence. Straightening out the curve had no direct bearing on those goals.
There is also the bedevilingly complex topic of Positive Train Control, a technology capable of taking over to slow or stop a train when the engineer fails to react to a signal or speed restriction that is programmed into the system. Congress has mandated that it be installed on all lines that carry passengers, and similar systems are functional on many of the world's railways, but a host of technical, political and fiscal difficulties have made its implementation slow going. The infrastructure on the new route segment where the tragedy occurred is already equipped with PTC, but the equipment in the locomotives had not yet been fully installed and set up to communicate with the wayside and back-office computer systems.
The heart of the challenge is that Congress has only provided $1.2 billion out of the $12 billion that complete, national PTC implementation is estimated to cost, so railroads (both private freight carriers and public commuter rail authorities) see it as an unfunded mandate. But railroads are also approaching it only as a safety overlay atop their existing signal and dispatching systems, rather than as something that could replace those systems and allow trains to operate closer together and more fluidly, delivering a host of business benefits.
Jim Mathews, President & CEO of the Rail Passengers Association (a partner of Travelers United), succinctly states the challenge before us in the January issue of the association's newsletter: "In the case of implementing Positive Train Control, U.S. policy is so diffuse, the details so mind-numbing and contradictory, and the funding so vaporous, that we've erected barriers to common-sense policy."
"We are likely looking at the fourth incident since 2008 where Americans have died in a derailment that PTC could have prevented," Mathews continues. "As a nation, we've decided that the $12 billion project to implement PTC — what the [Federal Railroad Administration] has described as the "most important" change in railroad safety technology in a century – just isn't important enough. … We've found the single most complicated and confusing way to make this "most important" change, and, unsurprisingly, implementation is uneven as a result."
Mathews goes on to compare the approach taken to PTC — "an unfunded mandate, to be carried out independently by a variety of actors of varying resources and capabilities" — to that taken towards a comparable modernization in the world of aviation: NextGen Air Traffic Control, on which the government is spending $1 billion every year. Private industry joined forces with the Federal Aviation Administration to develop seamlessly interoperable systems as part of NextGen, all under FAA's oversight. The project benefits from dedicated funding from the Airports and Airways Trust Fund, which covers over 90% of FAA's operating costs. Passenger rail enjoys no such dedicated funding — rail projects must compete for the same discretionary domestic pot as such things as federal education and public health initiatives.
"The answer is to set a deadline and stick to it, set a standard and meet it, and set a budget and fund it," Mathews concludes. This is certainly easier said than done, and seeing it through will require a concerted effort among all advocates for the traveling public. It will mean increased funding for infrastructure, particularly in the passenger rail sector which has too long been starved compared to highways and aviation, but it will also necessitate a less bureaucratic and more nimble and professionally guided approach to spending public funds in the design and construction of upgrades. We at Travelers United are committed to doing our part in bringing Americans a transportation system that is second to none in the world in terms of safety, reliability and customer-friendliness.