---
Some U.S. airline passengers are refusing to wear face masks aboard planes despite crew member instructions. Are they right to refuse them?
---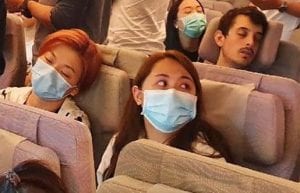 Airlines are requiring passengers to wear face masks aboard planes. Enforcement can mean banishment from future flights on the airline where the passengers refused to put on the face mask. Should these travelers be allowed to be unmasked?
Across the globe, more than nine million people have contracted COVID-19. More than 469,000 have died from the virus. In the United States, over 2.3 million have been infected and more than 122,000 have died from COVID-19. Across the planet, the world is reopening, and travelers are again flying, despite more than 100,000 new daily cases since the end of May. As a result, air travel in the U.S. is up more than 36 percent compared to April.
The real reason to wear face masks aboard planes is to protect others
Airlines have instituted extensive health safety procedures. Among them, most airlines are requiring passengers to wear masks aboard flights. That means during check-in, boarding, and in flight.
Some U.S. air travelers are refusing to wear face masks. Some have said they don't believe their risk of contracting the virus is high, while others have said that it's their body and only they get to decide if they should wear a mask. However, wearing a face mask is about protecting others. It is for consideration of others. It is mainly for the protection of others. For consideration of other passengers.
Those infected with COVID-19 can transmit the disease while experiencing symptoms and even when presymptomatic or asymptomatic
COVID-19 infections
Travelers infected with COVID-19, even if displaying extremely mild symptoms, are infectious. In a new report from the CDC, it's acknowledged that passengers with no symptons can spread the disease. Recent epidemiologic, virologic, and modeling reports support the probability of presymptomatic and asymptomatic transmission of COVID-19.
COVID-19 transmission
COVID-19 is primarily transmitted by respiratory droplets expelled from infected people when they cough, sneeze or merely talk. Anyone near them can inhale the contaminated droplets or touch the virus that's been deposited on them and then touch their mouth, nose or possibly their eyes. We also know that it can be transmitted by touching a contaminated surface with a viable virus on it and then touching their mouth, nose, or eyes.
Six feet is generally a safe distance away from others to prevent the droplets from being directly inhaled or landing on another's body. Wind and drafts, including those from HVAC systems or air circulation systems, can carry the droplets further than six feet.
Passengers and U.S. Department of Transportation (DOT) regulations
DOT can provide adequate justification for requiring passengers to wear face masks on planes. Title 49, Section 41702 of the U.S. Code, states that "an air carrier shall provide safe and adequate interstate air transportation." DOT has the authority to make such a requirement. Furthermore, it appears that CDC recommendations provide the necessary justification to require face masks aboard planes.
---
READ ALSO ON THE TRAVELERS UNITED BLOG:
Are there easy ways to get passengers to fly again?
COVID-19 has forced big TSA changes at checkpoints
---
Passengers automatically agree to comply with crew member instructions, including face mask requirements, due to the airline's DOT and FAA rules
Passengers and airline policy
When travelers purchase a ticket on a commercial airline, they agree to abide by all provisions in the airline's "contract of carriage." DOT and FAA rules say passengers must obey flight crew member instructions. Therefore, mandates regarding face masks aboard planes by the airlines and their crew members must be obeyed.
Face mask efficacy
The point of air travelers wearing cloth face masks is to prevent the spread of COVID-19 in airports and aircraft. A World Health Organization study about face masks aboard planes found that a single cough can produce up to 3,000 respiratory droplets. Face masks aboard planes are designed to prevent all or most of those droplets from being expelled.
Scientific studies show that wearing a face mask is an effective means to prevent COVID-19 transmission
According to studies done, like the one published by the U.S. National Library of Medicine, National Institutes of Health in April, 2020, and another study published in the Proceedings of the National Academy of Sciences, wearing face masks in public is a highly effective means to prevent transmission of COVID-19. The second study concluded that wearing face masks in New York City from April 17 through May 9 reduced the number of infections there by over 66,000.
Conclusion:
Air travelers who refuse to wear masks on planes because they don't think they are at much risk for contracting COVID-19 or because it's their body and they have the sole right to control it, are missing the point of wearing face masks.
The face masks aboard planes rule is not to protect yourself but to protect those around you
The point of wearing a face mask during the COVID-19 pandemic is not to protect the person wearing the mask. It is to protect those around that person from potentially getting the virus. This is especially important when we can't socially distance on planes. Studies clearly show the masks are effective.
DOT continues to refuse to promulgate masking regulations to protect passengers from COVID-19 transmission. Most airlines now require it themselves, and as explained above, passengers must wear face masks aboard planes. Penalties can be a flight ban on the airline where the infractions occur.
Each of us should willingly wear a face mask aboard planes to prevent transmitting COVID-19  to other people. It's the moral thing to do as a human being.
After many years working in corporate America as a chemical engineer, executive and eventually CFO of a multinational manufacturer, Ned founded a tech consulting company and later restarted NSL Photography, his photography business. Before entering the corporate world, Ned worked as a Public Health Engineer for the Philadelphia Department of Public Health. As a well known corporate, travel and wildlife photographer, Ned travels the world writing about travel and photography, as well as running photography workshops, seminars and photowalks. Visit Ned's Photography Blog and Galleries.