---
US Amtrak service is growing, albeit very slowly
---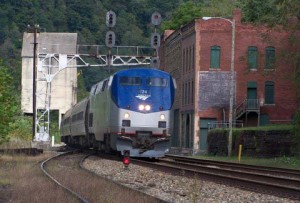 To the untrained eye — especially one familiar with the pace at which new passenger train lines and services are being developed in Europe, China and Japan — the Amtrak train system in the U.S. may seem stagnant. But there are quite a few new or expanded intercity passenger rail routes that have recently opened or are highly likely to open within the next five years. While many of these service additions may seem inconsequential, they represent incremental progress. 
And, they hold promise for railroad aficionados or basic travelers looking for alternatives from air and road transportation.
Here is a rundown of coming Amtrak service to aid in your future domestic travel planning:
Opened in the Last Five Years:
October 31, 2017: Amtrak began serving Roanoke, VA,

for the first time in 38 years, with the extension of a state-funded daily

Northeast Regional

round-trip that previously (since 2009) terminated in Lynchburg. Now, Virginia's central and southwestern corridor has a direct train connection to the Northeast Corridor as far as Boston.

December 2014

: Amtrak's

Vermonter

, which runs daily between Washington, DC, and St. Albans, VT (near the Canadian border north of Burlington), was rerouted to serve a more direct and more heavily populated route through

central Massachusetts' Pioneer Valley

, with stops in Holyoke, Northampton and Greenfield in both directions, connecting these points with New Haven, New York, Washington and points in between.

December 2012: Amtrak began serving Norfolk, VA,

directly (rather than by a Thruway bus connection from Newport News) for the first time in 33 years with the extension of a daily state-funded

Northeast Regional

round-trip that previously terminated in Richmond.

November 2012

: Amtrak's state-funded

Downeaster

corridor, which offers five daily round-trips between Boston's North Station and Portland, Maine,

extended two of those round-trips east to Brunswick, Maine

. Now there are three Boston-Brunswick round-trips each day, plus two Boston-Portland return runs.
Likely to Open in the Next Five Years:
December 2017:

A reroute through Tacoma, WA, will mean

faster runtimes and an additional frequency between Seattle and Portland

on the bi-state-funded

Amtrak Cascades

service

.
Early 2018: Brightline

, a new privately-operated intercity passenger rail company funded in part by revenue from station-area real estate development, will begin operating several daily round-trips between the downtowns of

Miami, Fort Lauderdale and West Palm Beach

, Florida. By 2021, the company aims to extend service north from West Palm Beach to terminate at Orlando International Airport. This will be the first U.S. intercity passenger service (other than commuter and tourist trains) to operate separately from the Amtrak system since 1983. Two classes of service will be offered on board entirely new trainsets built by Siemens in California this year.

Mid-to-Late 2018: The New Haven-Hartford-Springfield corridor

in central Connecticut, now served by six daily Amtrak round-trips, will have hourly commuter rail service (under the name CTrail Hartford Line) that will interlink with Metro-North trains between New Haven and New York City (Grand Central Terminal). A bus connection will be available to Hartford/Springfield Bradley International Airport in Windsor, CT.

By 2022: A fourth daily round-trip frequency

will be added on the state-funded Amtrak

Piedmont

corridor between

Raleigh, Durham, Greensboro and Charlotte, NC,

with intermediate stops. Once this happens, there will be an early morning, mid-morning, early afternoon and late afternoon/evening departure in each direction from each station on the line.
Further Down the Track
Texas Central Railway

, a private corporation backed by two Japanese high-speed rail operators, plans to build and operate a new high-speed rail line between Dallas and Houston using Japanese-built Shinkansen trainsets. There is envisioned to be one departure each hour in each direction throughout the day, with some trains making one intermediate stop at Brazos Valley station near College Station, TX.

Brightline

, referenced above, plans to extend service from Orlando north to Jacksonville and west to Tampa — provided that ridership on the initial Orlando-South Florida segment meets or exceeds expectations.

Gulf Coast

– Work continues on restoring Amtrak service between New Orleans and Orlando via Mobile, AL, and Pensacola, FL, which has been suspended since Hurricane Katrina in 2005.

Virginia

plans to extend the Washington-Roanoke Amtrak route further southwest to Bristol, VA/TN and add additional frequencies.

The aforementioned Washington-St. Albans

Vermonter is planned to be extended north to Montreal

, thanks to a new agreement between the U.S. and Canada allowing U.S. Customs & Border Protection agents to pre-screen U.S.-bound travelers at Montreal's Central Station.

The aforementioned Boston-Portland-Brunswick

Downeaster corridor is planned to be extended

further east to Rockland, Maine.

Illinois

has done the preliminary work to restore service connecting Chicago to the Quad Cities (Rock Island & Moline, IL, and Davenport and Bettendorf, IA), but funding for implementation is held up in the state's budget crisis.

Minnesota

– The groundwork has been laid for the addition of a second daily round-trip (in addition to the Chicago-Seattle/Portland Empire Builder) between St. Paul/Minneapolis and Chicago via Milwaukee.