Sleep, tour, visit, or cruise by Maine's lighthouses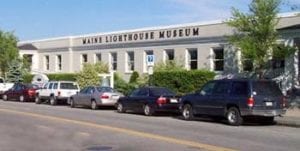 The romanticism of lighthouse life has motivated many a traveler to seek out Maine's 64 beacons. Some of Maine's lighthouses can be viewed from land, others only by boat. Some Maine lighthouses are regularly open (Owls Head and Rockland Breakwater, for instance), and lighthouse-themed excursion boats depart from many coastal communities. Other beacons are only accessible by special tour or during events and some are only open to overnight guests. Here are several special ways to experience Maine's lighthouses' heritage.
This article was first published in Maine Travel Maven blog.
Become enlightened at a museum
The Maine Lighthouse Museum, in Rockland, is home to the nation's largest collection of Fresnel lenses, along with a boatload of other artifacts related to lighthouses, the Coast Guard, lifesaving stations, and the sea. It's a must for any lighthouse lover.
While that's the biggie for lighthouse museums, other troves of lighthouse lore can be seen in museums at Owls Head Light, Portland Headlight, Cape Elizabeth, and Marshall Point Lighthouse tipping the Port Clyde Peninsula.
Take the Midcoast Maine Lighthouse Challenge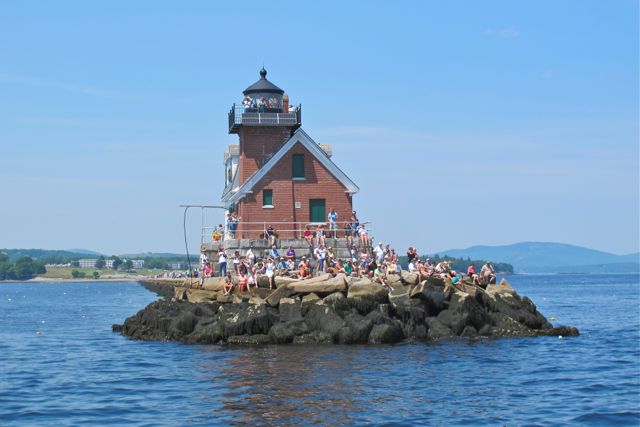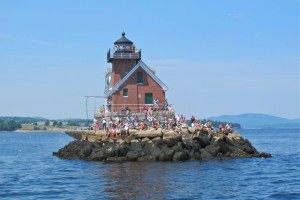 Visit and climb the towers of seven Mid-coast lighthouses during the annual Midcoast Maine Lighthouse Challenge in late June. Register at any of the participating lighthouses; there's no cost to participate, but some beacons have admission or parking fees. Participating lights are Dyce Head, Castine; Fort Point, Stockton Springs; Grindle Point, Islesboro; Rockland Breakwater, Rockland; Owls Head, Owls Head; Marshall Point, Port Clyde; and Pemaquid Point, Bristol. Usually there are special programs that coincide with the challenge, such as a lighthouse sunset cruise or evening entertainment.
Tour beacons on Maine Open Lighthouse Day
On Maine Open Lighthouse Day, held in mid-September each year, tour more than two dozen lighthouses salting the Maine Coast from Biddeford to Lubec. Most participating sites are open from 9 a.m. to 3 p.m. for guided or self-guided tours of the keeper's houses and/or the light towers. Some are only accessible by boat, and usually excursion boats operate special tours for the event.
Follow the Deer Isle Lighthouse Trail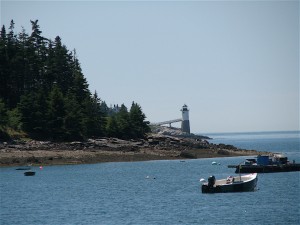 Follow the Deer Isle Lighthouse Trail to see eight lighthouses guarding the local waters: Pumpkin Island, Eagle Island, Mark Island, Isle au Haut, Goose Rocks, Brown's Head, Saddleback Ledge, and Heron Neck. Purchase a Lighthouse Passport and get it stamped at each. Three area beacons are viewable from shore, but the rest require a boat. Excursion boat outfitters offering lighthouse-themed tours include Guided Island Tours, Isle au Haut Ferry Service, and Old Quarry Ocean Adventures.
Join the party at a special lighthouse open house
While some Maine lighthouses are regularly open to the public, these beacons are accessible only during special events.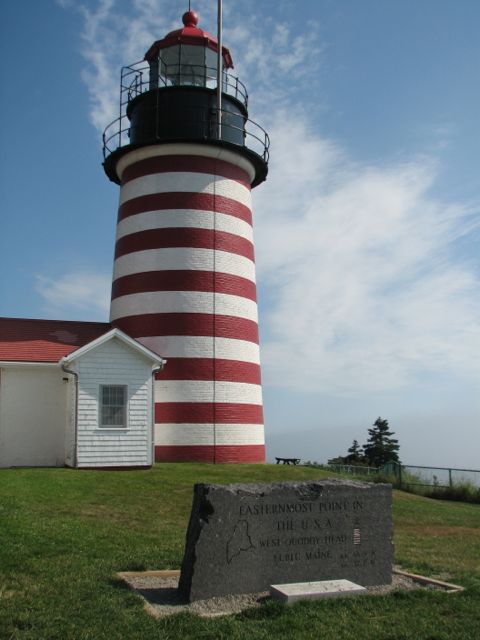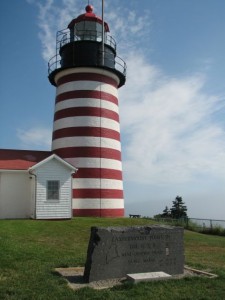 The West Quoddy Head Light Keepers Association hosts an annual Lighthouse Celebration at the Lubec beacon in early July. In addition to live music, food vendors, raffles, and special activities, the U.S. Coast Guard usually offers tours of the tower during the day.
The Friends of Cutler's Little River Lighthouse usually schedules a couple of open houses each summer. Transportation is provided from Cutler Town Wharf to the island in small open boats; children must supply their own life jackets. Refreshments usually are available on the island. Event is weather dependent.
Visit Wood Island Light
Volunteers from the Friends of Wood Island Lighthouse, located off the coast of Biddeford, offer 1.5-hour guided tours of the light, which dates from 1806. Those age 12 and older may climb the 60 stairs to the tower's lantern room and even crawl through the two-foot-square hatch that accesses the walkway ringing the top. Tours, offered in July and August, depart from Vine's Landing in Biddeford Pool. Reservations are required and can be made online. A suggested donation of $15 per adult or $8 per child younger than 13, is appreciated.
Overnight in a lighthouse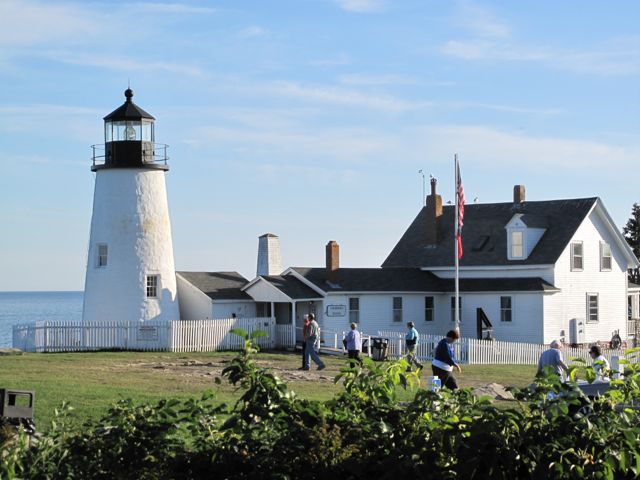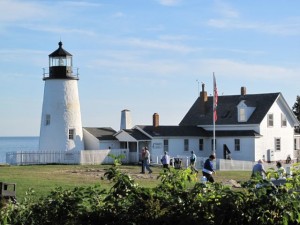 Few lighthouses are as dramatically sited as Pemaquid Point; fewer still have been featured on the Maine state quarter. Inside the Keepers House at Pemaquid Point Light, a second-floor, one-bedroom apartment that sleeps four is available for one-week rental through Newcastle Vacation Rentals.
The Keeper's House Inn on Isle au Haut makes it possible to slumber, without camping, on the island that's home to a remote section of Acadia National Park. Inside the keeper's house are three rooms that share a bath and a third-floor suite with a private bath. Also available is the Oil House, which offers primitive accommodations on the shoreline. All meals are provided. Guests in the Woodshed Cottage, with private bath and full kitchen, need to prepare their own meals.
Friends of the Little River Light House have made it possible to overnight at the light guarding Cutler's harbor. Guests stay in three bedrooms. All share two bathrooms, a living room, and a kitchen. Guests must bring their own linens or sleeping bags, towels, food, beverages, and bottled water. Minimum age for an overnight stay is 12. Boat transportation is provided, with tide determining times.
Beacon Preservation, which is working to restore and preserve Goose Rocks Light, uses overnights as a fund raiser for restoration projects. The light, located off North Haven Island, is completely surrounded by water; there is no accessible land. Up to six adults (min. age is 18) can sleep in two bedrooms and one bunkroom. Lighthouse volunteers provide transportation from the North Haven island ferry terminal.
Whitehead Light Station on Whitehead Island at the mouth of Penobscot Bay, offers rentals as well as three- to five-day adult enrichment courses, such as a knitters retreat, craft beer appreciation, and writing and history programs. The 11.1-acre island is home to a seven-bedroom keeper's house (rental includes full use of the island, transportation, mainland parking, local boating excursions, services of a skipper, and linens).
Join the Friends of Seguin Island Light Station (207-443-4808, from $30 individual/$75 family) and be eligible (with a $250 donation) to spend a night at Seguin, located at the mouth of the Kennebec River. The rustic accommodations include two bedrooms, minimal kitchen facilities, a private bathroom (composting toilet) with running water, and an outhouse. Linens and drinking water are provided and light breakfast is delivered in the morning. Guests must arrange their own transportation, and getting to the dock can be tricky.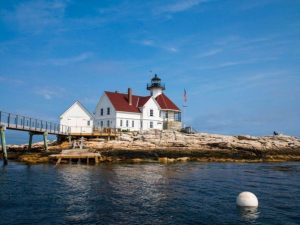 Newest addition to Maine's lighthouse lodging is the Inn at Cuckolds Lighthouse, a two-suite luxury inn capping a small rocky island off Southport Island. Rates include a full breakfast; lunch and dinner are available at extra fees. Parking and transport are provided (fee for guided tours or extra trips to and fro). Flexibility is required, as seas may prevent transport. Minimum age is 18.
This article was first published in the Maine Travel Maven
ALSO ON TRAVELERS UNITED: Packing right, packing light
I have three passions in life: Maine, traveling and skiing. Okay, four: chocolate. Maybe five, spa-ing (is there such a word?). I guess writing would be my sixth passion. And cheese, oh yeah, artisan-crafted and farmstead cheeses. Did I mention lobster? What can I say, I'm a passionate kinda gal. You can find more of my tips for traveling through Maine at: Maine Travel Maven. My three Moon Maine guidebooks are — Maine, Coastal Maine, and Acadia National Park. They are available at bookstores and online.