---
Emirates calls it a "Special" fare, but it's really "Basic Business"
---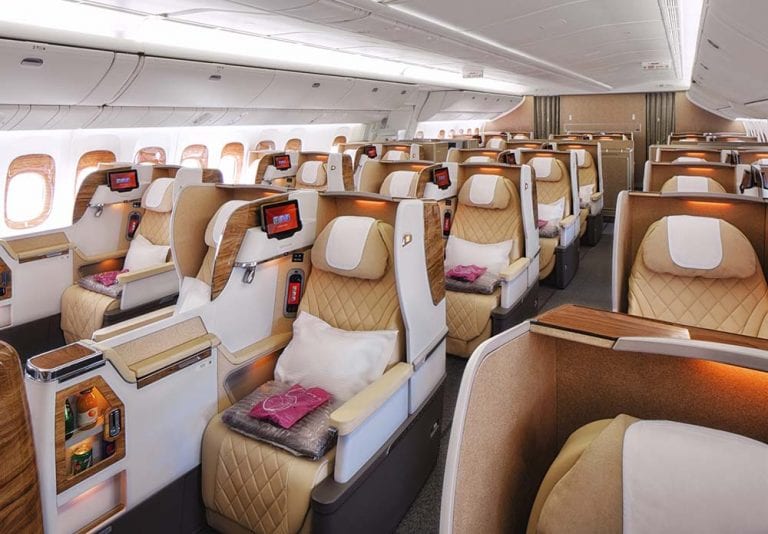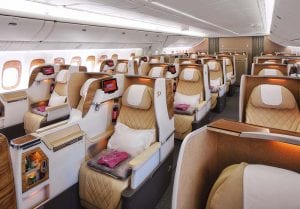 Basic Economy Class has been a success for airlines. Now, Emirates is trying the concept with Business Class. Will upscale passengers take fewer perks in order to save money?
Industry experts are saying, "This is the first Basic Business I can remember seeing internationally."
These fares can not be upgraded to First Class using miles
Travelers will earn the number of miles flown with no bonus, unlike in higher classes
Travelers are not eligible for the car service between home/hotel and the airport
There is no lounge access (unless granted via elite status)
Seats cannot be assigned in advance, only at time of check-in

Today's Basic Economy is accepted — sort of
Despite issues, basic economy class fares appear to be here to stay. The fares appeal to airlines because they provide revenue. They fill otherwise empty seats with very little cost or obligation. And unlike conventional discount tickets, basic economy passengers don't take aisle or window seats or carry-on space from higher-revenue passengers.
Some travelers like basic economy, too. They do tend to be the lowest fares available and they think "a seat is a seat."  Well, they feel that way until anything changes or goes wrong. Or in some cases, until they realize just how restrictive the fares are, and that families and friends will NOT be seated together.
Will Basic Business Class work?
Now Emirates is trying a similar experiment in Business Class. They call it a "Special" fare, but it's really "Basic Business."
Some of the differences are minor — no mileage upgrades to first class, reduced frequent flier mileage, and no chauffeur drive service. (Virgin Atlantic has had discount business class fares for years that do not include rides to and from the airport.)
Other differences are more significant. The new airfare category provides no seat assignments until 48 hours in advance, and no lounge access. (However, British Airways has the same seat-assignemt rules with its discounted business class.)
Will seat assignments matter?
Seat assignments may not matter that much to many people. It depends on the aircraft. Some Emirates planes have a 1-2-1 configuration with no middle seats, although even then there are some center aisle seats that feature more privacy, with the main divider between the seats, and some better for couples with the divider on the aisle.
Emirates also has some 777s with middle seats in business class. These seats are clearly less attractive and on a full plane are most likely to be available. And, of course, the seats nearest the lavatories are usually likely to be the last available, too.
ALSO IN TRAVELERS UNITED: GET THE LEAST EXPENSIVE WORLDWIDE  WIFI SECURITY
In addition, there is no guarantee that two or more seats together will be available at check-in. (This particularly causes problems for flight attendants, as they're the ones who get to deal with passengers trying to wheel and deal their way to better seats on board.)
Is lounge access important — it depends
The lounge access issue also may or may not matter much, depending on when people get to the airport and if they have connections.
Full disclosure: I won a pair of tickets on Emirates a few years ago, which basically ended up being like this new Special fare. We did end up seated together, eventually — first in the middle two of three in the last row of business, and then in the seats next to the lavatory. It's still a really nice experience, albeit much nicer on the Airbus 380 with the in-flight bar.
We also were told "no lounge" access, although the sales representative suggested we try anyway.  No dice. Even if it's not obvious, the boarding passes were coded, and we were politely told we weren't allowed in.
On the return flight, a medical emergency resulted in the plane returning to Dubai plus a 20-hour delay, so the entire plane was allowed into the lounge and we all got to experience the Emirates lounge service.
Now, having to sit in a crowded airport waiting area is truly a first world problem. On the other hand, the Emirates lounges are justifiably considered some of the best in the business. They have great food, drink, showers and even rest area nap chairs.  Passenger often board their flights directly from the lounge.
Passengers just making a quick connection might not care, since the on-board service is so good, but for anyone with a long layover, not having that lounge access could make a big difference, especially after a long flight or on a late flight when they might feel like eating before the flight and sleeping. And with a several-hour layover, the Emirates lounge can feel almost as good as an all-inclusive airport hotel.
READ ALSO: Passports — Global Entry, CBP Kiosks, Renewals by app and online
What kind of pampering will elite passengers give up?
Clearly, travelers who are not price-sensitive, including many business travelers, will not book this new "Business Class Special."  But, perhaps for those who consider business class a bucket list experience, especially on Emirates, it might make that dream a little more attainable.
Since being pampered and feeling special is part of the airport and flying experience, how much does the new fare dilute that? Is this a step down a road to even more stratification? What's next, business class seats with paid food and drink? Or paid pillows and blankets? Or later boarding? One thing we've learned, if airlines can figure out a way to monetize something, they will.
Janice Hough is a California-based travel agent a travel blogger and a part-time comedy writer. A frequent flier herself, she's been doing battle with airlines, hotels, and other travel companies for over three decades. Besides writing for Travelers United, Janice has a humor blog at Leftcoastsportsbabe.com (Warning, the political and sports humor therein does not represent the views of anyone but herself.)