---
Besides wonderful sights, dining in Venice is a highlight
---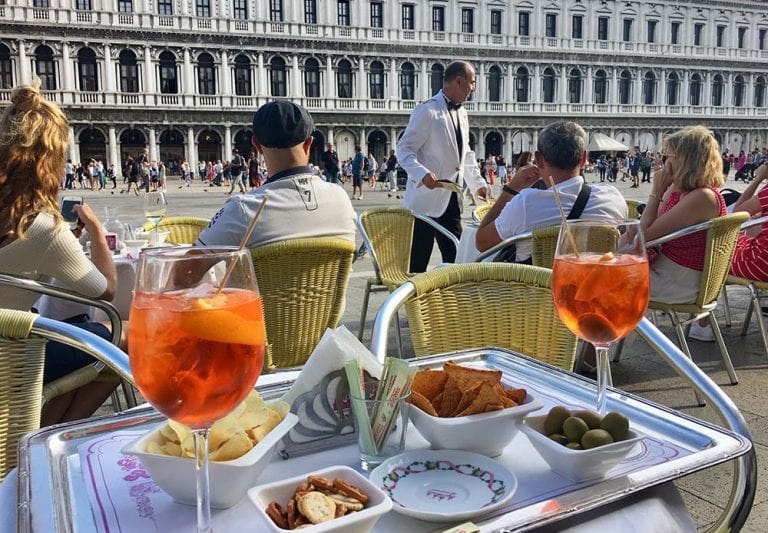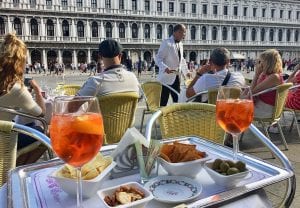 My only regret after a weeklong stay in Venice, Italy, was that I couldn't eat and drink more than I did. Dining in Venice was a wonderful surprise. Besides the art, architecture, friendly Italians, amazing history, no cars, beautiful gondolas, and inspiring vignettes at every turn in the City of Canals, the food and drink is definitely another reason to visit there.
Avoid tourist traps
My two companions, Charlie and Phyllis, and I ate in five of the six sestieri (neighborhoods) of Venice. We happily avoided the most crowded and some of the more expensive places.
Phyllis and I, however, did opt to have a classic spritz (Aperol or Campari, Prosecco, and a splash of club soda) at an outside table on St. Mark's Square. We sat to take in the scene. The sun shone on the beautiful and historic setting. An orchestra played behind us. And, supreme people-watching surrounded us. It was well worth the one-time expense of €15 per spritz compared to the €3 spritzes we enjoyed almost nightly across the canal at Margaret DuChamp's in the different, but equally scenic, Campo Santa Margherita in Dorsoduro.
Duck into tucked-away alleyways
Since all three of us have been to Venice before, we had our first lunch in the San Marco Sestiere. Sitting outside at a little self-described wine bar, Teamo, did not disappoint. Our first taste of Italian charm was served by handsome and attentive waiters. We shared Teamo's specials of the day. The lunch included a delicious assorted fish antipasti and a dish of bigoli with duck sauce, which we dubbed fat pasta as it was like spaghetti on steroids.
Our evening repast was our first stop at DuChamp's and our first spritzes with a serving of Prosciutto e Melone (dried ham and melon) large enough for three and a bowl of chips. Potato chips somehow taste so much better when sitting outside on a campo (an open square) and taking in the passing scene in Venice.
Breakfasts were in our large vacation rental. It consisted of fresh fruit, fresh bread or croissants, which Charlie was nice enough to go out each morning to the local markets to find for us. Plus, we had strong Italian coffee or tea—a perfect start to each day.
Have octopus for lunch in the market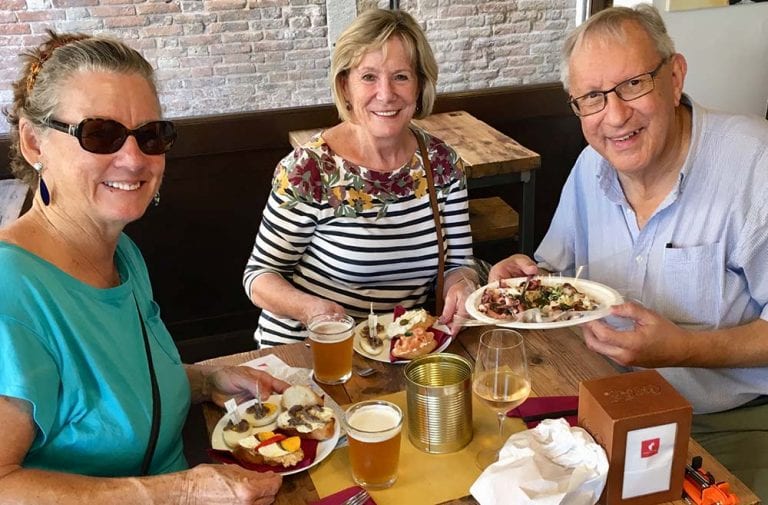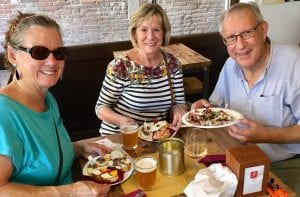 Lunch on our first full day in Venice was at a place new to all three of us, I Compari, in San Polo Sestriere in the Rialto market. We called it the octopus spot. It was so good and so different, we came back to it on our last full day in Venice, too. We started with tasty little appetizers consisting mostly of different fish spreads on Italian bread. Then came the specialty — a boiled octopus. Tender and tasty cut up into bite-sized pieces, and served in a perfectly seasoned olive oil, yum, it was beyond delicious. Go early as it fills up at lunchtime and also closes daily at 2:30 p.m.
Dorsoduro is my favorite dining neighborhood
That evening we wandered through Dorsoduro, to eat at a favorite pizza place, OKE, on the Guidecca Canal. OKE's outside tables offer a view of the large Hilton Molino Stuckey Hotel across the canal. On occasion, a cruise ship dwarfs Venice as it takes over the horizon. While the OKE menu offers many traditional Italian choices (and lots of vegan and gluten-free, too), we opted for two pizzas to share and enjoy with our carafe of wine. Later we strolled back through the almost empty alleyways along lamplit canals to our apartment.
Other places we enjoyed and recommend include these four:
Osteria Al Bacareta in San Marco, which was filled with locals and offered traditional Venetian fare;

Trattoria Pizzeria DA PAOLO, in Castello sestieri on Campo dell'Arsenal, where, besides a delicious platter of fried fish, we shared a tiramisu (which we ordered after almost every meal) and cafémacchiatos for each of us;
Taverna al Remer, which is tucked away under buildings just off the Grand Canal past the Rialto Bridge in the Cannaregio sestieri, provides incredible Venetian ambiance (if I can say that without it being too much of a cliché) and we highly recommend at least having a drink there; and
Trattoria "da Giorgio," beside a small, quiet canal in Castello sestiere, specializes in fish. We ordered their sea bass, which you pay for by the pound (and it can add up), and the very professional waiters brought out several prior to cooking for us to choose from—we opted to share two fish between the three of us and we enjoyed delightfully seasoned potatoes and vegetables that came with the fish. We were also greeted with a complimentary glass of prosecco prior to dining and limoncello after dining.
Along with I Compari, our two most favorite, and highly recommended, dining choices were new to all three of us and chosen because we were in their neighborhoods due to attending some of La Biennale art displays that were to be found throughout Venice during our visit.
Visit Guidecca to get away from the crowds at Trattoria Palanca
Despite its out-of-the-way location across the Giudecca Canal on Giudecca Island, La Palanca was a popular place (we had to wait to be seated) while surrounding restaurants were almost empty. We quickly found out why.
We tried the we'll-have-what-they're-having trick after seeing several fantastic looking dishes that our neighboring table of locals ordered. However, we found that day's specials were all sold out (at 1 p.m. already!). So, we ordered our favorite dishes to share – tomato and mozzarella, a surprisingly different fish platter, and, of course, a pasta dish. When our conversation would stop and the only noises at our table were umms and ahs, we knew we had picked a great place.
Near the Biennale Gardens enjoy a wonderful meal at Nevodi
Earlier in the week, we found the family-run Osteria Ai Nevodi. It is one of our favorites. Find it on TripAdvisor and Yelp, but it doesn't have a website. Call for a reservation. It is not on a canal or a campo, but rather on Venice's longest and widest street, Via Garibaldi in Castello. It lies between the Arsenal and Giardini Vaporetto stops. We were almost turned off because we couldn't sit outside due to table reservations, but the staff opened up the inside windows so it was almost like we were outside. Our meals were so good – lamb and pasta for me and risotto with shrimp, veggies, and saffron for Charlie and Phyllis. This was the only restaurant where none of us took a photo. We were too busy um-ing and ah-ing as we devoured it all.
Now I'm home and still savoring the many meals. And, oh yeah, I also remember the sights of Venice in my mind. Everyone should have the chance to go to La Serenissima at least once in their life.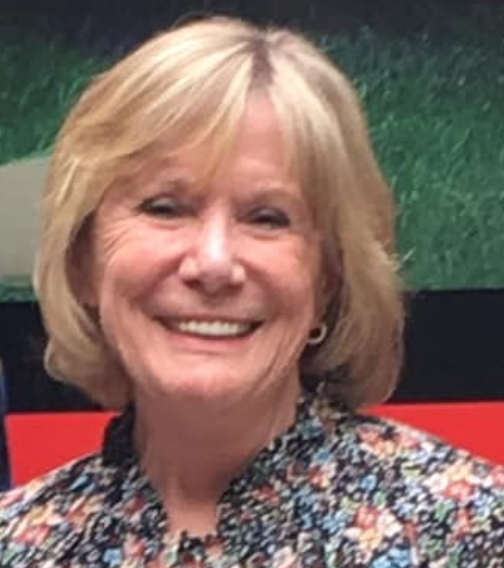 After several decades working in a variety of jobs as a newspaper writer, event publicist, communications specialist, and marketing director, Karen Cummings is now "retired" and working on Travelers United's social media and newsletters in addition to occasionally contributing a travel-related article to TU's blog. She lives close to her family in Fryeburg, Maine, and travels as often as she can.