---
For years, daily local newspapers have been a good friend to travelers.
---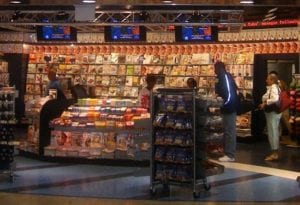 Daily local newspapers are more than travel sections and they're written by professionals. It's not just the travel sections, although many Sunday Travel sections are quite good. Daily local newspapers, unlike websites where you have no idea who is writing the reviews and what their agenda might be, are written by local professionals.
Many daily local newspapers also include restaurant and entertainment information on weekdays, which also can be a nice alternative to online websites. In addition, no one will make you turn off a newspaper when aircraft doors close, or below 10,000 feet.
Print newspapers also actually originate much of the news we all read online. To my mind, whichever side of the political aisle you're on, newspapers provide overall the most objective journalism. And, they also actually pay many of the writers you may read in other places — Christopher Eliott, for example. (But no, I am not a paid journalist and no one is paying me to write this.)
Local newspapers affect travelers.
I personally love getting a local paper at the airport or in a hotel. It's both interesting and helpful to see local news. The local news can affect travel more than many of us might think. In California, for example, wildfires are affecting air conditions in some cities untouched by the fire. And sometimes local events can seriously affect traffic.
United Airlines used to provide free local papers in their United Clubs, along with USA Today and the New York Times. Now, alas, they are just giving out copies of the Wall Street Journal, which while a fine newspaper, is hardly a general paper. And, of course, it is heavily New York-centric. (Club employees have told me there have been many complaints, so we'll see what happens with that change.)
Now, admittedly, local newspaper staffs are shrinking, and some papers are partnering with, for example, USA Today, to do a joint paper. But to my mind, that's better than no paper.
Daily local newspapers are not expensive.
Besides, local newspapers aren't that expensive. Even the Sunday ones top out at about $5, and this in a time when paperback books are inching closer to $20. And the money you pay does go towards keeping newspapers in business.
Local newspapers provide a welcome change from social media.
Finally, and for many of us who feel like we are on the Web 24-7, if you have a REAL newspaper you can read it late in the day with your computer or phone off.  This can eliminate the urge to check social media or emails ONE more time.
Janice Hough is a California-based travel agent a travel blogger and a part-time comedy writer. A frequent flier herself, she's been doing battle with airlines, hotels, and other travel companies for over three decades. Besides writing for Travelers United, Janice has a humor blog at Leftcoastsportsbabe.com (Warning, the political and sports humor therein does not represent the views of anyone but herself.)